JazzTalk - Dec
Online
//
Monday, Jan 1, 12am ET
Event Details
Free to register!
JazzTalk is a series of informal discussions about the masters of jazz and their enduring legacy, with hosts Todd Williams, nationally known saxophonist and music educator, and Doug Tatum, Vice President of Programming at the Center for the Performing Arts. Viewers can join in via Zoom and pose questions after the discussion.
Trailblazers
In every genre of music, there are those who redefine the genre and even go beyond to influence others outside of their discipline. We may refer to these individuals as "trailblazers." Trailblazers in jazz include clarinetist-saxophonist Sidney Bechet, trumpeter Miles Davis, pianist Dave Brubeck and drummer Elvin Jones. The discussion will explore why these artists' contributions were so pivotal in the development of jazz, how their influence extended to other musicians and other forms of expression, and how today's artists approach jazz performance differently because of their influence.
About Todd Williams
A sought-after saxophonist, clarinetist, flautist and clinician, Todd Williams was initially known for his work with the Wynton Marsalis Quintet/Septet and the Jazz at Lincoln Center Orchestra. He is currently an Assistant Professor of Music Education at Indiana Wesleyan University, where he directs the Jazz Ensemble and Jazz Combo, and is pursuing a doctorate in Music Education at Indiana University's Jacobs School of Music. A former music director of Times Square Church in New York, he has penned a variety of contemporary gospel choral works including the international favorite "We Proclaim Him." He has toured the world, played venues from the White House to Carnegie Hall to the Hollywood Bowl, and appeared with such artists as Harry Connick Jr., Jon Hendricks, Terrell Stafford, Marcus Roberts, Slide Hampton and Christian McBride.
About Doug Tatum
Doug Tatum has worked at the Center for the Performing Arts since its launch a decade ago, initially as General Manager and for the past six years as Vice President of Programming, overseeing the booking of Center Presents performances in classical music, jazz, Great American Songbook, rock, pop, country, family and a range of international and variety attractions. He previously served as Executive Director of Kansas City's Folly Theater and Booking Manager at Bushnell Memorial Hall in Hartford, Connecticut. Tatum also served eight years as a jazz program host at WICN public radio in Worcester, Massachusetts. He holds a bachelor's degree in music education from Central Missouri State University, and he worked as a freelance musician for several years in Kansas City before moving to Massachusetts to continue his studies at Boston's Berklee College of Music.
---
---
---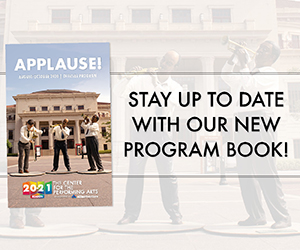 Opens in new window