Alabama Story
//
Monday, Jan 1, 12am ET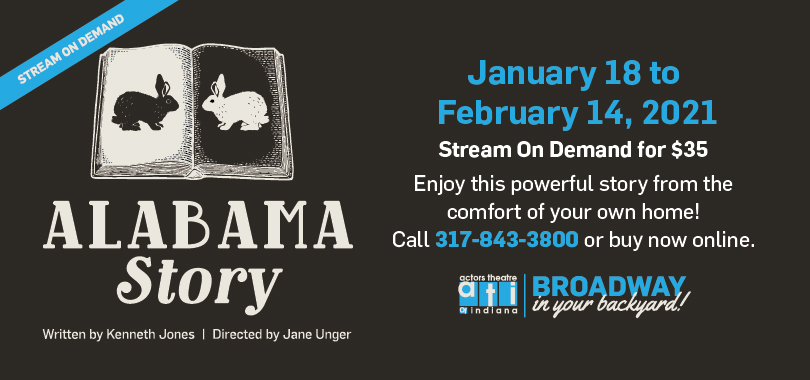 Once purchased, please login to your account to access your online content. The video will be available for viewing beginning January 19.
THE STORY WE NEED RIGHT NOW
Back in 1959, a woman from Indiana went toe-to-toe with the Alabama political system. Truth. Honor. Doing What's Right.
Through the magic of streaming-on-demand, Actors Theatre of Indiana invites you to experience Alabama State Librarian Emily Reed, history's forgotten hero of free speech, as she confronts racism and censorship. You'll find yourself relating to various characters as you step into the deep south of your imagination. For 2021, this is the show that you'll see and tell others about. The following is a one-minute promotional video of Alabama Story. 
This true story is about defending a book called "The Rabbits' Wedding." On the surface, it's about a black-furred rabbit marrying a white-furred rabbit, but it is so much deeper than that.
Don Farrell, who plays State Senator E.W. Higgins, expressed his feelings saying "In the year since we presented this production, the United States has intensely dealt with issues relating to race. The themes of civil rights and prejudice are prevalent today and this story from 1959 feels even more appropriate. I spoke with my colleagues at Actors Theatre of Indiana and we knew we wanted to do something. So, the idea came to bring back our production of Alabama Story."
The drama was originally part of the 2019-2020 season, performed at the Studio Theater, part of The Center for the Performing Arts in Carmel, IN. It continues to be of great interest since it is based on actual events and is so relative to current headlines. It will run from January 18, 2021, Martin Luther King, Jr. Day, through February 14, 2021 during Black History Month.
The storyline follows an Indiana native who becomes state librarian of Alabama but finds her life and livelihood at risk when a controversial children's book crosses her desk. The innocent tale of a white rabbit marrying a black rabbit is angering politicians in the Civil Rights era. It's a fact-inspired, highly theatrical new American play brimming with humor, heart and humanity.
Cynthia Collins, who plays State Librarian Emily Reed, reflects on that relevance, "This play is important because it focuses on many topics. Of course, there is the topic of segregation. But it focuses on individuals. It's a human story."
The six-person cast, in addition to Farrell and Collins, includes Paul Tavianini, who portrays author/illustrator Garth Williams, along with Cameron Stuart Bass who plays Civil Rights worker, Joshua Moore. Samuel Wick is Assistant Librarian Thomas Franklin. Meaghan Looney rounds out the cast as Lily Whitfield.
Actors Theatre of Indiana thanks The City of Carmel, Pedcor, and United Fidelity Bank for your continued support.
The Reviews Are In …
"In a speech that I gave in November, 2019, at the grand opening of the building housing the Kurt Vonnegut Museum and Library, I said, "I have long enjoyed the works of Kurt Vonnegut and the principles he advocated, along with his satire and sense of humor. Among other things, I liked his stand against literary censorship and in favor of social justice. In connection with literary censorship, coincidentally, the current production by Actors Theatre of Indiana is the play, "Alabama Story," which very effectively addresses this issue with an incident from 1959 in Montgomery, Alabama. The casting and acting are superb, and the story is compelling. I strongly recommend that each of you in the audience attend this play." -Frank Basile
"You'll laugh, you'll wipe away a few tears, and you'll gasp at human nature on a rampage, and at its finest…." - Rita Kohn, NUVO
Read full review here
"An important story, showing the attitudes, the conflicting ideas and ideals…I hope you will go see it, and take a young person along – it might just cause some interesting conversation." - Ken Klingenmeier, A Seat on The Aisle
Read full review here
"Kenneth Jones has fashioned a hard-hitting drama." - Jay Harvey, Jay Harvey Upstage
Read full review here
"This immensely touching, true story is full of humor and humanity! Actors Theatre of Indiana has brought cutting edge theatre to our city!"
- Sam Arce, Broadway Sam
---
---
---
Directions and information on parking, attractions, services, accessibility, and nearby dining and shopping options.
As the pandemic continues, ticket buyers agree to follow all health and safety protocols required for each event, which may vary. Buyers also accept responsibility for any risk associated with the visit.