Actors Theatre of Indiana
Nunsense
The Studio Theater
//
Sep 9 - Sep 25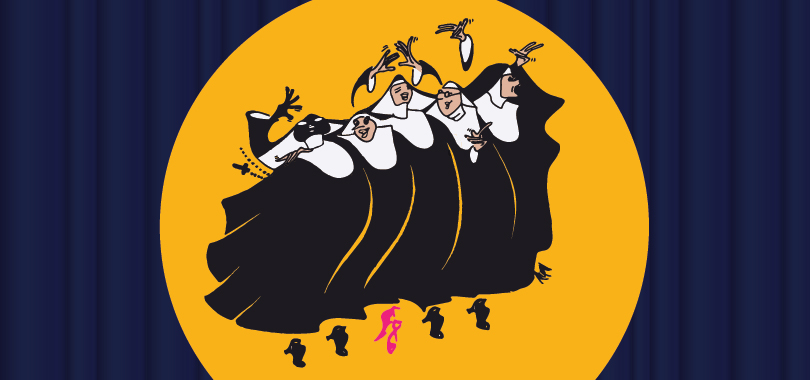 Event Details
Fri Sep 9 - 7:30pm ET
Sat Sep 10 - 7:30pm ET
Sun Sep 11 - 2pm ET
Wed Sep 14 - 7:30pm ET
Thu Sep 15 - 7:30pm ET
Fri Sep 16 - 7:30pm ET
Sat Sep 17 - 7:30pm ET
Sun Sep 18 - 2pm ET
Wed Sep 21 - 7:30pm ET
Thu Sep 22 - 7:30pm ET
Fri Sep 23 - 7:30pm ET
Sat Sep 24 - 7:30pm ET
Sun Sep 25 - 2pm ET
Book, Music and Lyrics by Dan Goggins 
When the Little Sisters of Hoboken discover that their cook, Sister Julia, Child of God, has accidentally poisoned 52 of the sisters, and they are in dire need of funds for the burials. The sisters decide that the best way to raise the money is to put on a variety show, so they take over the school auditorium, which is currently set up for the eighth grade production of Grease. Here we meet Reverend Mother Regina, a former circus performer; Sister Mary Hubert, the Mistress of Novices; a streetwise nun from Brooklyn named Sister Robert Anne; Sister Mary Leo, a novice who is a wannabe ballerina; and the delightfully wacky Sister Mary Amnesia, the nun who lost her memory when a crucifix fell on her head. With star turns, tap dancing, an audience quiz, and comic surprises, whether you went to Catholic school or not, this show is habit forming!
---
---
---
Directions and information on parking, attractions, services, accessibility, and nearby dining and shopping options.
As the pandemic continues, ticket buyers agree to follow all health and safety protocols required for each event, which may vary. Buyers also accept responsibility for any risk associated with the visit.