Center Presents
Group Vocal Coaching Class
The Palladium
//
Mar 20 - Apr 10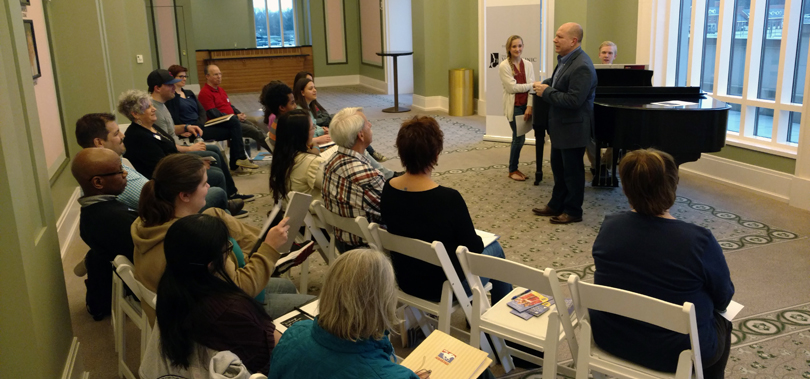 Event Details
Wed Mar 20 - 6:15pm ET
Wed Mar 27 - 6:15pm ET
Wed Apr 3 - 6:15pm ET
Wed Apr 10 - 6:15pm ET
The Center is thrilled to partner again with Todd Neal for a vocal instruction/coaching course. During the course, students learn song selection, vocal technique and interpretation. Students completing the course will have a better understanding of performance, delivery, projection and stage presence. The class is for anyone who enjoys performing and would like to improve their vocal delivery. No previous vocal training is required.
The class is limited to 20 participants and is recommended for teens and adults.
Here's what past participants had to say:
"I loved the experience because everyone was very supportive. Todd was an amazing coach that brought out the best in everyone."
"It was just so much fun especially due to the knowledge, talent, well rounded ability and exuberance from a very good coach who made us all feel good about our singing."
"I learned to be more confident in my singing, even if I missed a note or screwed up a line. I also learned to choose music that fits my voice rather than try to sing songs that are well known, but are rather difficult for me to sing. I took from the class to not be afraid and be bold."
About the Instructor:
Todd Neal's experience includes teaching, coaching, acting, directing, producing and performing in New York City cabarets – The Duplex, Don't Tell Mama's, Eighty-Eights, Sam's and the Laurie Beecham Theatre. He is an Equity actor and has worked at the San Diego Rep, The Gaslamp, Lamb's Players, The Human Race Theatre Company, Players Theatre Columbus and Contemporary American Theatre Co., among others. He has taught musical theater, acting, audition technique, and many other theater courses at Western Michigan University, Rutgers University-Camden, Ohio State University-Mansfield, Marymount Manhattan College, the American Academy of Dramatic Arts, Wright State University, and the City University of NY-Kingsborough College.
Class dates and time: 
March 20, 27, April 3, 10, 2024
6:15-8:15PM in the Palladium's Shiel Sexton Songbook Lounge
Cost: $90 (includes all four classes)
*Please bring sheet music for one upbeat song and one ballad to the first night of class. Singer should have songs memorized.
Final Performance opportunity (not required) will be celebrated at World Voice Day on April 16, 2024. This will be your chance to sing on the Palladium stage!
Register online or by calling the Fifth Third Bank Box Office at 317-843-3800.
Cancellation Policy
We understand that schedules change. If you are no longer able to attend the class, please provide at least 14-day notice of cancellation. This allows time to fill your space with another child. Cancellations made within 14 days of the first day of class will not be refunded.
---