New annual fund manager joins Center, Songbook Foundation
9/2/2021 12AM
Madison Miazgowicz brings experience in fundraising, social media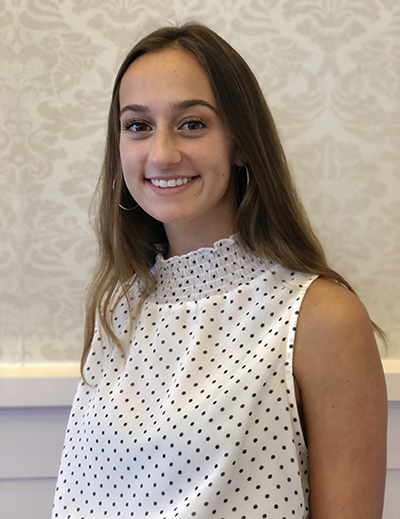 CARMEL, Ind. – The Center for the Performing Arts and the affiliated Great American Songbook Foundation have appointed a new Annual Fund and Gift Entry Manager to serve both organizations.
Madison Miazgowicz recently graduated from Indiana University's O'Neill School of Public & Environmental Affairs with a bachelor's degree in Nonprofit Management and Leadership. While at IU, she worked in the School of Education's Fund Development and Alumni Relations office, assisting with donor prospecting and information management.
Other experience has included executing fundraising campaigns for the Judy A. Morrill Recreation Center in Garrett, Indiana, and assisting with social media and messaging for a mayoral campaign in her hometown of Auburn, Indiana.
As a member of the Development Team for the Center and Songbook Foundation, Miazgowicz will develop and implement strategies for multi-channel annual fund campaigns, perform and manage gift entry duties, and service a portfolio of annual fund donors.
"We were impressed by Madison's thorough understanding of philanthropy and the role it plays for communities," said Kendra Latta, Vice President of Development. "Her education and experiences have prepared her to excel in this position, and we are excited to have her on our team."
About the Center for the Performing Arts
The mission of the nonprofit Center for the Performing Arts is to engage and inspire the Central Indiana community through enriching arts experiences. Its campus in Carmel, Indiana, includes the 1,600-seat Palladium concert hall, the 500-seat Tarkington proscenium theater and the black-box Studio Theater. The Center presents and hosts hundreds of events each year, including the Center Presents performance series, featuring the best in classical, jazz, pop, rock, country, comedy and other genres. Educational and experiential programming for all ages includes children's concerts and camps, book clubs, lectures, and classes in music and dance. The Center is home to the affiliated Great American Songbook Foundation and provides space and support services for six resident arts companies. More information is available at TheCenterPresents.org.