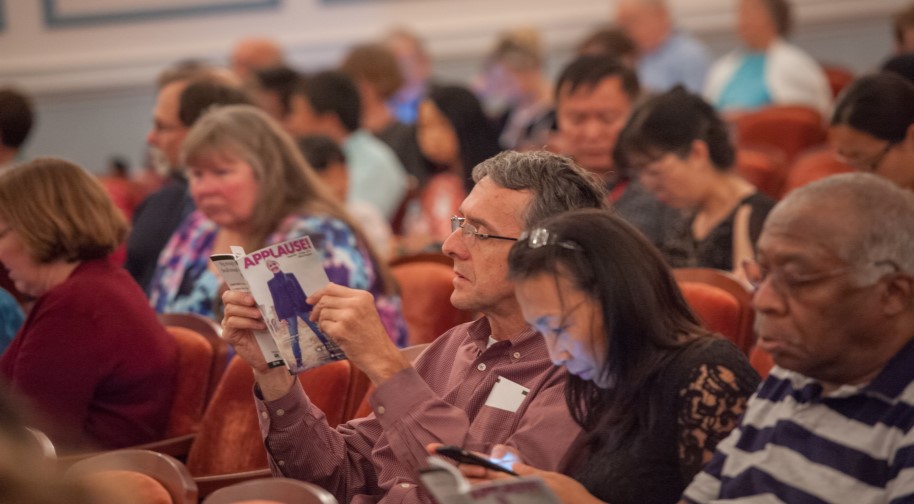 General Information
Assisted-Listening Devices
Assisted-listening devices are available free of charge at the lower Salon level at both sides of the coat check. A refundable deposit is required.
Children
Children 4 and older are welcome to attend performances. All patrons must have tickets and be able to sit quietly throughout the performance. Children of all ages are welcome at Family Shows.
Coat Check
Coat check services are available on the east and west sides of the lower Salon level near the restrooms.
Electronic Devices
Use of cellular phones, pagers, cameras and recording devices is strictly prohibited in the theater. Please deactivate the sounds on any electronic device to avoid disrupting the performance.
Emergency Procedure
In the event of an emergency, an announcement will explain the best method of exit. Please note the multiple red exit signs. For your safety, please exit in a calm and orderly manner.
Firearms
Guests are prohibited from bringing weapons onto the premises. The Center for the Performing Arts does not provide weapon lockers. Weapons may not be checked in by any staff or security personnel. Guests found in possession of weapons will be asked to immediately remove the items from the premises. Guests who refuse to comply with such a request will be removed from the premises.
Food and Beverage
Outside food and beverages are not permitted in the venues. Concessions are available in the lobbies before the performance and through intermission. The Southeast lobby bar features sandwiches, candy, soda, coffee, premium wine, specialty beer and domestic beer.
Late Arrival Policy
Latecomers will be seated at the discretion of house management. Video and audio simulcast of the performance is available in the lobbies for your convenience while waiting.
No Smoking
The Center for the Performing Arts campus is smoke-free. Tobacco, cigars and e-cigarettes are not permitted. Thank you for not smoking.
Tours
To schedule an appointment to see the Palladium, click here.
Weather
The Center generally does not cancel performances due to inclement weather.