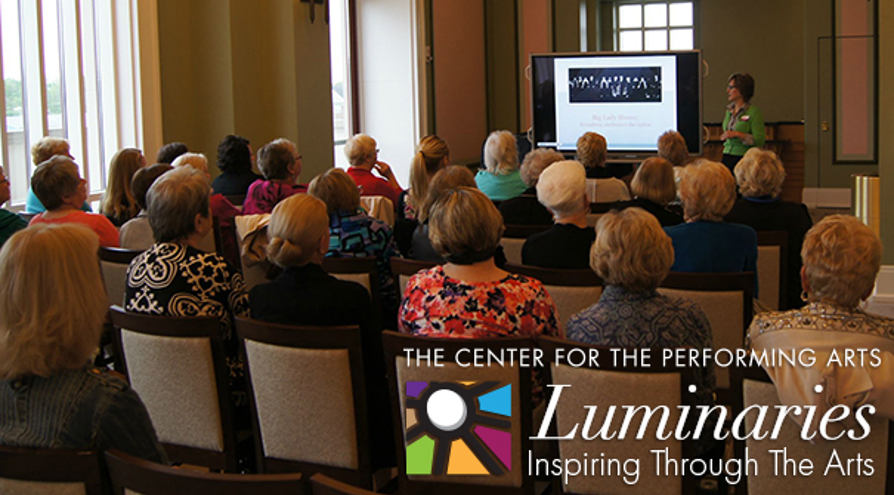 Luminaries

The Center's daytime speaker series, Luminaries, meets at 2 p.m. on the fourth Tuesday of every other month for presentations about the Center's programming and the performing arts in general. Tickets for the presentations are $10 and include light refreshments. Tickets can be purchased online or by calling the Fifth Third Bank Box Office at 317.843.3800.
Tickets for 2022-23 presentations are available now!
2022-23 schedule
2 p.m. presentation followed by light refreshments
Sept. 27, 2022 | Chasing a Sound: Lessons Learned Building a Glass Harp
Composer, performer and instrument builder Rob Funkhouser specializes in exotic musical instruments. In this presentation, he will demonstrate and explain the background of one of his most recent creations, the Glass Harp, the pitfalls of trying to recreate an instrument based on image searches, and the depths of the rabbit hole into which he fell during the instrument's creation. For Funkhouser, this process represented an unpredictable technical challenge in terms of instrument building. It served as a transforming moment in thinking about how and why people continue to create and the ever-growing possibilities presented by the creation of sound.
Jan. 24, 2023 | No Room for Squares
Freelance photographer Mark Sheldon has photographed thousands of musicians all over the world and has been published in nearly every renowned music magazine and newspaper. His love of music and photography combine into the beautiful and intriguing images he captures and shares with the world. During his presentation, Mark will share some of his favorite photographs and the stories behind the images. We'll hear about where his interest in photography came from and how he turned his love of music and his photographic skill into a rewarding career.
Mar. 28, 2023 | Indiana Avenue Jazz
Author Aleta Hodge will share music clips, stories and images from her book Indiana Avenue - Life and Musical Journey from 1915 to 2015, which profiles Black music in Indianapolis. The book celebrates the rich history of jazz and other musicians of Indiana Avenue, as well as her family and the Black neighborhood that molded her. We'll hear about a diverse array of Indiana music legends including Wes Montgomery, J.J. Johnson, Freddie Hubbard, the Ink Spots, David Baker, Slide Hampton, Hoagy Carmichael, Angela Brown and Kenny "Babyface" Edmonds.
Apr 18, 2023 | Frank Dean: A Coincidental Life In Music - CANCELED
A discussion of the odd road from Gilman Bottom, West Virginia, to hanging out and performing with some of the biggest stars in music. Franklin-based singer-songwriter Frank Dean and his bands have opened shows for more than 60 major recording artists, including Emmylou Harris, Todd Rundgren, Merle Haggard, Marty Stuart and George Jones. Dean will share stories of his colorful life in music, musicians he has met and the music business in general. He also will perform a few songs with help from a friend, Indianapolis musician Jon Martin.
May 23, 2023 | Feathered Tales
For centuries, tales of birds and their songs have offered deep wisdom to cultures around the globe. Storyteller Sally Perkins will captivate your imagination and stir your soul as she weaves together ancient stories of a cunning owl, a brave parrot, a wise partridge and a foolish bird impersonator. You'll laugh, you'll cry, and you'll sigh at the songs, stories and wisdom of our fine, feathered friends.
For more information on the series, contact Julia Shildmyer-Heighway at 317.819.3516 or JHeighway@TheCenterPresents.org.