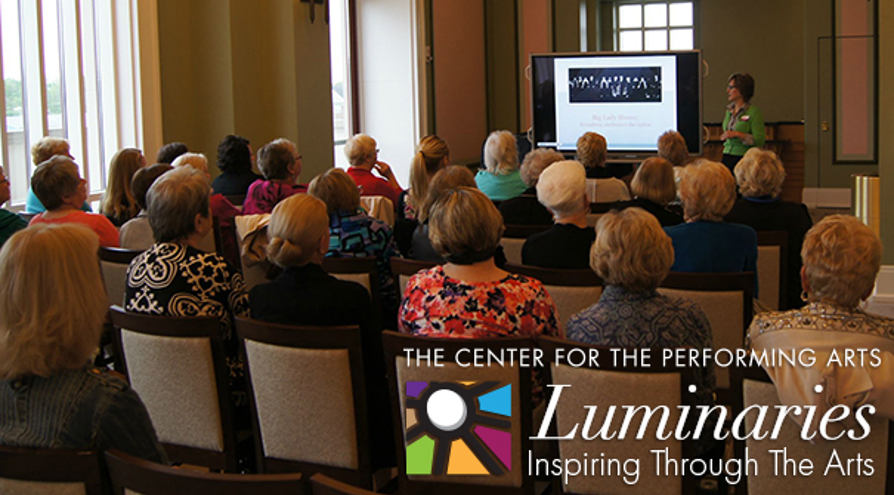 Luminaries

The Center's daytime speaker series, Luminaries, meets at 2 p.m. on the fourth Tuesday of every other month for presentations about the Center's programming and the performing arts in general. Tickets for the presentations are $10 and include light refreshments. Tickets can be purchased online or by calling the Fifth Third Bank Box Office at 317.843.3800.
2021-22 schedule
2 p.m. presentation followed by light refreshments
Sept. 28, 2021 | The Evolution of Stand-Up Comedy
This presentation will highlight the origins of stand-up comedy, from the vaudeville era to current-day comedians, exploring the comedy boom of the '80s and deconstructing sets from some of the legends of the field.
Nov. 23, 2021 | Masks of Transformation: Engaging an Other
Long before any pandemic, masks emerged in cultures around the world. Their variety of forms and uses is endless.  Their ability to transform the wearer and the world is astonishing. Butler University design professor Wendy Meaden will share some of this history and discuss the use of masks in the performing arts.
Jan. 25, 2022 | Stage Combat Then & Now: Historical and Contemporary Practice
The presentation will begin with a brief overview of the history of stage combat, focusing on its development and practice in 19th century England. Next, Lopez will discuss contemporary practice and the various approaches to combat on stage and in film/television. Finally, he will demonstrate various stage combat techniques: the standard combats, single sword and swashbuckling, and unarmed fighting.
Mar. 22, 2022 | Music and Movement
The idea of "movement" can refer to bodily movement, social movements or even the travels of migrants, laborers and refugees. What is it that causes sound to inspire kinetic activity, articulate solidarity and resistance, or find solace in relocation? This presentation will examine music making and listening practices from different parts of the world, exploring music's special power to evoke a real or imagined sense of place through song, memory and technology, and its role as a vital soundtrack to the complex lives and identities of people in motion.
May 24, 2022 | The Eclectic World of the Harp
Harpist Melissa Gallant will discuss and demonstrate the many sound possibilities of the instrument, with examples including beautiful Celtic melodies and French Romantic solos. She will share stories behind the pieces and describe the life of a professional harpist, today and in the past. Spark your own creativity as she shares her sound explorations on the electronic harp.
For more information on the series, contact Julia Shildmyer-Heighway at 317.819.3516 or JHeighway@TheCenterPresents.org.