Directions & Parking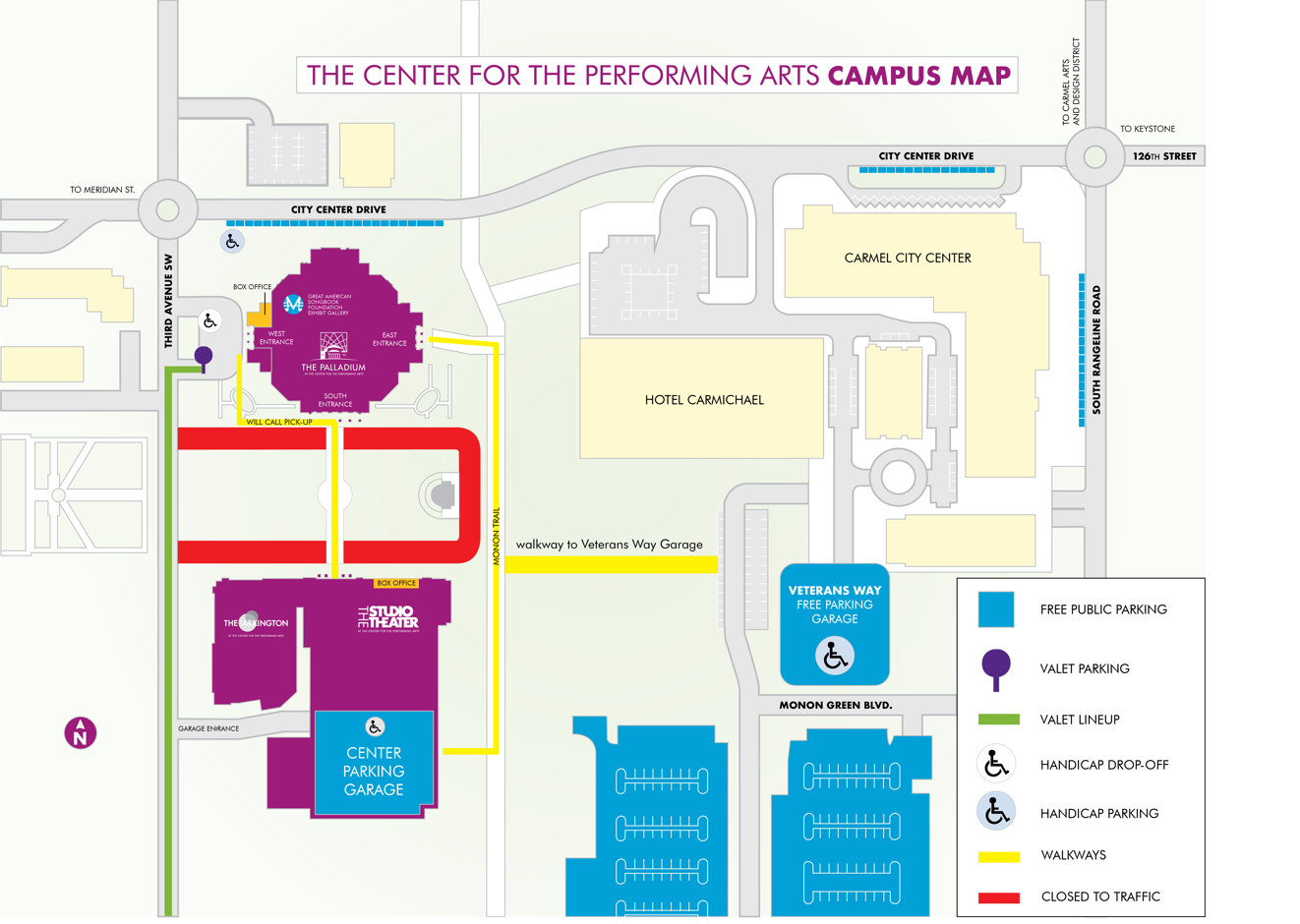 Click map for printable version.


Self-Parking 
Free parking is available on surrounding streets and in the city's self-parking garages, within easy walking distance of the Center's venues. The nearest garage is at the Tarkington and Studio Theater building, just south of the Palladium off 3rd Avenue; follow the signs to the Palladium entrances.
Parking is not available in the lots north of the Palladium, which are reserved for Salon 01 and Laser Flash guests only. 
For tickets and Will Call, enter the Palladium's west entrance off 3rd Avenue SW to access the Box Office.
Valet Parking
Beginning one hour before the publicized start time for most performances in the Palladium, valet parking is available at the West Lobby entrance off 3rd Avenue SW, near the Box Office. Valet service is sponsored by Tom Wood Jaguar & Land Rover. In honor of this partnership, if you drive your Jaguar or Land Rover to a Center Presents Palladium performance, your parking is complimentary. Valet parking for Center Presents events is $15; advance purchase of valet parking is $14 and is available by calling or visiting the box office.
Accessible Parking
Accessible parking spaces are available in the self-park garages and along the South Loop drive between the Palladium and the Tarkington.
Parking Signs & Ordinances
We kindly urge all patrons to read all posted street and neighboring lot signs and comply with parking guidelines. 


Please Note: The City of Carmel has an ordinance prohibiting backing into spaces in the parking garage. Please be advised, if you back into a space in the parking garage, you may be ticketed.
The Center for the Performing Arts is not liable for ticketing and/or towing fees.