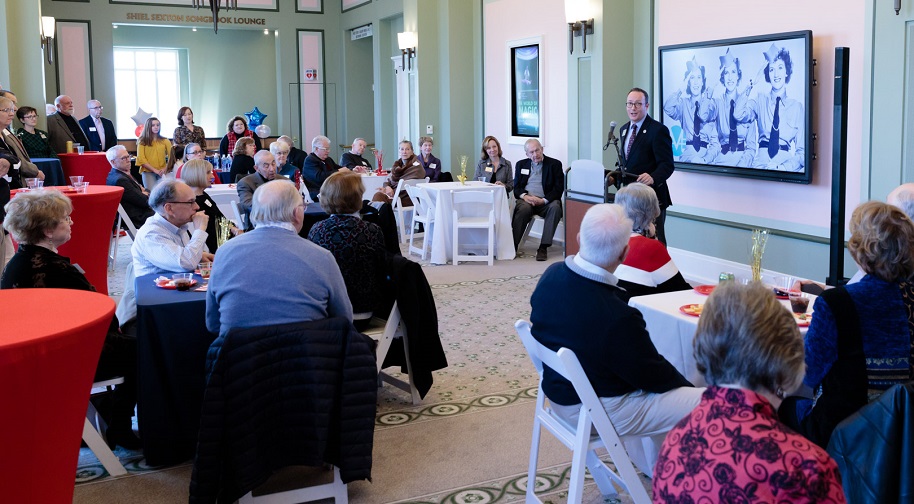 Songbook Staff

The Great American Songbook Foundation has an intimate staff of six full-time members solely dedicated to the Foundation's development and programs. Officially a sister-organization to Carmel's Center for the Performing Arts, the Foundation is proud and humbled to share efforts and human resources relating to philanthropy, marketing, finance and facilities.
Staff Background
Chris Lewis is Executive Director of the Great American Songbook Foundation, a role he assumed in January 2017 after five years as Director of Programs. He oversees all the organization's activities, including management of the Songbook Archives & Library, the Songbook Exhibit Gallery, the Songbook Hall of Fame and all educational and outreach programming. 
During his tenure, Lewis has spearheaded the national expansion of the Foundation's most prominent education program, the annual Songbook Academy® summer intensive, as well as the development of Perfect Harmony, a research-based program of therapeutic musical activities designed for people living with Alzheimer's, dementia and other neurodegenerative diseases.  Lewis also cultivated the Foundation's relationship with the Los Angeles-based Grammy Museum®, which now recognizes the Foundation as one of its five Cultural Affiliates around the world.
An accomplished musician with professional vocal experience, Lewis holds a master's degree in education from Mercy College and has worked as a history teacher and special education liaison for the New York City Department of Education. He earned a graduate certificate in nonprofit executive leadership through the IUPUI School of Philanthropy and is a graduate of the Hamilton County Leadership Academy.  Lewis is a member of the Indianapolis Consortium of Arts Administrators, the National Association of Music Educators, the National Association of Teachers of Singing, the Jazz Education Network and the Recording Academy.

 
 
Renée La Schiazza joined the Great American Songbook Foundation in February 2018. She was no stranger to the Great American Songbook Foundation, as she was a 2012 Songbook Academy Alum and interned for the organization in 2013.  Renée holds a B.F.A. in Music Theatre and a B.A. in Arts Administration from Elon University.  She is an accomplished performing artist with experience as a professional actress, associate director/music director and choreographer at regional theaters and performance venues throughout the country.  Prior to joining the Songbook Foundation staff, Renée worked at Flat Rock Playhouse, the State Theatre of North Carolina, in Marketing and Development.
Since joining the Songbook Foundation, Renée's main focus has been to grow the organization's two premier programs, the Songbook Academy and Perfect Harmony.  Additionally, she has spearheaded and designed two caregiver workshops for healthcare professionals to learn about the power of music, managed the public tours and auction of the personal property of Asherwood Estate and facilitated an international musicology conference with visiting academics from seven countries.
Emily Rapoza has served most recently as Senior Lincoln Librarian with the Lincoln Financial Foundation Collection in Fort Wayne, Indiana, one of the world's most comprehensive collections of artifacts related to former president Abraham Lincoln. She holds a master's degree in Library and Information Sciences from the University of Wisconsin-Madison, as well as a master's in Digital History and a bachelor's degree in History from Ball State University.
Jo Garcia joined the Great American Songbook Foundation in 2021 as the organization's Individual Giving Officer. A Bradley University graduate, Garcia served most recently as community outreach manager for the Indianapolis Indians, leading fundraising efforts for the new Indianapolis Indians Charities and also chairing the organization's Diversity, Equity and Inclusion Committee. She previously worked several years overseeing multi-million-dollar fundraising campaigns for the Leukemia & Lymphoma Society in Indianapolis. She was named 2021 Community Ambassador of the Year at the United Way of Central Indiana's ELEVATE Awards, and she serves on the board of the Carmel-based Children's TherAplay Foundation.
Anna LoPrete joined the Great American Songbook Foundation in 2021 as the organization's first Music Librarian. In this Institute of Museum and Library Services grant-funded position, Anna's primary focus is on the Bethards-Massey collection of radio station arrangements from the West coast. Additionally, Anna catalogs musical materials in multiple formats, supervises volunteers, and performs other library tasks.
Anna comes to us from the Cook Music Library at Indiana University, Bloomington, where she was a cataloger of musical scores and books for seven years. An active participant in the music librarianship field, Anna currently serves on cataloging committees for the Music Library Association and as the web editor for the Music OCLC User's Group. She has presented regionally and nationally on the innovative system of tracking statistics she implemented at Indiana University and on reducing cataloging backlogs.
Anna holds a Master of Library Science from Indiana University with a Music Librarian Specialization as well as a Master of Music in Music History and Literature from the University of Cincinnati's College-Conservatory of Music. While earning her Bachelor of Music degree in piano performance from the University of Utah, she was an active performer and accompanist. In 2008 she participated in the prestigious Junior Fellow program at the Library of Congress. In her free time Anna enjoys crafting, baking cookies, playing her piano, and spending time with her family.
Chelsea Reynowsky joined the Great American Songbook Foundation in 2020 as the organization's Program Coordinator. After earning her M.M. in Voice Performance (2015) from the Chicago College of Performing Arts, Chelsea relocated to Indianapolis and shifted her focus to nonprofit organizations. Prior to her work with The Great American Songbook Foundation, she served in Butler's Music First! program―a study on how personalized music affects sundowning symptoms for older adults living with Alzheimer's. Ms. Reynowsky has created a presence in the Indianapolis music community―lending her talents to sacred music, benefit concerts, and recording sessions with Aire Born Studios.