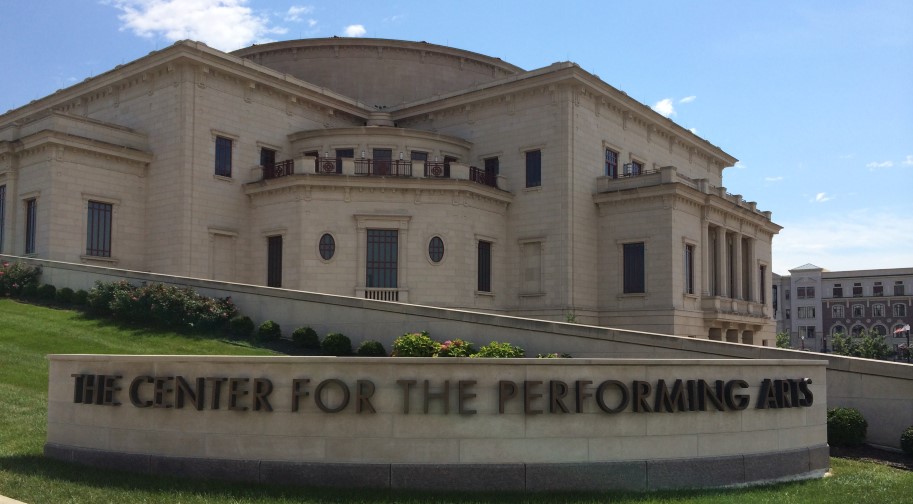 The Center for the Performing Arts
The mission of the Center for the Performing Arts is to engage and inspire the Indiana community through enriching arts experiences.
Who We Are
The Center for the Performing Arts is a nonprofit organization responsible for the operation and programming of a multidisciplinary performing arts campus in Carmel, Indiana. The facilities include the Palladium, a state-of-the-art 1,500-seat concert hall; the Tarkington, a 500-seat proscenium theater; and the Studio Theater, a versatile black box with a seated capacity of 200. The Center presents scores of events each year and provides space and support services for six resident companies: Actors Theatre of Indiana, Carmel Symphony Orchestra, Central Indiana Dance Ensemble, Civic Theatre, Gregory Hancock Dance Theatre, and Indiana Wind Symphony.
The Center is permanently affiliated and collaborates extensively with the Great American Songbook Foundation, a distinct nonprofit organization that has offices and an exhibit gallery in the Palladium. Founded by the Center's artistic director, performer and preservationist Michael Feinstein, the Foundation works to advance the legacy of timeless music from the worlds of jazz, pop, Broadway, and Hollywood. For more information, visit TheSongbook.org.
What We Do 
Since the opening of the Palladium in 2011, the Center has been a leader in the Indiana arts community, hosting more than 3,000 performances and over 1.3 million ticketed patrons from all 92 counties in Indiana, all 50 states and 30-plus nations. Each season of Center Presents events features top performers in classical, jazz, pop, rock, country, Great American Songbook, and international music and dance. The Center also offers a robust menu of educational and outreach programming for patrons of all ages, including the Peanut Butter & Jam interactive performance series for preschoolers and their families, educational videoconferences for schools around the state, and budget-friendly experiential opportunities such as our popular vocal, ukulele, standup comedy, and Dance Discovery classes.
Why It Matters
In an era of declining resources for arts education, the Center provides a welcoming environment where the public can engage in real time with live performing arts experiences. We bring the world to Indiana in ways that build community, inspire creativity, and ultimately enrich and transform lives. The Center also serves as an anchor for an arts-based economic development strategy that has helped to lift the City of Carmel to the top of numerous national quality-of-life rankings.