CEO's Corner: Center launches DEI initiative
2/7/2023 12AM
This column was originally published by Current in Carmel.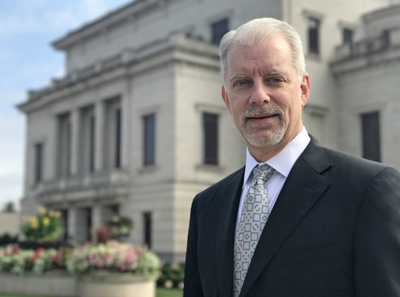 At the Center for the Performing Arts, we take pride in presenting a broad range of artists and cultural traditions from across the country and around the world, for audiences comprising different races, ethnicities, religions, sexual orientations, political views and socioeconomic circumstances, all sharing one common goal – to witness, enjoy and be enriched and inspired by an artistic experience.
Our events bring diverse audiences not only to our campus, but also to local restaurants, hotels, shops and other businesses. Nearly 50 percent of ticket purchases, both for our Center Presents performances as well as those of our six Resident Companies, come from outside Hamilton County.
Knowing this, we take seriously our responsibility to be a leader in promoting diversity, equity and inclusion not just within our venues, but throughout our community. That means facing fundamental questions about our moral obligations, our mission objectives and even our bottom line: Does our organization have a welcoming and inclusive reputation among underrepresented communities? Are we making all feasible accommodations for people with disabilities and sensory issues? Are our events affordable? Do our business relationships reflect our stated values? Is the diversity of our audiences reflected in our staff, our leadership and our community partnerships?
After months of extensive groundwork, the Center has launched an internal DEI initiative that strives to address these issues and more. The elements include:
Providing staff education opportunities, including a regular schedule of guest speakers and discussion groups, online learning opportunities and a library of recommended books and other resources.
Updating our recruiting and hiring processes to be as inclusive as possible and focus on  opportunities for candidates of diverse backgrounds.
Identifying under-resourced schools and community groups to receive discounted tickets and assistance with transportation expenses to attend arts and education programs.
Tracking our vendor relationships to ensure opportunities for businesses owned by underrepresented groups, including women, veterans and people with disabilities.
The spirit of the initiative is summed up in this statement, which is posted on our website and included in many of our materials:
The Center for the Performing Arts and the Great American Songbook Foundation strive to be models and leaders in the community by creating a welcoming, affirming environment that is anti-racist and dedicated to advancing social justice and human rights, in which all employees, patrons and other visitors feel safe, supported, respected and valued. 
We treasure the arts for their unique ability to express the individual spirit while celebrating our common humanity. Our mission to engage, inspire and educate encompasses the entire Indiana community and leaves no room for exclusion or discrimination of any kind, whether based on race, color, age, sex, religion, ethnicity, national origin, disability, socioeconomic status, veteran status, sexual orientation, or gender identity and expression. Diversity, equity, inclusion and empowerment are essential principles that guide our decisions as an employer and as a presenter of public events.
With this initiative, we join many organizations and individuals who are taking a fresh look at themselves through the lens of diversity, equity and inclusion, and we certainly don't have all the answers.
We are listening and learning.
Jeffrey C. McDermott is President/CEO of the Center for the Performing Arts and the Great American Songbook Foundation.