CEO's Corner: Responding to the new reality
4/3/2020 12AM
This column was originally published by Current in Carmel.
How quickly things change.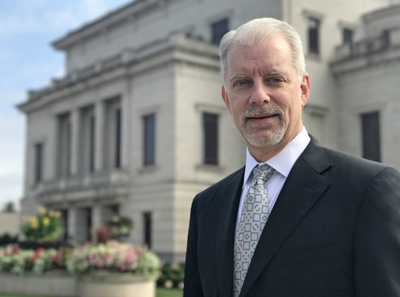 On March 10, the Center for the Performing Arts hosted a U.S. naturalization ceremony at the Palladium, where 98 immigrants from 42 countries took the Oath of Citizenship. It was a joyous and inspiring occasion that evoked a great sense of pride in our nation.
We looked forward to the same feeling two days later, when we were scheduled to host the U.S. Army Field Band and Soldiers' Chorus. Presenting a free community performance by one of our nation's acclaimed military bands has become a wildly popular annual tradition at the Center, with long lines at the Box Office and all tickets snapped up within a day or two.
In the meantime, however, America was coming to grips with the reality of COVID-19. That Thursday afternoon, when the governor's office issued its first guidelines limiting public events, we had no responsible choice but to cancel the concert, even as the band's equipment was being loaded into the concert hall. The decision was heartbreaking for all involved, and it was only the first of many postponements and cancellations through the coming weeks.
Now, my colleagues and I are focused on finding the best path forward, as you probably are. Our goal is always to bring people together, so how do we live up to the expectations of our patrons and supporters in a time when we're all being urged to stay apart? Though the arts and entertainment may be low priorities for some right now, we believe the opposite: Now more than ever, we all need the kind of reassurance and inspiration the arts can provide.
At the Center and the Great American Songbook Foundation, we're trying, in a barrage of emails and online meetings. Our management team has become a COVID-19 task force, meeting regularly to make decisions on the health and safety of our patrons, artists, employees and community, and developing new policies and processes to ensure the continuity of our operations.
We also formed a creative working group that is identifying and developing arts-related content we can share through social media and other digital means – music and video from artists on our Center Presents schedule, streaming performances by local and national artists, fun and educational activities for families and kids, and other opportunities that are arising as artists find new ways to reach out to their audiences.
I'm sure everyone has a story of how their family, friends and coworkers are responding to this crisis. I'm hopeful that the ultimate result will make us proud to be Americans.
Jeffrey C. McDermott is President/CEO of the Center for the Performing Arts and the Great American Songbook Foundation.