CEO's Corner: Rising to the challenge
4/6/2021 12AM
This column was originally published by Current in Carmel.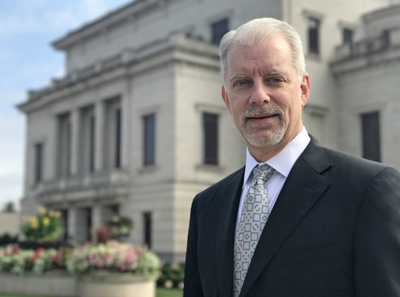 The past year has been an unprecedented test for our nation, our community and each of us personally as we faced a global pandemic. For the Center for the Performing Arts and the Great American Songbook Foundation, it brought seemingly insurmountable obstacles, most notably the shutdown of the touring entertainment industry and the need to limit the human presence on our campus.
Such a direct hit on the core business model would take down many enterprises, but our organizations still had missions to fulfill, and thanks to the creativity of our staff and the continued support of our donors and sponsors, we found new ways to deliver. Alongside enhanced safety protocols at our venues, we began beefing up our online offerings, sharing events through teleconferencing, and tailoring other programs to serve combined audiences on-site and online. We also invested in broadcast-quality video and streaming technology that has enabled exciting new ventures.
One such success story is Live at Center, a concert livestream series that launched in October and has grown to 16 events stretching into June. Our programming team has sought out the best in Indiana-based musical artists – in genres including pop, rock, jazz, funk, soul, country and classical – to perform on our stages for at-home audiences. Our production team works with each act to create unique sets and sound and lighting designs that are wowing viewers here in Central Indiana and across the nation.
I'm especially proud that the series has provided paid gigs to talented local artists and helped them connect with fans old and new during a period when many venues have been closed. The response from the musicians has been heartwarming.
"We are extremely grateful for the opportunity that the Carmel Center for the Performing Arts is providing … keeping the music alive in these challenging times," Benjamin Williams of Indianapolis rockers the Warrior Kings told this newspaper recently. "What they are doing for the relatively unknown local musician is powerful and will pay dividends for the community in the future."
Or as Bloomington-based pop artist Jenn Cristy told her fans on Facebook: "The folks at the Palladium are a special breed of AWESOME!! HUGE thank you to them and the Center for the Performing Arts for having us!! Absolutely blown away by the experience."
Now is a time of hope, as spring arrives and the nation seems to be turning a corner in the battle against COVID-19. We are fully engaged in planning a 2021-2022 season that continues to explore new ventures while bringing live audiences back to our venues for in-person performances by top national and international artists.
Yes, the past year has been challenging, but I like to think we've risen to the challenge. Thanks to all who have supported our work.
Jeffrey C. McDermott is President/CEO of the Center for the Performing Arts and the Great American Songbook Foundation.