From apartheid poverty to international fame
1/9/2023 12AM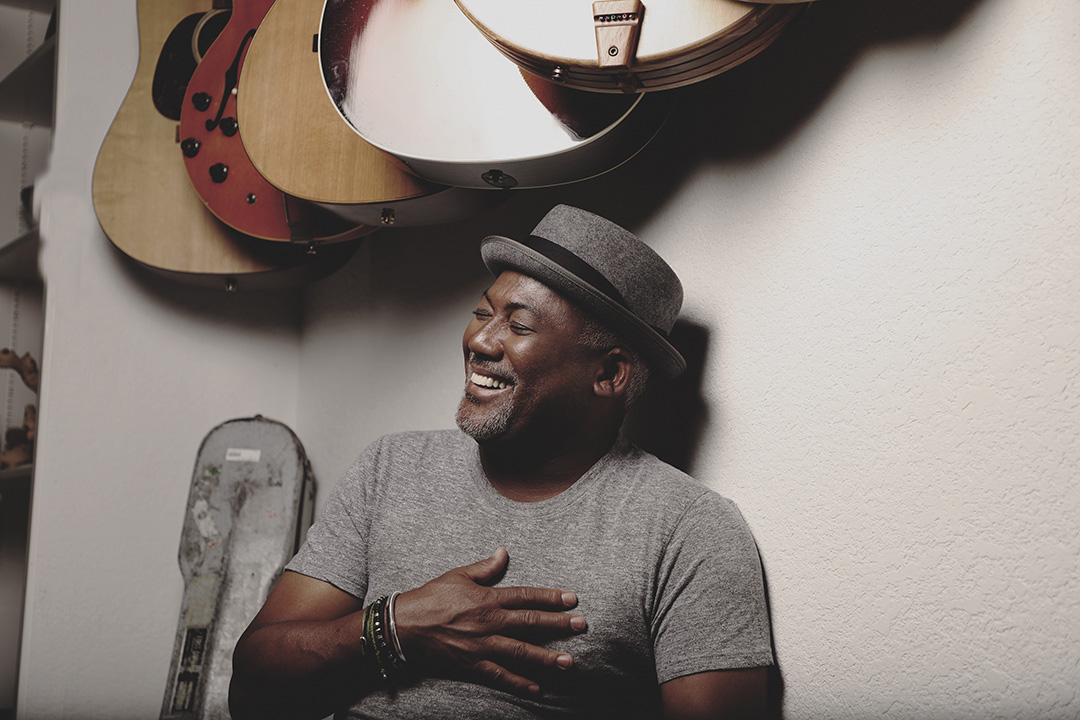 Jonathan Butler's debut single became the first song by a black artist to be played by white radio stations in South Africa and won the South African equivalent of a Grammy Award. Among his fans was an imprisoned political activist named Nelson Mandela, who would later become a friend.
Jonathan Butler's new album and tour reflect his lifelong journey
By Scott Hall
Local audiences may know him best as a featured vocalist and guitarist on saxophonist Dave Koz's popular Christmas tours, but Jonathan Butler has been an international star since he was a teen growing up in apartheid-era South Africa.
When he plays his first headlining show at the Palladium in March, he will be launching a new album that brings together all the elements of his amazing life story – the music of the South African townships where he was born in poverty; the smooth jazz and R&B stylings that built his career in the United States; and the lessons he has learned from his faith and from decades of traveling and performing for audiences at the highest and lowest rungs of society.
"I think I've come full circle with the way I view the world and the way I feel about music and my roots," Butler says. "Every record I make, it's almost like a book, you know? I'm continuing to write my book through my music, and then I share my stories with my audience and fans."
Now 61, he was the youngest of 12 children in a family that played music to help make ends meet in the slums of Cape Town. He grew up performing in choir competitions and community variety shows, where he apparently stood out in the crowd. By age 7, he was singing in whites-only cabaret clubs, where suspicious police often hassled black musicians and censorship boards reviewed their material to root out any political messaging.
Butler soon scored a role in a musical that toured for several years, and at age 13 he signed his first recording contract. His debut single became the first song by a black artist to be played by white radio stations in South Africa and won the South African equivalent of a Grammy Award. He began touring the continent as a pop idol. Among his fans was an imprisoned political activist named Nelson Mandela, who would later become a friend as well as being the nation's first non-white president and a Nobel Prize-winning global icon.
"I was able to choose the life I wanted to live through music, because that was my only escape," Butler says. "You can be a product of your environment, or you can choose not to be by learning and discovering. I was learning and discovering a lot about life and people and myself, and coming from poverty, I really wanted to have a better life and give my parents a better life, especially my mother."
As success came, Butler took the opportunity to relocate to Britain and eventually the United States, where he fit nicely into the R&B, or Urban Contemporary, scene of the 1980s. His self-titled 1987 album on Jive Records earned two Grammy nominations with the song "Lies" and the instrumental "Going Home." His next album sent the singles "Sarah, Sarah" and "More Than Friends" to the Top 10 of Billboard's R&B chart.
Since then, Butler has been embraced especially by smooth jazz fans and radio stations, and his albums consistently debut atop the Contemporary Jazz chart. He has written songs for artists such as Patti LaBelle, Billy Ocean, Al Jarreau, Kenny Loggins and jazz guitar crossover star George Benson, to whom he is often compared. He also has learned to incorporate his Christian faith and his love of gospel tradition into his otherwise secular music – two sides of himself that he once kept separate.
"I was born to sing, I was born to play guitar, and I was born to make people happy," he says. "I became bolder and bolder to share my faith through my music and never to be shy and ashamed ever again."
Butler's new album is titled Ubuntu, a South African term that loosely translates as "humanity" but more broadly represents a worldview of compassion and empathy: "I exist because of you and you exist because of me," Butler says.
The album was produced by jazz bassist Marcus Miller, known for his work with artists including Miles Davis, Herbie Hancock and Luther Vandross. It is Butler's first to be recorded in his home country since he left, some 40 years ago.
"It was so meaningful to me that we could actually record with South African musicians in a studio in Johannesburg and Cape Town," he says. "Decades later, to go back with Marcus Miller and produce a record in South Africa, it was awesome."
The record fuses his various musical tastes with reflections on the state of the world, including the political, social and racial divisions that still haunt his adoptive home country. But there's still plenty to interest his R&B fan base, including appearances by blues champion Keb' Mo', jazz keyboardist Russell Ferrante of the Yellowjackets, and an artist of particular importance to Butler.
"We've got my childhood hero and idol, Stevie Wonder, on the record," he says with audible excitement. "I was on FaceTime with my friend Stevie Wonder yesterday. So that was the most awesome moment of my career."
As for the tour, Butler is proud of his band, recruited from throughout North America: Dallas-based keyboardist Arlington Jones II, Los Angeles-based bassist Darryl Williams, Detroit-based drummer Ron Otis and Canadian vocalist Honey Larochelle. Although some artists of his type use prerecorded tracks to flesh out their live sound, he prefers a simple, direct presentation that creates a more intimate bond with the audience.
"That is the most important thing: Is the music connecting with the people?" he says. "When they leave the theater, are they feeling a change in the atmosphere, or did you just come out there to play your hits and get them to clap their hands and feet? That's not me."
Jonathan Butler
Sunday, March 26, at 7 p.m.
The Palladium