A Vision for Music
3/21/2022 12AM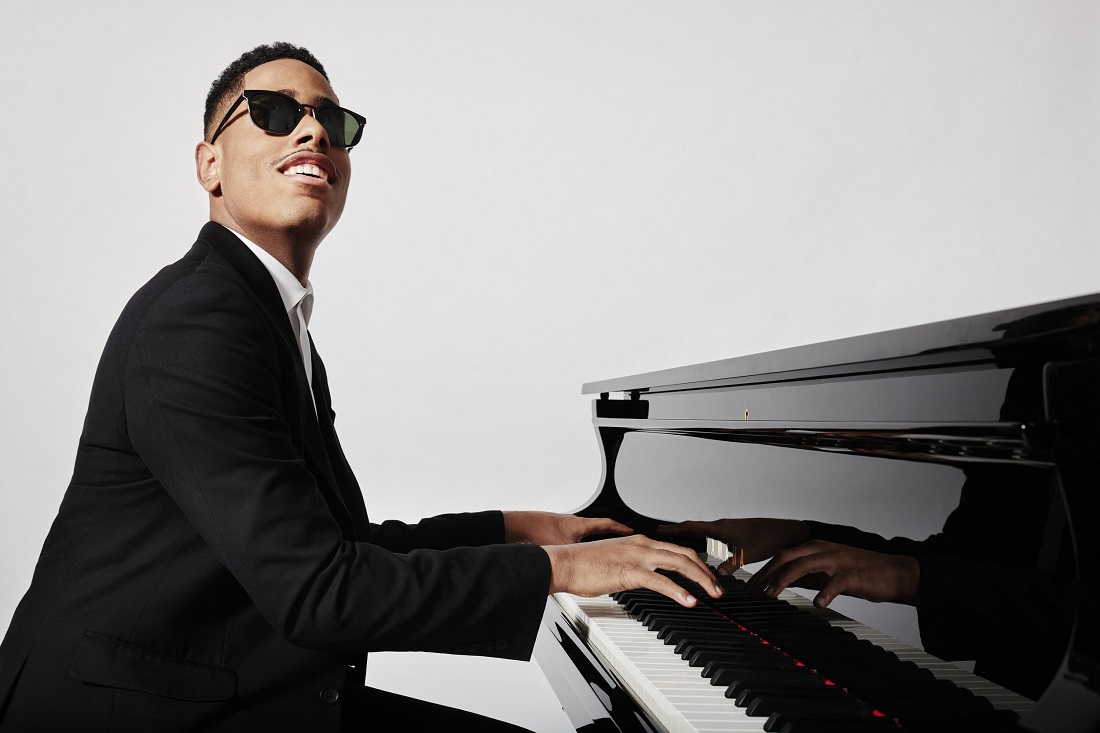 Blind since birth, Matthew Whitaker has performed at such venues as Carnegie Hall, the Kennedy Center, Lincoln Center and the Apollo Theater, and with artists including Christian McBride, Regina Carter, Jason Moran, Jon Batiste and the New York Pops Orchestra.
On the edge of 21, jazz prodigy Matthew Whitaker is making his mark
By Scott Hall
The term "prodigy" was invented for people like Matthew Whitaker, not that there are many people like him.
He was born more than three months premature, weighing less than 2 pounds, with dicey odds of survival. The complications included retinopathy that left him blind. Despite a series of surgeries as an infant, doctors warned he might never walk or talk.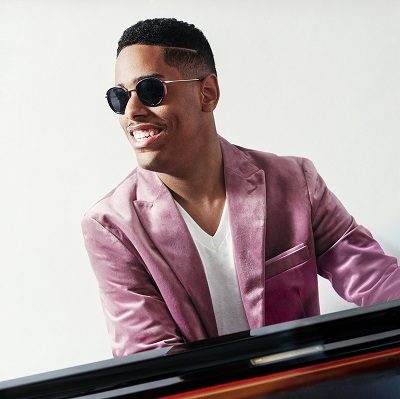 Now, Whitaker – pianist, organist, drummer, composer and arranger – is one of the hottest young jazz musicians in the world, with three acclaimed albums under his belt. He has played the prestigious venues (Carnegie Hall, Kennedy Center, Lincoln Center, etc.) and the big jazz festivals (Monterey, New Orleans, Newport, etc.). He's been featured on Today, Ellen and 60 Minutes, for a segment in which doctors ran him through an MRI machine to study how his brain processes music.
The term he most often uses for himself is "grateful." And by the time his quintet plays the Palladium on April 30, he will be just old enough to buy a drink at the bar.
"I'm grateful for every opportunity that has come," he says by phone from his lifelong hometown, Hackensack, N.J. "I can't wait to continue, wherever God takes me, and I'm ready for whatever comes next, right?"
Whitaker's journey over the past two decades nearly defies belief. He showed an enthusiasm for music before he could talk, his family says. At age 3, his grandfather gave him a small electronic keyboard, and he quickly began picking out nursery rhymes, with both hands in harmony. His parents took him to Filomen M. D'Agostino Greenberg Music School for the visually impaired in New York City, where the amazed teachers noted his perfect pitch and his ability to play any piece of music after hearing it once. They accepted him as a piano student at age 5, the youngest ever at the school.
He started getting into jazz around age 7, picked up drums and organ and furthered his studies at the Harlem School of the Arts and the Manhattan School of Music. He began playing at public events and at his family's church, where he still serves as music ministry leader. At age 10, he was invited to perform at the legendary Apollo Theater for its Hall of Fame induction of one of his heroes, Stevie Wonder.
"I met him in his dressing room before I went on stage," Whitaker recalls, "and he gave me one of his harmonicas as well."
By 15, he had endorsement deals with the Hammond and Yamaha companies. He took first prize on Fox TV's Showtime at the Apollo with a blazing rendition of Wonder's "I Wish," prompting further comparisons that continue to this day. Ray Charles is another name that comes up.
"It's always an honor to be compared to Stevie and Ray," Whitaker admits, "but like I always say, there's really only one Stevie and there's really only one Ray Charles."
And only one Matthew Whitaker. As a teen, he began leading his own bands, and his professional career took off, with touring, the TV appearances and the release of his first two albums. Still eager to learn, however, he enrolled at Juilliard, where he is working toward a degree in jazz piano.
Needless to say, the global pandemic came at an inconvenient time for a rising star. But as with every other obstacle, Whitaker saw opportunities.
"Yes, shows were canceled, but I was able to livestream from various locations and do virtual performances and all that," he says. "Now I feel like we've moved into a space where you can do a hybrid of both – you can do live performance, and on top of that, stream it. I'm all for innovation, and so I'm going to try to do more of those hybrid opportunities."
Whitaker's third and latest album, Connections, features original tunes and interpretations of classics from predecessors including Wonder, Duke Ellington, Thelonious Monk and Chick Corea, with guest spots by TV bandleader Jon Batiste and violinist Regina Carter. He arranged the recording sessions to incorporate and reflect the personal and professional communities that have sustained his ongoing journey into music.
"The concept was really just doing a mixture of compositions and arrangements, and also about the connections that I have made while growing up and connections that were made (more recently)," he says. "So it's really getting everyone together in one space and recording together. I love collaboration."
In a video trailer for the album, his supporting musicians describe the inspiration they draw not only from Whitaker's compositions and instrumental prowess, but also from his creative drive and irrepressible spirit. The players included most of the members of his current live band: guitarist Marcos Robinson, bassist Karim Hutton, drummer Isaiah Johnson and percussionist Ivan Llanes.
The quintet is touring coast to coast now as Whitaker ponders his next album project. Meanwhile, he is  participating in a documentary about himself – it's not the first – and he also has composed a film score.
"I won't say too much, because I want it to be a surprise, but I do have a few things that are coming out," he says.
Whitaker hopes others can find inspiration in his story, even though it is just beginning.
"I don't let my disability stop me," he says. "Other people may see it as, 'Oh, he's blind. You can't do so much.' But I see it as, 'Yes, I can do this. I can do that. Just watch me do it.' I may do things differently, but at the end of the day, we're accomplishing the same thing. Just follow your dreams, and don't let anyone tell you that you can't do something.
"And always have fun – most importantly, have fun and be yourself."