Remembering Ray
2/14/2022 12AM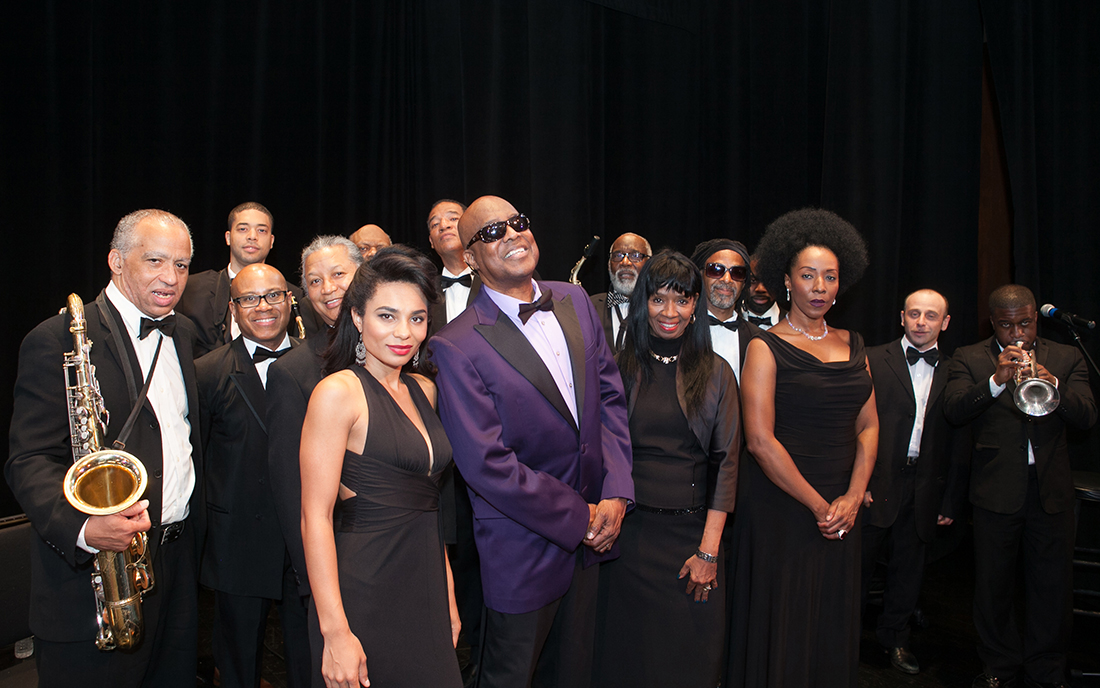 The "Ray on My Mind" stage show features pianist-vocalist Kenny Brawner with an 11-piece jazz orchestra and three backing singers, recalling Ray Charles' touring bands in his heyday. The ensemble performs at the Palladium for the first time on March 25. (photo by Maurice Pinzon)
Actor-musician Kenny Brawner channels an American icon
By Scott Hall
Growing up in Georgia, Kenny Brawner couldn't help but feel the influence of one of the state's most famous sons.
"I've always loved Ray Charles, ever since I was a kid," says Brawner, now a New York-based actor and musician. "Even in my own music, it comes through."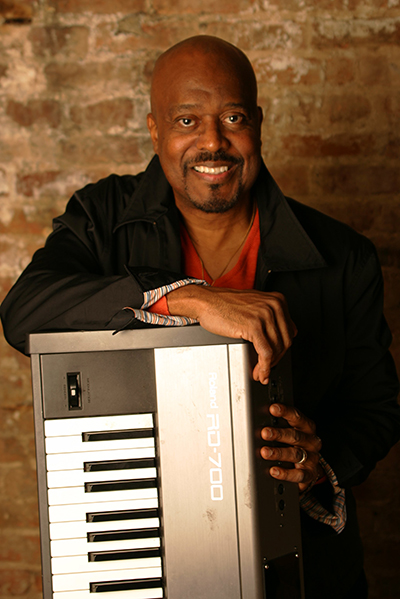 Brawner has enjoyed a long and varied career as a performer, composer and music teacher. In the 1970s, his band Raw Sugar appeared on TV's Soul Train, and he played a small role in the film adaptation of Hair. Since then, he has taken many stage roles in NYC and elsewhere, often portraying musicians, and he still leads a soul/funk/jazz group called the Brawner Brothers.
Over the years, listeners often noted a hint of Charles' style in Brawner's vocals, but not until the past decade – at the urging of his son – did he fully embrace his inner Ray. They developed an idea for a "theatrical concert" combining Charles' signature tunes with in-character monologues that tell the story of one of the most iconic and influential figures in the history of popular music.
The result is Ray on My Mind: The Ray Charles Story, a stage extravaganza featuring a 12-piece band and three glamorous backing vocalists, in the tradition of Charles' storied "Raelettes." After several years of seasoning, the production will make its Palladium debut March 25.
Brawner handles piano and lead vocals, of course, wearing Charles' trademark hipster sunglasses as he advances a narrative about an extraordinary life and groundbreaking music. Brawner developed the monologues and the character from sources such as Charles' autobiography and his many recorded interviews. He ad-libs a bit and tries to keep the banter from sounding too scripted, following advice he received from one of Charles' close friends: "He told me to always sound like you're searching for words."
And what a character to play.
Born in 1930 as Ray Charles Robinson and blinded by illness as a child, the man later known as "the Genius" arose from the 1950s R&B circuit to become one of America's great musical innovators and integrators. Charles and his piano blended blues, jazz and gospel into a sound that appropriately came to be known as "soul." He shattered more than one cultural barrier with his chart-topping 1962 album Modern Sounds in Country and Western Music and was among the very first inductees to the Rock and Roll Hall of Fame (and later the Country Music Hall of Fame). He was honored by presidents and even found new celebrity as a high-profile Pepsi pitchman before his death in 2004, after which he continued winning Grammy Awards for a current total of 18.
Charles also was a trailblazer in terms of artistic control in the recording industry, which Brawner enjoys pointing out in the show.
"I talk about the fact that he was signed to ABC Records to be an R&B artist and he laid on them, 'Well, the first album I do is going to be country,'" Brawner says with a chuckle. "It was one of his biggest-selling records."
Ray on My Mind is modeled after a classic-era version of Charles' stage show and incorporates signatures tunes such as "What'd I Say," "I Got a Woman" and Hoagy Carmichael's "Georgia On My Mind," which Charles turned into a No. 1 pop hit that later became the official state song. The set list covers his earlier, bluesier material in the first half before expanding later into his soul, pop and country hits.
"I talk about the fact that he married blues and gospel together in the beginning of his career," Brawner says, "and some religious people got on him about it, because he was combining secular music with gospel music."
The show also touches on Charles' struggles with heroin as his career took off in the 1950s and '60s, a demon that haunted many of his musical peers at the time. Brawner draws on comments the artist made years later in a TV interview with Dick Cavett.
"Everybody was using," Brawner says. "Ray was a part of that culture."   
Most importantly, Brawner tries to convey the richness of Charles' life and the monumental impact he made by facing down obstacles and trusting his instincts.
"When I'm playing, he sort of takes me over," Brawner says. "I'm not me when I'm doing Ray Charles."
Ray on My Mind: The Ray Charles Story
Friday, March 25, at 8 p.m.
The Palladium