Usher Spotlight: Jerome and Jennie LaReau
6/15/2020 12AM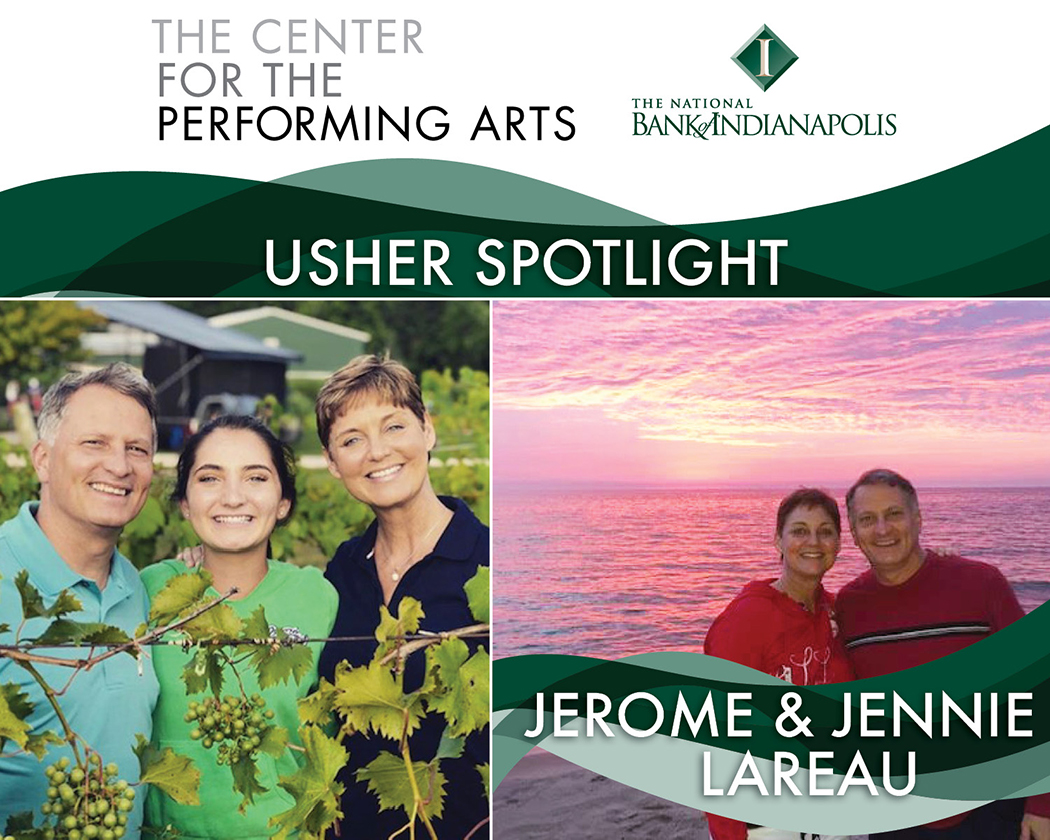 The Center's Usher Corps is sponsored by The National Bank of Indianapolis.
Jerome and Jennie LaReau began ushering at the Palladium just last fall, in preparation for becoming empty nesters. Their daughter, Katie, will be a senior at Guerin Catholic and then flies the nest. They have enjoyed meeting all of the wonderful people who volunteer or work at the Palladium and being exposed to shows they would not normally see. They enjoy all things Purdue, playing games, hosting dinner parties and spending time in South Haven, Michigan. They cannot wait for their lives to get back to normal so they can volunteer again.
When deciding how you wanted to serve the community through volunteerism, what made you choose the Center to dedicate your service?
Our friend Jane Gehlhausen spoke so highly of the volunteer experience at the Palladium and piqued our interest enough to give it a try. We have always had a love for live entertainment and have been able to see many wonderful shows over the years. Volunteering at the Center has allowed us to provide meaningful service to our community while being exposed to shows and artists we would not have seen otherwise. We've been very impressed with the quality of productions in all three venues! 
What do you enjoy most about serving as a volunteer at the Center?
We enjoy being service-minded and interacting with people (fellow volunteers and patrons) who share our love for live entertainment.
What is your favorite performance so far at the Center? What made the experience so special?
Johnny Mathis. We've always been big fans of Johnny Mathis and felt like he could have sung all night. We hope we're as youthful at 84 years old!
Can you share an example of a moment where one of your fellow volunteers inspired you with their service to a patron during a performance at the Center?
One of our co-workers assisted a patron who was having an epileptic attack. We were impressed with the care shown by our fellow volunteer.