Usher Spotlight: Linda McGlothlin
4/28/2020 12AM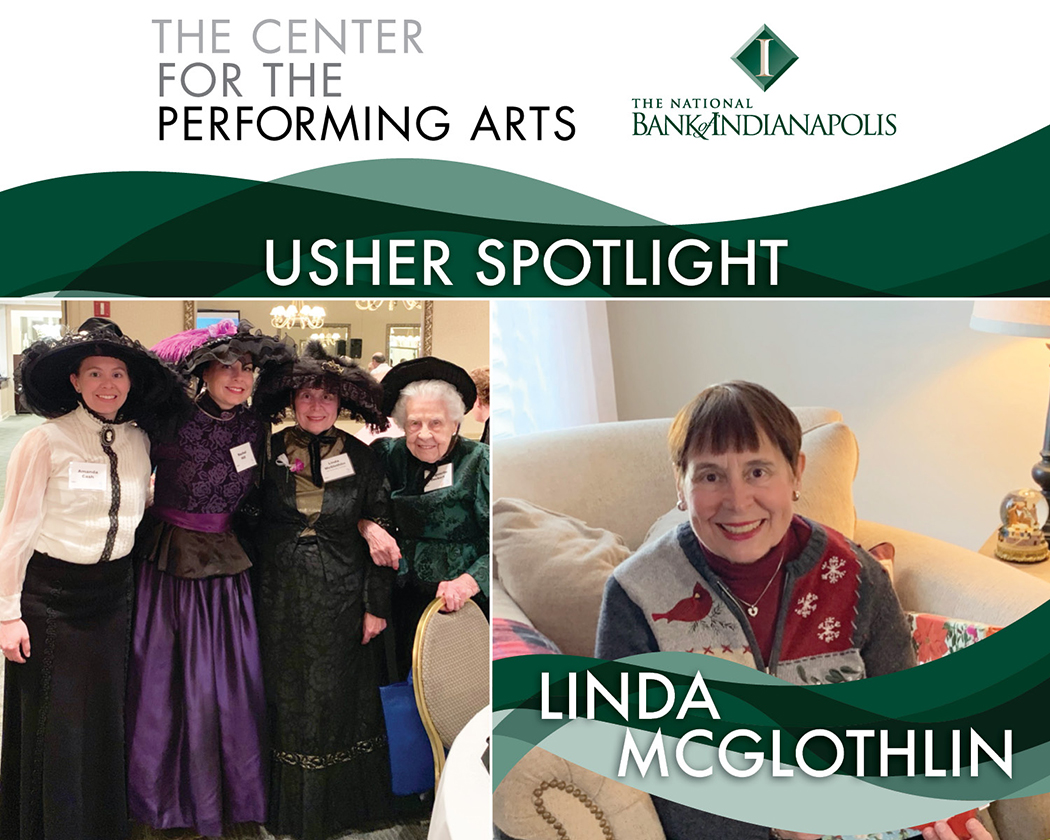 The Center's Usher Corps is sponsored by The National Bank of Indianapolis
Hi, Linda! Tell us about yourself.
Music has always played a prominent role in my life, and I come from a musical family. While attending Butler University during WWII, my mother played clarinet and sax in an all-girl dance band. That band, the Belle's Sharps & Flats, played throughout the Midwest for proms, USO activities and on military bases. Growing up, I played the clarinet and also enjoyed singing in choirs in high school and college. Later I taught music in preschool and learned to accompany the children by playing the autoharp. Today I play in an autoharp ensemble, and we perform at libraries, churches, folk festivals, fairs and retirement homes.
I also am active in several genealogy societies. Recently I completed a three-year term as Governor of Indiana for the Indiana Society of Mayflower Descendants (having traced my ancestors back to the 1620 sailing of the Mayflower to America). Another society close to my heart is Daughters of the American Revolution, and I have traced several ancestors who served as patriots in the American Revolution. A fun event last year was the 125th celebration of the chartering of our chapter, when we gathered and dressed in period costume. (In the photo above, from left, are Linda's daughters Amanda and Rachel, Linda and her mother, Marguerite Deckert.)
When deciding how you wanted to serve the community through volunteerism, what made you choose the Center to dedicate your service?
I first started volunteering as a teenager and worked as many performances as I could for the Shrine Circus. In those days, the Shrine Circus was in town for about a week. Through the years, I continued ushering and became a part of the "usher circuit" in Indianapolis, volunteering at almost every theater in town. When the Palladium opened, I wanted to check it out. I appreciate the quality of programs and the many talented artists who have appeared on the stage.
What do you enjoy most about serving as a volunteer at the Center?
The Palladium has opened my eyes to unknown artists. It gives me a broader knowledge of who's who currently in the performing arts. Among the corps of ushers, I have made a number of friends.
What is your favorite performance that you've ever seen at the Center? What made the experience so special?
There have been a number of favorite performances at the Palladium. One that really stands out is the St. Petersburg Russian Orchestra, as I believe them to be the best orchestra that I have ever heard. When playing, they each swayed to the movement of the music, and they did this as a body; I felt privileged to see and hear them. Another performance that I truly enjoyed was the Vienna Boys Choir; their voices are so pure. Even though I have audio tapes of them, it was special to hear them in person, and I did not have to travel far to hear them. The performance that I look forward to each year is the Songbook Academy. The talent of these young people is truly amazing, and it is heartwarming to know that there are so many young musicians who love the standards.
Can you share an example of a moment where one of your fellow volunteers inspired you with their service to a patron during a performance at the Center?
As far as the ushers helping the patrons, this is something that we each do. We each strive to meet the needs of the patrons, as we want their experience to be an enjoyable one.