Usher Spotlight: Pam Terbush
6/18/2020 12AM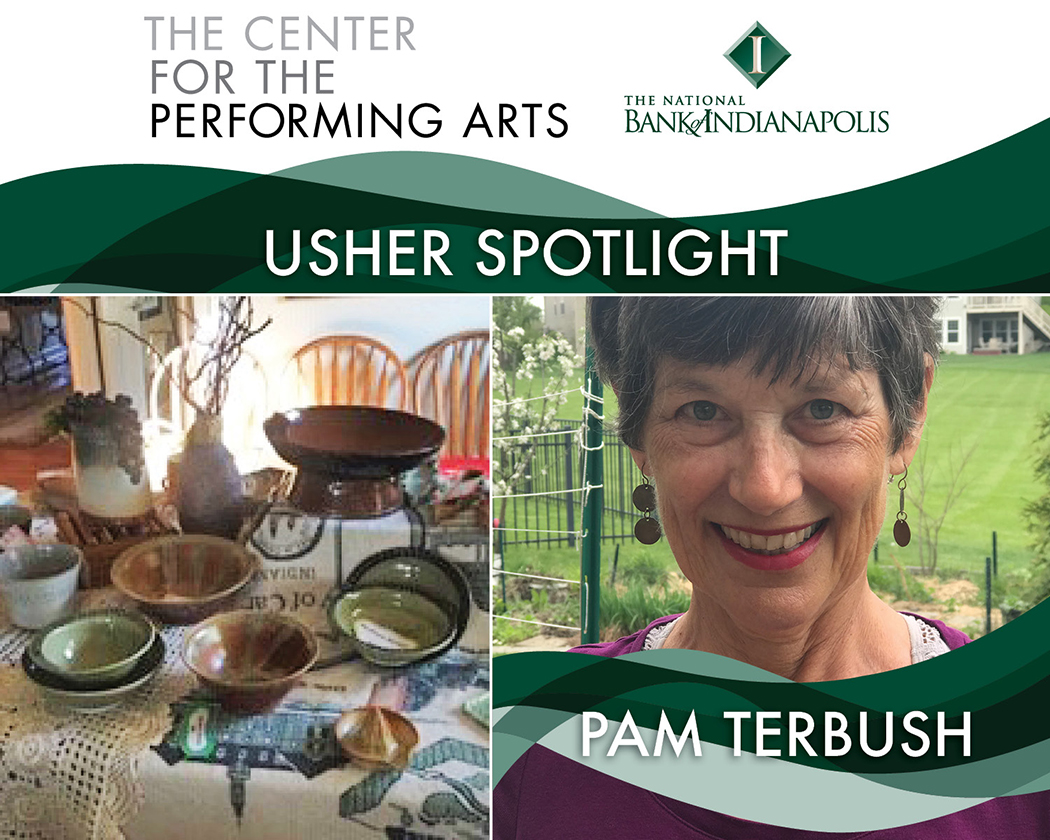 The Center's Usher Corps is sponsored by The National Bank of Indianapolis.
Hi, Pam! Tell us a bit about you.
I am a Michigan native and love talking about my roots. However, I have enjoyed being "transplanted" (for grandchildren, of course!) because of all the opportunities I have here.
Besides enjoying all the opportunities and camaraderie that ushering brings, I am completely addicted to making things (especially functional items) with clay. I guess this comes from my previous life as a high school art teacher. I also love to paint when I don't have my hands in clay. And speaking of having my hands in things, I also love to get my hands in the dirt, mainly because I like eating the things I grow, and of course it feels great to be outside.
My husband and I love to bike and cook (and we haven't killed each other in the kitchen yet). I taught a yoga group in Michigan and now have started a neighborhood group here. In high school and college, I played the French horn, which might be why I often sign up for orchestral events.
When deciding how you wanted to serve the community through volunteerism, what made you choose the Center to dedicate your service?
I was excited to be able to be in such a beautiful venue and be exposed to world-class entertainment.
What do you enjoy most about serving as a volunteer at the Center?
The amazing people I am having a chance to get to know.
What is your favorite performance that you've ever seen at the Center? What made the experience so special?
Storm Large during the annual gala. She was absolutely amazing! (Many others could have been listed here.)
Can you share an example of a moment when one of your fellow volunteers inspired you with their service to a patron during a performance at the Center?
Watching Sandra Abshire so competently give accurate directions while quickly scanning their tickets.