Usher Spotlight: Sandra Abshire
6/30/2020 12AM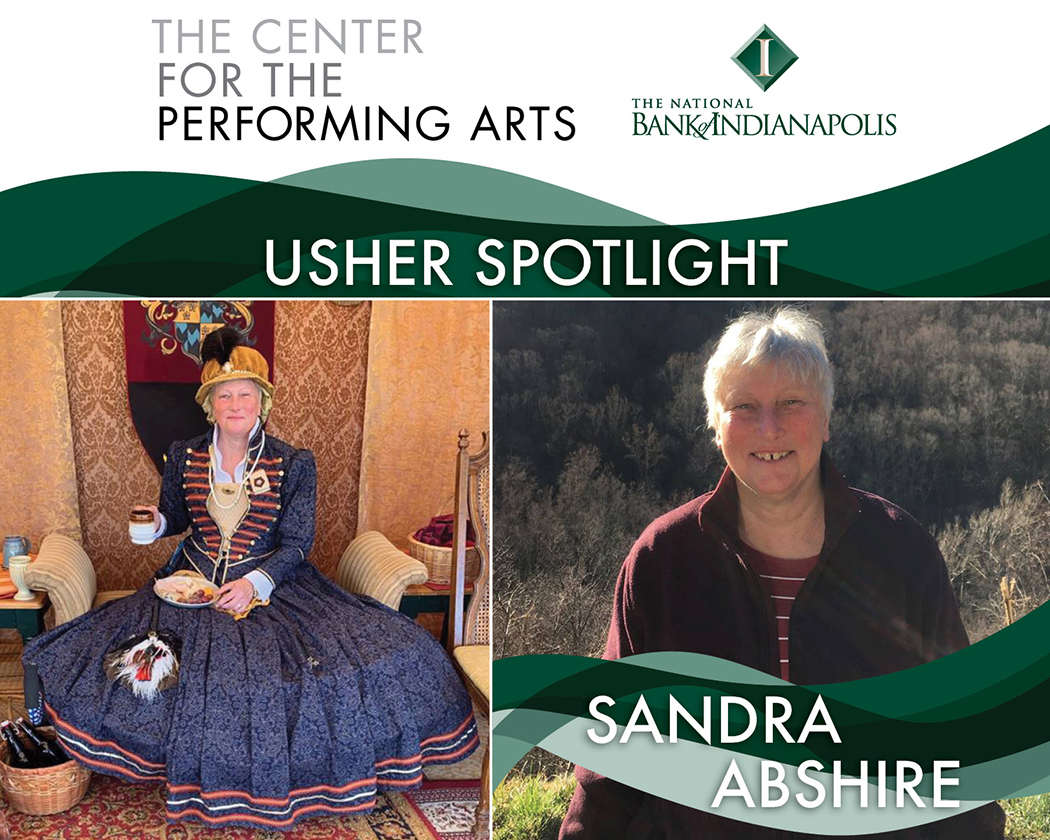 The Center's Usher Corps is sponsored by The National Bank of Indianapolis.
Hello, Sandra! Tell us a bit about you.
I was born and raised in Oxford, England, and my husband, Dave, and I have four children. I've run my own home daycare for 18 years following 18 years as a bank secretary in England.
In my 40s, I learned to sew so I could make costumes for the Fishers Renaissance Faire, where I have been on the cast for 15 years. I have costumed many shows for local Carmel schools, theaters and Carmel High School show choirs. I also like to knit and crochet and have just completed my 100th shawl for my church's cancer companions group. 
When deciding how you wanted to serve the community through volunteerism, what made you choose the Center to dedicate your service?
I've always loved music and theater of all kinds, and the CPA is an amazing venue with a world-class schedule of events right on my doorstep in Carmel. The flexibility of being able to choose which shows to volunteer at was also very appealing. 
What do you enjoy most about serving as a volunteer at the Center?
I love meeting the patrons and helping them have a great time at the center. I've also loved getting to know all the ushers and making a whole new group of friends. And the shows can't be beat!
What is your favorite performance that you've ever seen at the Center? What made the experience so special?
I have seen so many great shows it's hard to choose! I was a longtime fan of David Gray and Elvis Costello, so I loved the opportunity of seeing them. An unexpected favorite was the Venice Baroque Orchestra, who played Vivaldi's The Four Seasons in its entirety. It was beautifully played. 
Can you share an example of a moment when one of your fellow volunteers inspired you with their service to a patron during a performance at the Center?
There have been so many instances where I've seen volunteers go out of their way to make a patron's visit to the CPA one to remember. They are all an inspiration!