Exhibit explores lasting impact of the Andrews Sisters
1/15/2019 12AM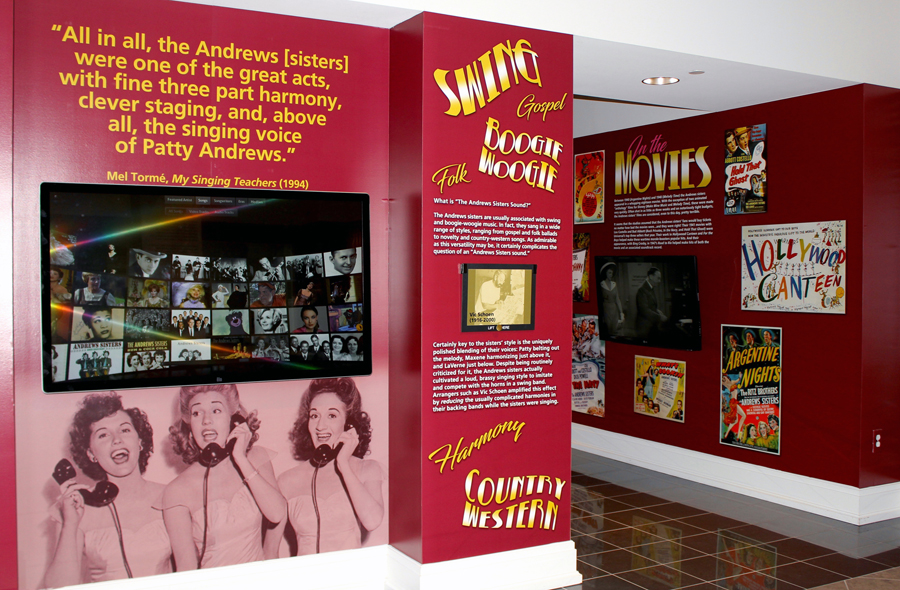 From humble roots, vocal trio rode new technology to height of fame
The Great American Songbook Foundation has drawn from its vast archives to mount an exhibition exploring the blockbuster career and personal challenges of one of the 20th century's biggest pop groups.
The Andrews Sisters: Queens of the Jukebox is on display until November in the Foundation's Songbook Exhibit Gallery, housed at the Palladium at the Center for the Performing Arts. The gallery is open 10 a.m. to 4 p.m. weekdays and in conjunction with select performances at the Palladium.
Best known for the classic "Boogie Woogie Bugle Boy," LaVerne, Maxene and Patty Andrews recorded over 600 songs and scored 46 Top 10 hits in their heyday from the 1930s to the '50s. The swing-era trio's distinctive close harmonies sold an estimated 75-100 million records, making them the world's top-selling pop artists until the arrival of the Beatles. They collaborated with the likes of Bing Crosby, Glenn Miller and Abbott and Costello, appearing in 18 movies during the 1940s. And they provided a soundtrack for World War II, entertaining troops abroad and comforting families on the home front.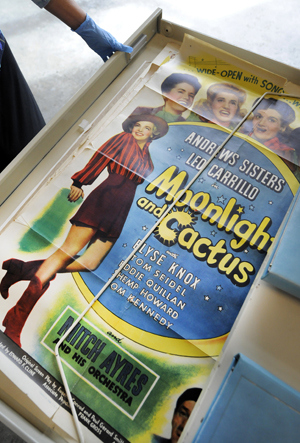 "Their success and impact were virtually unprecedented," says Lisa Lobdell, archivist for the Foundation's Songbook Archives & Library. "We have heard their influence ever since in the music of the Supremes, the Beach Boys, the Manhattan Transfer, Pentatonix, the Indigo Girls, Mumford & Sons and many other artists."
The Songbook Archives preserve more than 100,000 items representing the history of American popular music. Most of the Andrews Sisters items and images on display were donated in 2010 by Maryland resident Robert Boyer, a fan who had amassed the largest known collection of memorabilia related to the group, including publicity photos, personal snapshots, news clippings, recordings, movie posters, correspondence, magazines and recordings in various formats.
The new exhibit includes interactive multimedia touchscreens that enable visitors to experience music and video of the group, as well as the performers who inspired them and the vocal groups they influenced. A traveling version of the exhibit is available free of charge for display by schools, libraries and other community organizations.
The Andrews Sisters built their innovative sound on tight harmonies and brassy tones patterned after the horn sections they competed with on the bandstand. Patty, the youngest, took the lead, with eldest sister LaVerne's alto below and Maxene's soprano above. Aside from swing and boogie-woogie music, they also sang gospel and folk ballads, novelty tunes and country and western songs.
Aiding in their success was the rise of new technologies: radio, a growing industry that carried their songs across the country, and later jukeboxes, which could popularize songs deemed too risqué or inappropriate for the airwaves. In a conservative era, the Andrews Sisters' material sometimes courted controversy with double entendres and references to alcohol.
Other hits included "Rum and Coca-Cola," "Shoo-Shoo Baby," "Don't Sit Under the Apple Tree," "Beer Barrel Polka" and "Beat Me Daddy, Eight to the Bar."

The Andrews Sisters: Queens of the Jukebox
On display through Nov. 1 in the Songbook Exhibit Gallery
The Palladium at the Center for the Performing Arts, 1 Center Green, Carmel IN 46032
Hours: 10 a.m. to 4 p.m. weekdays; prior to select Palladium performances
Admission: Free
Information: (317) 844-2251 or TheSongbook.org