Blues guitarist Jimmie Vaughan to perform Sept. 9
7/18/2022 12AM
Tickets on sale 10 a.m. Friday at TheCenterPresents.org or (317) 843-3800
CARMEL, Ind. – Touring after the release of an acclaimed career-spanning box set, guitarist Jimmie Vaughan will deliver his signature brand of the blues Sept. 9 at the Center for the Performing Arts.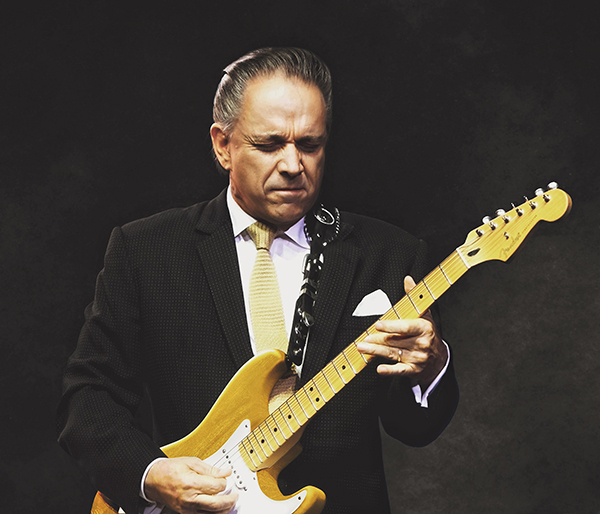 Known for his chart-topping success with the Fabulous Thunderbirds, Grammy-winning collaborations with his late brother Stevie Ray Vaughan and now a thriving solo career, Vaughan is a leading voice of Texas blues on the national landscape. His 2019 album, Baby, Please Come Home, earned him another Grammy nomination and a Blues Foundation Award for Best Male Artist. In 2021, he released The Jimmie Vaughan Story, a limited-edition, five-disc box set and book with more than 200 photos covering his life and career.
Indianapolis-based singer-songwriter John Boyle will open the 8 p.m. show at the Center's intimate 500-seat Tarkington theater. Influenced by Americana, 1960s blues-rock and the acoustic singer-songwriter tradition, the smoky-voiced Boyle tours nationally and has released two albums: Early Lights in 2018 and Prelude in 2020.
Tickets at $40 and $55 will go on sale at 10 a.m. Friday, July 22, at the Palladium's Fifth Third Bank Box Office, online at TheCenterPresents.org and by phone at (317) 843-3800. The event is part of the Katz, Sapper & Miller Pop/Rock Series and the 2022-2023 Center Presents Season in partnership with Allied Solutions.
The 2022-2023 Center Presents Season features more than 50 performances in a wide range of styles. Subscription packages offering ticket discounts and other benefits are still available at TheCenterPresents.org/SubscribeNow.
CALENDAR: CONCERTS
Jimmie Vaughan with special guest John Boyle
8 p.m. Friday, Sept. 9
The Tarkington at the Center for the Performing Arts, 1 Carter Green, Carmel, IN 46032
Tickets: $40 and $55, on sale 10 a.m. July 22
Purchase and information:
TheCenterPresents.org
(317) 843-3800
Tickets@TheCenterPresents.org
About the Center for the Performing Arts
The mission of the nonprofit Center for the Performing Arts is to engage and inspire the Central Indiana community through enriching arts experiences. Its campus in Carmel, Indiana, includes the 1,600-seat Palladium concert hall, the 500-seat Tarkington proscenium theater and the black-box Studio Theater. The Center presents and hosts hundreds of events each year, including the Center Presents performance series, featuring the best in classical, jazz, pop, rock, country, comedy and other genres. Educational and experiential programming for all ages includes children's concerts and camps, book clubs, lectures, and classes in music and dance. The Center is home to the affiliated Great American Songbook Foundation and provides space and support services for six resident arts companies. More information is available at TheCenterPresents.org.