Center and Foundation name new VP of Development
3/17/2021 12AM
Latta has served as Director of Individual Giving since 2018
CARMEL, Ind. – A proven fundraiser with more than 20 years of experience has been promoted to Vice President of Development for the Center for the Performing Arts and the affiliated Great American Songbook Foundation.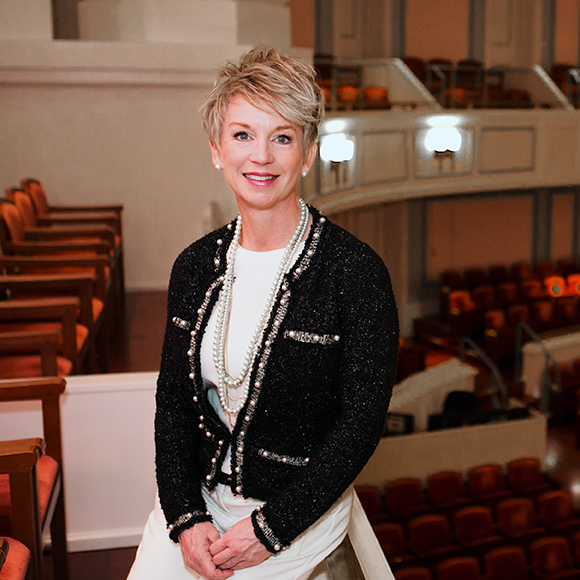 Kendra M. Latta joined the Center in 2018 as Director of Individual Giving, responsible for the development, execution and management of fundraising initiatives including the annual fund, major gifts and planned gifts. In her new position, she will lead the development staff in forging new partnerships and designing and implementing a comprehensive strategy that includes individual, corporate, foundation and government support for the two nonprofit organizations.
"In a relatively short time, Kendra has built strong relationships with our board members and donors and has substantially expanded our base of support," said Jeffrey C. McDermott, President/CEO of the Center and the Songbook Foundation. "Her innovative thinking also has helped to keep our supporters engaged through the unprecedented challenges of the past year."
Latta previously served as Executive Director of Development and Alumni Relations for Saint Joseph's College in Rensselaer and more recently as Director of Development for Purdue Convocations, the university's performing arts presenter. She holds an MBA from Saint Joseph's College, a Certificate in Fund Raising Management from the Lilly Family School of Philanthropy at IUPUI, and the international Certified Fund Raising Executive (CFRE) designation. Latta also serves on the board of Charitable Gift Planners Indiana.
About the Center for the Performing Arts
The mission of the nonprofit Center for the Performing Arts is to engage and inspire the Central Indiana community through enriching arts experiences. Its campus in Carmel includes the 1,600-seat Palladium concert hall, the 500-seat Tarkington proscenium theater and the black-box Studio Theater. The Center presents and hosts hundreds of events each year, including the Center Presents performance series, featuring the best in classical, jazz, pop, rock, country, comedy and other genres. Educational and experiential programming for all ages includes children's concerts and camps, book clubs, lectures, and classes in music and dance. The Center is home to the affiliated Great American Songbook Foundation and provides space and support services for six resident arts companies. More information is available at TheCenterPresents.org.
About the Great American Songbook Foundation
The mission of the Great American Songbook Foundation, founded in 2007 by five-time Grammy® Award nominee Michael Feinstein, is to inspire and educate by celebrating the timeless standards of pop, jazz, Broadway and Hollywood. Headquartered at the Center for the Performing Arts in Carmel, Indiana, the Foundation advances this rich legacy by curating physical artifacts of its creators, performers and publishers in the Songbook Archives & Library; operating a multimedia exhibit gallery; overseeing the Songbook Hall of Fame; offering programs for the public and research opportunities for scholars and artists; and providing educational opportunities for student musicians, including the annual Songbook Academy® summer intensive. The Foundation is a Cultural Affiliate of the Los Angeles-based Grammy Museum®. More information is available at TheSongbook.org.