Center announces wide-ranging 2023-2024 Season
5/23/2023 12AM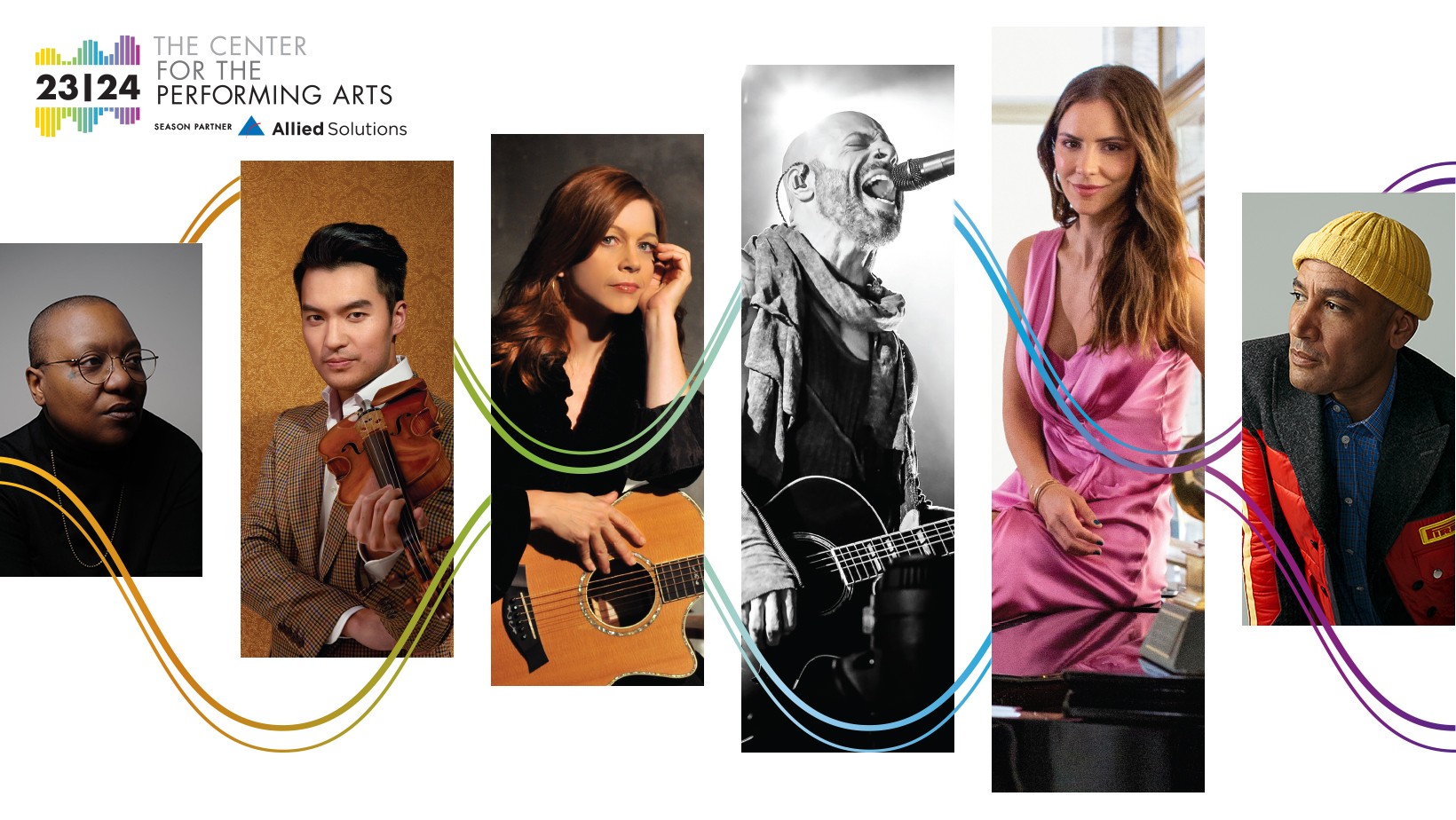 Schedule offers pop, rock, classical, jazz, speakers, family fun and more
Series subscriptions on sale now at TheCenterPresents.org or (317) 843-3800
CARMEL, Ind. – The Center for the Performing Arts has announced an upcoming performance season with more than 50 events already booked and more on the way.
The 2023-2024 Center Presents Season, presented in partnership with Allied Solutions, features many new faces as well as returning favorites in a broad range of genres.
"We're just now wrapping up one of the most successful seasons in the Center's history, with 22 performances selling out the house," said Jeffrey C. McDermott, President and CEO of the Center and the affiliated Great American Songbook Foundation. "Our upcoming 13th season is set to exceed all expectations."
The action kicks off early with August performances by rockers Daughtry and Ben Harper, both making their debut appearances at the Center. Other first-timers on the 2023-2024 schedule include New Orleans sax great Branford Marsalis, Police drummer Stewart Copeland, roots-rocker Grace Potter, and singer-songwriters Meshell Ndegeocello, Bruce Cockburn and Indiana's own Carrie Newcomer. Returning to the Center are many favorites from seasons past, including jazz fusion band Spyro Gyra, guitarist Bill Frisell, pianist Jim Brickman, and singer-songwriter Bruce Hornsby.
For fans of classic rock and pop, the season offers tributes to Aretha Franklin, Fleetwood Mac, Pink Floyd, Harry Chapin and Jim Croce. Classical highlights include mezzo-soprano Anne Sofie von Otter with the progressive string quartet Brooklyn Rider. Among several international entries are Mariachi Herencia de México and a globe-spanning quartet led by banjo innovator Béla Fleck and tabla master Zakir Hussain.
This year's Holiday Series celebrates the season from many angles, with traditional music from the Vienna Boys Choir, the return of perennial favorite Dave Koz, and special holiday programs from Jon McLaughlin, the Preservation Hall Jazz Band and Big Bad Voodoo Daddy.
Other events include blues from Robert Cray, country from Easton Corbin, comedy from "Polyester Princess" Etta May, a free community performance by the United States Marine Band and talks with TV ghost hunter Amy Bruni and Sex and the City author Candace Bushnell.
Again this season, the Center will present several family-oriented performances and a related series of free matinees for school groups. Funding is available to help schools defray their transportation costs.
Subscription packages are on sale now for the Printing Partners Classical Series, the Drewry Simmons Vornehm Jazz Series and the Hoosier Village & The Barrington of Carmel Songbook Series, with benefits including discounts up to 20 percent off the regular ticket price. Another option is a Create Your Own subscription package, which offers similar perks for the purchase of any four or more events from the entire Center Presents schedule, including music, comedy and family events.
Subscribers also are eligible for:
Immediate purchase access to the entire 2023-2024 Center Presents Season, before tickets go on sale to the general public
Discounts up to 20 percent on other Center Presents performances
Presale access and discounts of up to 20 percent for new events added throughout the season.
Visit TheCenterPresents.org/SubscribeNow for more information on subscription packages and benefits. Purchases can be made online at TheCenterPresents.org, by phone at (317) 843-3800 or toll-free (877) 909-2787, or in person at the Palladium's Fifth Third Bank Box Office, 1 Carter Green, Carmel.
Tickets are on sale now for some individual events early in the season, including the annual Songbook Academy in Concert, Daughtry, Spyro Gyra, Ben Harper and indie-folk artist The Tallest Man on Earth. Tickets for Grace Potter will go on sale in June.
Other individual performances will go on sale Aug. 4. Free tickets for the United States Marine Band will be available in September.
About the Center for the Performing Arts
The mission of the nonprofit Center for the Performing Arts is to engage and inspire the Indiana community through enriching arts experiences. Its campus in Carmel, Indiana, includes the 1,500-seat Palladium concert hall, the 500-seat Tarkington proscenium theater and the black-box Studio Theater. The Center presents and hosts hundreds of events each year, including the Center Presents performance series, featuring the best in classical, jazz, pop, rock, country, comedy and other genres. Educational and experiential programming for all ages includes children's concerts and camps, book clubs, lectures, and classes in music and dance. The Center is home to the affiliated Great American Songbook Foundation and provides space and support services for six resident arts companies: Actors Theatre of Indiana, Carmel Symphony Orchestra, Central Indiana Dance Ensemble, Civic Theatre, Gregory Hancock Dance Theatre and Indiana Wind Symphony. More information is available at TheCenterPresents.org.
2023-2024 Center Presents Season in partnership with Allied Solutions
The Center for the Performing Arts, 1 Carter Green, Carmel, IN 46032
Tickets: TheCenterPresents.org, Tickets@TheCenterPresents.org or (317) 843-3800
All performances will take place at the Palladium concert hall except * at the Tarkington theater.
Drewry Simmons Vornehm Jazz Series
Aug. 12 – Spyro Gyra
Oct. 21 – Bill Frisell FIVE and Ambrose Akinmusire's Owl Song
Nov. 18 – Meshell Ndegeocello
Jan. 26 – An Evening with Branford Marsalis
April 19 – Sammy Miller and The Congregation
Faegre Drinker Encore Series
Aug. 9 – Daughtry: Bare Bones Tour with special guest Ayron Jones
Aug. 15 – Ben Harper
Oct. 19 – Stewart Copeland: Police Deranged for Orchestra
Nov. 3 – Grace Potter
Holiday Series
Nov. 24 – Vienna Boys Choir: Christmas in Vienna
Nov. 30 – Jim Brickman: A Joyful Christmas
Dec. 1 – The Midtown Men: Holiday Hits
Dec. 5 – Dave Koz & Friends Christmas Tour 2023
Dec. 8 – Jon McLaughlin & Friends: Home for the Holidays
Dec. 9 – Preservation Hall Jazz Band Holiday Show
Dec. 13 – Big Bad Voodoo Daddy's Wild & Swingin' Holiday Party
Hoosier Village & The Barrington of Carmel Songbook Series
July 22 – Songbook Academy in Concert
Nov. 4 – An Intimate Evening with David Foster & Katharine McPhee
Nov. 19 – The Black Market Trust
Feb. 24 – Aretha's Gold: Classic Albums Live Tribute to Aretha Franklin
May 17 – Michael Feinstein with special guest
Katz, Sapper & Miller Pop/Rock Series
Sept. 28 – Uptown: Motown Remixed   
Oct. 6 – The Righteous Brothers: Bill Medley & Bucky Heard
Oct. 8 – The Tallest Man on Earth
Oct. 14 – Wish You Were Here: The Sight and Sound of Pink Floyd
Oct. 20 – Harry Chapin at 80: A Retrospective, featuring The Chapin Family
Nov. 1 – An Evening with Bruce Cockburn*
March 9 – Bruce Hornsby with yMusic
March 9 – Carrie Newcomer with Pianist Gary Walter & String Quartet*
March 30 – Croce Plays Croce: 50th Anniversary Tour
April 20 – Rumours: A Fleetwood Mac Tribute
Old Town Family Series
Oct. 5 – Animaniacs: In Concert
Nov. 5 – The Little Mermen: The Ultimate Disney Tribute Band (two shows)*
March 10 – Imagination Movers (two shows)*
Printing Partners Classical Series
Oct. 28 – Academy of St. Martin in the Fields Chamber Ensemble
Nov. 17 – Anne Sofie von Otter & Brooklyn Rider: Songs of Love and Death
Feb. 23 – Sofia Philharmonic Orchestra
April 12 – Ray Chen
Telamon Passport Series
Nov. 2 – Béla Fleck, Zakir Hussain, Edgar Meyer with Rakesh Chaurasia
Nov. 4 – Tres Souls*
Nov. 10 – Gregorian: Pure Chants
Feb. 9 – Mariachi Herencia de México: Herederos
March 8 – The Irish Tenors
April 7 – An Evening with Jesse Cook*
Special Events
Sept. 16 – Life with the Afterlife: True Tales of the Paranormal with Ghost Hunter Amy Bruni*
Sept. 23 – The Center Celebration 2023 presented by Ice Miller (featuring Amy Grant)
Oct. 11 – The Robert Cray Band
Oct. 27 – "The President's Own" United States Marine Band
Nov. 3 – Etta May*
Nov. 9 – Easton Corbin
Nov. 12 – Candace Bushnell: Is There Still Sex in the City?
Feb. 3 – Alan Cumming and Ari Shapiro: Och & Oy! A Considered Cabaret