Center announces Founders Club partnership
3/31/2022 12AM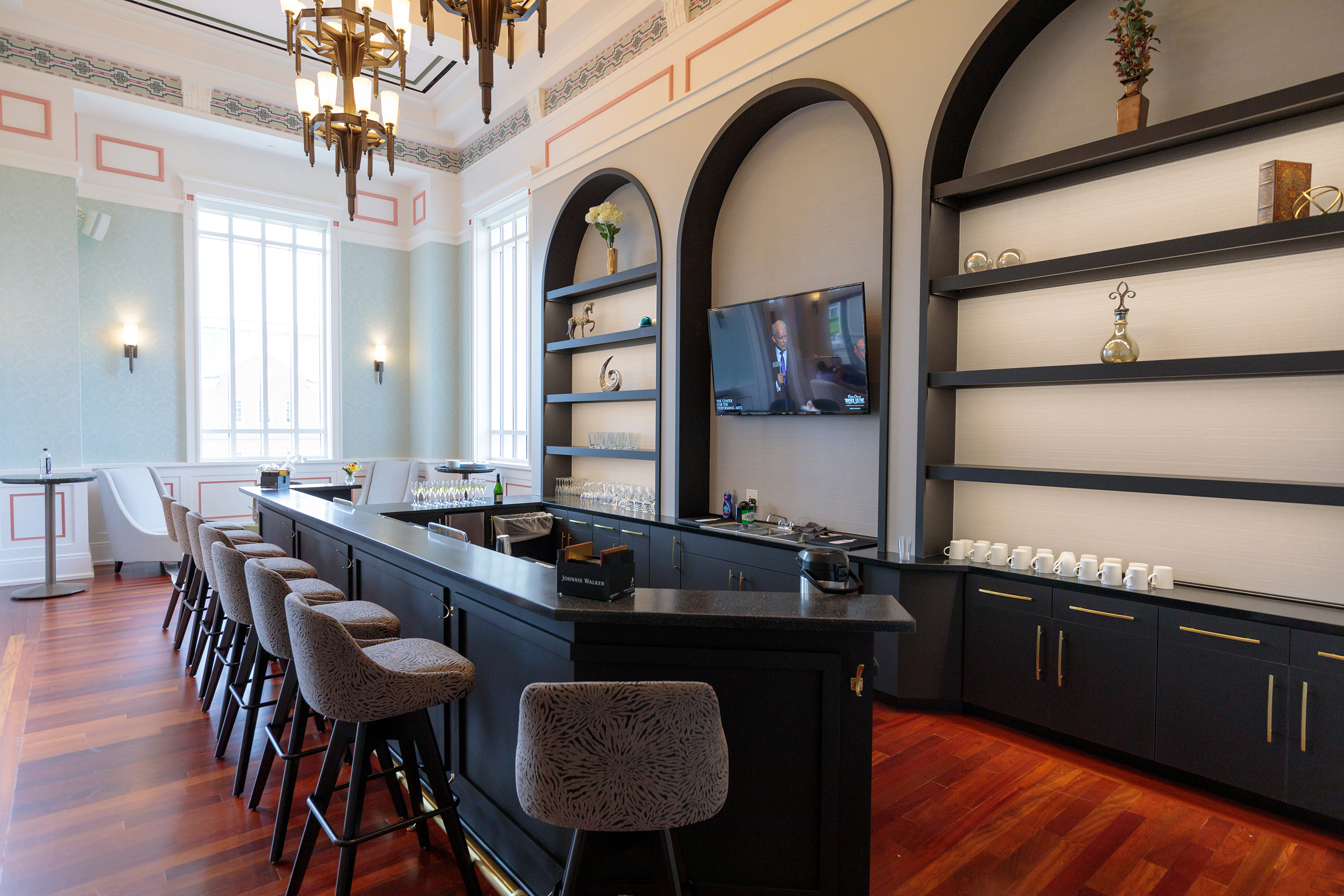 This bar area is part of the new look at the Palladium's hospitality room, now known as the Brham Founders Club by Brahm. (Photo by William Crawford/Harbor Pictures Co.)
Brham Founders Club recently renovated to host VIP receptions, special events
CARMEL, Ind. – The Center for the Performing Arts has entered a multiyear partnership with an international company for naming rights to its recently renovated hospitality room at the Palladium concert hall.
The Brham Founders Club by Brahm, as it is now known, is a 1,700-square-foot lounge space with outdoor balconies, often used for VIP receptions and available to rent for special events.

"Brham by Brahm" is a new well-being and lifestyle brand being developed by the Brahm Corporate Group, which has holdings in Asia, Europe and the Americas in fields including precision manufacturing, software, financial services, agriculture and biosciences. The Brham brand encompasses consumer products, real estate and a range of services. The company plans to open a local retail location later this year.
"This partnership reflects the spirit that underlies our new products and services," said Brahm Corporate Group Founder and CEO Bhavook Tripathi, who lives in Carmel. "We are proud to support the Center's work in elevating quality of life throughout Central Indiana."
The financial terms of the agreement are confidential, but the partnership poses endless opportunities to enhance value for all parties involved, said Jeffrey C. McDermott, President/CEO of the Center for the Performing Arts.
"We are very pleased to welcome the Brahm Corporate Group and its new Brham brand into the Center's family," McDermott said. "We look forward to exploring the possibilities."
About the Center for the Performing Arts
The mission of the nonprofit Center for the Performing Arts is to engage and inspire the Central Indiana community through enriching arts experiences. Its campus in Carmel, Indiana, includes the 1,600-seat Palladium concert hall, the 500-seat Tarkington proscenium theater and the black-box Studio Theater. The Center presents and hosts hundreds of events each year, including the Center Presents performance series, featuring the best in classical, jazz, pop, rock, country, comedy and other genres. Educational and experiential programming for all ages includes children's concerts and camps, book clubs, lectures, and classes in music and dance. The Center is home to the affiliated Great American Songbook Foundation and provides space and support services for six resident arts companies. More information is available at TheCenterPresents.org.
About the Brahm Corporate Group
Brahm Corporate Group, through its directly, indirectly and/or partially owned operating corporations and investment vehicles, is active across Asia, Europe and the Americas. The activities of the group can be broadly classified into five major categories:
Material Science and Precision Manufacturing
Software Services and Technology
Capital Management and Investment Banking
Agriculture and Biosciences
Well-Being & Lifestyle, including residential and commercial spaces
More information is available at brham.com and brahmcorp.com.