Center Celebration 2022 raises nearly $700,000 for programs
9/19/2022 12AM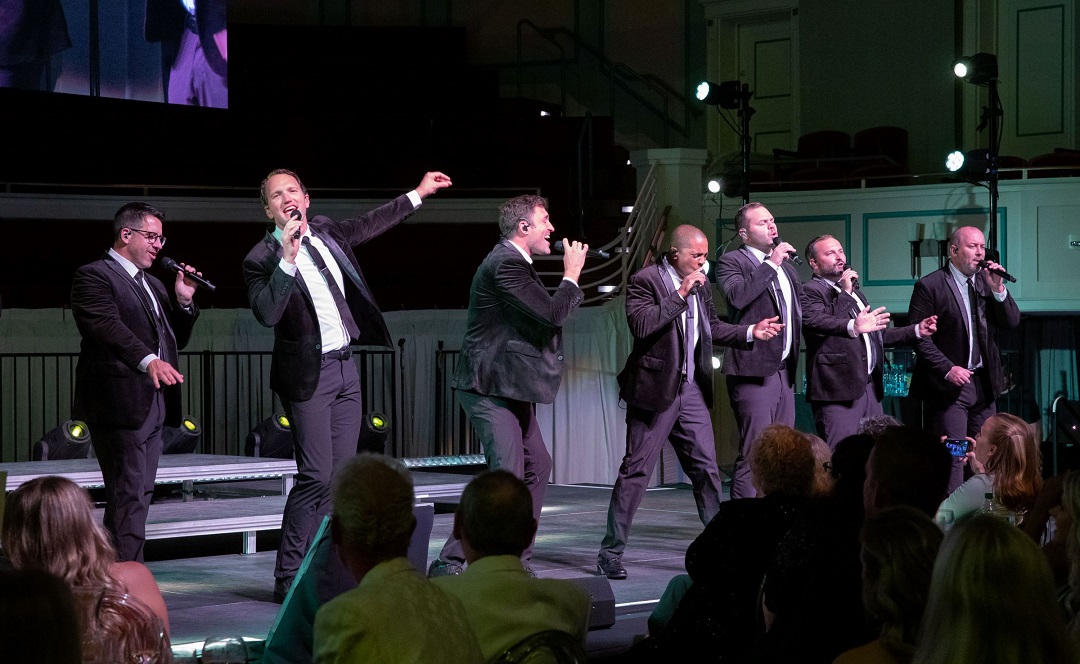 A cappella group Straight No Chaser wows the crowd Friday at the Palladium during Center Celebration 2022. The group also was inducted into the Great American Songbook Hall of Fame during the gala. (photos by Bill and Sara Crawford)
Annual gala includes performances by Straight No Chaser, Michael Feinstein
CARMEL, Ind. – Returning to an on-site, in-person format after two seasons away, the Center for the Performing Arts' annual gala Friday drew a sellout crowd to the Palladium for an elegant dinner, a series of stellar performances and an unprecedented outpouring of generosity from the community.
Through table reservations, auction sales, partnerships and donations, Center Celebration 2022 presented by Krieg DeVault generated more than $689,000 in support of the Center's arts and educational programming.
"Friday's event was our opportunity to thank the people and organizations who have helped to sustain the Center's mission during these challenging past few years," Center President/CEO Jeffrey C. McDermott said. "True to form, they stepped up again and took their support to new heights."
Acclaimed a cappella group Straight No Chaser, celebrating the 25th anniversary of its founding at Indiana University, earned multiple ovations with its headline performance. Earlier, all nine members took the stage for the group's induction into the Great American Songbook Hall of Fame.
Other performers included Michael Feinstein, the Center's artistic director, who also served as emcee for the evening; Gregory Hancock Dance Theatre, one of the Center's Resident Companies; and high school senior Edin Kebede of New Albany, Ohio, a two-time alumna of the Great American Songbook Foundation's annual Songbook Academy summer intensive and winner of the 2022 Academy's Mentor Award.
The evening included a special announcement: With a lead gift from local developer and Center board member Justin Moffett and his wife, Jennifer, the Center has launched a Transportation Grant Fund to help school groups cover the cost of bringing students to the Center for arts and education events, with a goal of eliminating this key barrier to participation.
This year's Gala Committee was co-chaired by Liz and Michael Messaglia of Brownsburg and Jeff and Shari Worrell of Carmel. Partners supporting the event included Krieg DeVault, First Merchants Bank, Zotec Partners, Allied Solutions, Caroline and Michael Garvey, Liz and Michael Messaglia, the Carrie Holle Group, Brizo, Sun King and Urban Vines.
Center Celebration 2023 is set for Saturday, Sept. 23, 2023, at the Palladium. The headliner will be singer-songwriter Amy Grant, winner of six Grammy Awards, 22 Gospel Music Association Dove Awards and a Kennedy Center Honor. Information and table reservations are available now at TheCenterPresents.org/Gala.
About the Center for the Performing Arts
The mission of the nonprofit Center for the Performing Arts is to engage and inspire the Central Indiana community through enriching arts experiences. Its campus in Carmel, Indiana, includes the 1,600-seat Palladium concert hall, the 500-seat Tarkington proscenium theater and the black-box Studio Theater. The Center presents and hosts hundreds of events each year, including the Center Presents performance series, featuring the best in classical, jazz, pop, rock, country, comedy and other genres. Educational and experiential programming for all ages includes children's concerts and camps, book clubs, lectures, and classes in music and dance. The Center is home to the affiliated Great American Songbook Foundation and provides space and support services for six resident arts companies. More information is available at TheCenterPresents.org.