Center launches Transportation Grant Program
1/31/2023 12AM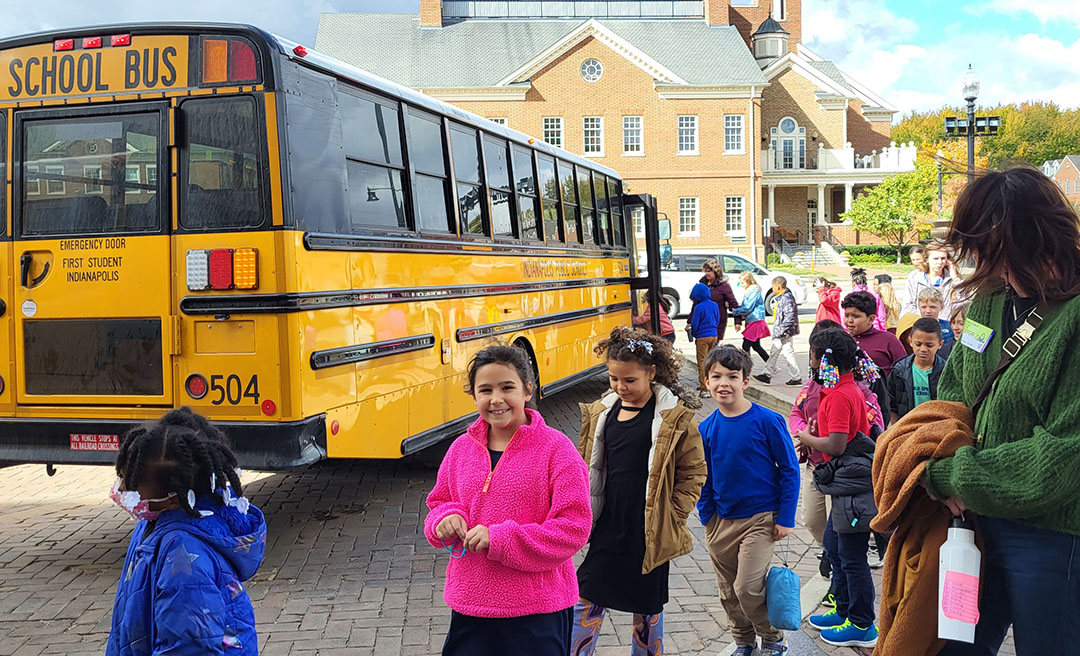 Students from IPS' Cold Spring School arrive for a student matinee at the Center for the Performing Arts.
Donor-supported fund will lower cost for student groups to attend educational events
CARMEL, Ind. – With a lead gift from a local family, the Center for the Performing Arts has launched a philanthropic fund to help defray the cost for student groups to attend education-related events at the Palladium and other venues on its Carmel campus.
Transportation expenses are among the key hurdles for budget-strapped educators planning off-site enrichment experiences for their students. The Center's new Transportation Grant Program is open to applications from public and private schools as well as homeschool groups. Organizations approved for grants can receive up to $600 per event in reimbursed costs for drivers and buses or other vehicles.
Eligible Center Presents education events include the FrontRow preconcert student Q&A sessions with performing artists and this season's National Geographic Live speaker series, which offers free matinees for students. Upcoming Nat Geo Live events at the Palladium include T. Rex Rises with paleontologist Lindsay Zanno on Feb. 21 and Untamed with wildlife filmmaker Filipe DeAndrade on April 25.
The initial gift to the grant fund comes from Carmel residents Justin and Jennifer Moffett. Justin is a member of the Center's Board of Directors and CEO of Old Town Companies.
"We are exceedingly grateful to the Moffetts for recognizing the value of our programming for local youth and the opportunity we have to make these experiences more widely accessible," said Jeffrey C. McDermott, President/CEO of the Center for the Performing Arts. "We hope other supporters will step up to broaden the impact of this new initiative."
Those interested in donating to the Transportation Grant Fund may contact Ana Hammersley, Director of Individual Development, at (317) 819-3536. Donations to the Center's full range of education programs may be made at TheCenterPresents.org/Donate by choosing "Education Fund" from the pull-down menu.
More information about applying for a Transportation Grant is available at TheCenterPresents.org/TransportationGrant.
About the Center for the Performing Arts
The mission of the nonprofit Center for the Performing Arts is to engage and inspire the Indiana community through enriching arts experiences. Its campus in Carmel, Indiana, includes the 1,500-seat Palladium concert hall, the 500-seat Tarkington proscenium theater and the black-box Studio Theater. The Center presents and hosts hundreds of events each year, including the Center Presents performance series, featuring the best in classical, jazz, pop, rock, country, comedy and other genres. Educational and experiential programming for all ages includes children's concerts and camps, book clubs, lectures, and classes in music and dance. The Center is home to the affiliated Great American Songbook Foundation and provides space and support services for six resident arts companies. More information is available at TheCenterPresents.org.