Center, law firm announce multiyear partnership
9/21/2022 12AM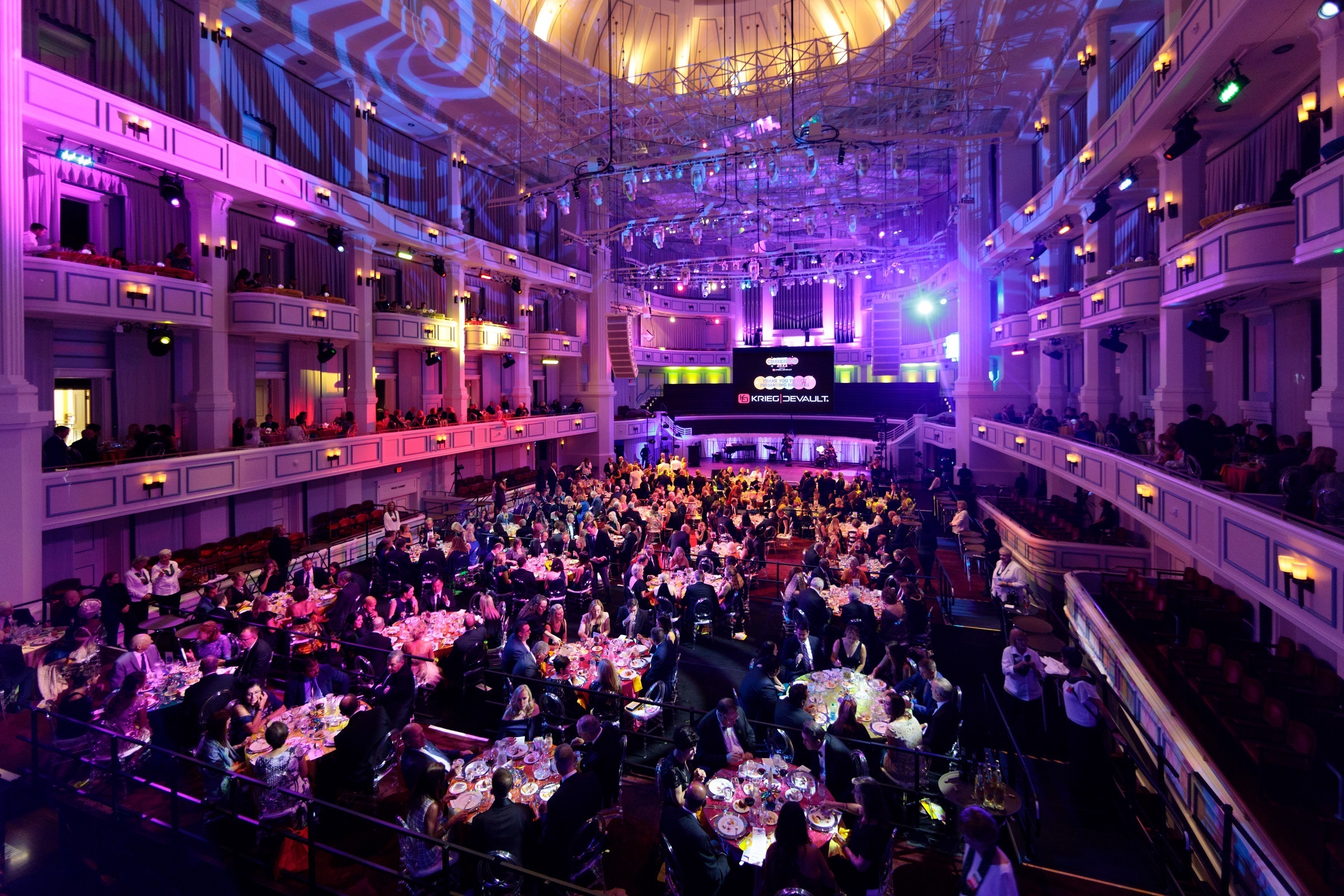 Center Celebration 2022, which took place Friday at the Palladium, generated more than $689,000 to support the Center's arts and educational programming. (Photo by Bill and Sara Crawford)
Ice Miller is new presenting partner for annual Center Celebration gala
CARMEL, Ind. – The law firm Ice Miller LLP has signed on as the new presenting partner for Center Celebration, the principal annual fundraising event for the Center for the Performing Arts.
The nonprofit Center and the Indianapolis-based firm announced the multiyear partnership in the wake of this year's Center Celebration 2022, which took place Friday at the Palladium and generated more than $689,000 to support the Center's arts and educational programming. Returning as an in-person event for the first time since 2019, the black-tie gala was emceed by performer Michael Feinstein, the Center's artistic director, and included cocktails, dinner, a live auction, three after-parties with live music, and a headlining performance by acclaimed vocal group Straight No Chaser.
Ice Miller, a full-service firm with seven offices around the country, is exactly the kind of corporate partner the Center seeks out, said Jeffrey C. McDermott, President/CEO of the Center for the Performing Arts.
"Ice Miller is a highly respected corporate citizen that shares our commitment to the Indiana community," McDermott said. "We welcome them into the Center's family, and we look forward to a long and mutually beneficial relationship."
"Ice Miller values the Center's mission of enriching our state through the arts and arts education," said Ice Miller Chief Managing Partner Michael Millikan. "We are proud to support this worthy organization through our partnership."
Center Celebration 2023 is set for Saturday, Sept. 23, 2023, at the Palladium. The headliner will be singer-songwriter Amy Grant, winner of six Grammy Awards, 22 Gospel Music Association Dove Awards and a Kennedy Center Honor. Information and table reservations are available now at TheCenterPresents.org/Gala.
About Ice Miller
Ice Miller LLP is a full-service law firm dedicated to helping our clients stay ahead in a changing world. With more than 340 legal professionals across seven offices, we advise clients on all aspects of the complex legal issues impacting businesses each day. We serve emerging growth companies, Fortune 500 corporations, municipal entities and nonprofits. To learn more, visit us at icemiller.com. 
About the Center for the Performing Arts
The mission of the nonprofit Center for the Performing Arts is to engage and inspire the Central Indiana community through enriching arts experiences. Its campus in Carmel, Indiana, includes the 1,600-seat Palladium concert hall, the 500-seat Tarkington proscenium theater and the black-box Studio Theater. The Center presents and hosts hundreds of events each year, including the Center Presents performance series, featuring the best in classical, jazz, pop, rock, country, comedy and other genres. Educational and experiential programming for all ages includes children's concerts and camps, book clubs, lectures, and classes in music and dance. The Center is home to the affiliated Great American Songbook Foundation and provides space and support services for six resident arts companies. More information is available at TheCenterPresents.org.