Grants benefit Songbook Foundation, Resident Companies
1/9/2019 12AM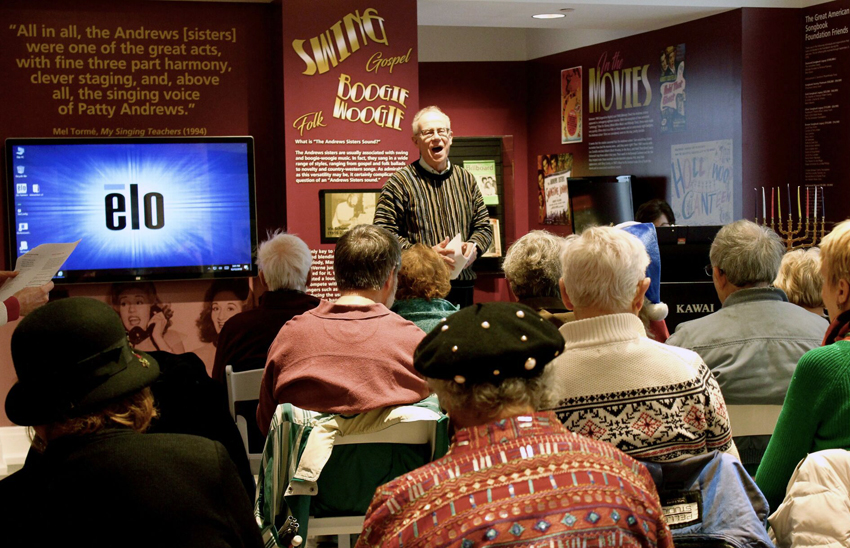 The Great American Songbook Foundation's Perfect Harmony program provides song-based wellness sessions
for older adults with Alzheimer's disease, dementia and other neurodegenerative disorders.
Foundation eyes growth in key programs
The Great American Songbook Foundation plans to expand its national programming and development efforts this year thanks to a $230,000 grant from the City of Carmel.
Based at the Center for the Performing Arts, the Songbook Foundation and the Center's six Resident Companies were among 25 local arts organizations that received more than $1.3 million in the 2019 round of the city's annual Arts Grant Program, announced last week.
Applying to the program for the first time, the Songbook Foundation requested support for some of its key initiatives:
"These ideas grew from the strategic plan we developed two years ago with our Board of Directors," Songbook Foundation Executive Director Chris Lewis said. "With this grant from the city, we now can activate that plan."
Also receiving 2019 arts grants were the six Resident Companies at the Center for the Performing Arts:
Actors Theatre of Indiana, $240,000
Carmel Symphony Orchestra, $275,000
Central Indiana Dance Ensemble, $15,000
Civic Theatre, $210,000
Great American Songbook Foundation, $230,000
Gregory Hancock Dance Theatre, $59,500
Indiana Wind Symphony, $41,000
The City of Carmel allocates approximately 1 percent of its annual budget to support the arts, awarding more than $11.5 million since 2004.
"It is our mission as a City to invest our money wisely in order to improve the quality of life, helping us to attract new economic development and private investments in our city. We have done this by building the framework for a community that values the arts," Mayor Jim Brainard said in announcing the grants. "As part of that strategy, it is important to support our local arts groups, which are worthy of public support. Studies by the Americans for the Arts show typical visitors to an event spend close to $30 per person, per event, in addition to the cost of admission. That's money spent at our local restaurants, art galleries and other businesses."