Damien Escobar, Ray Charles tribute added to season
7/21/2021 12AM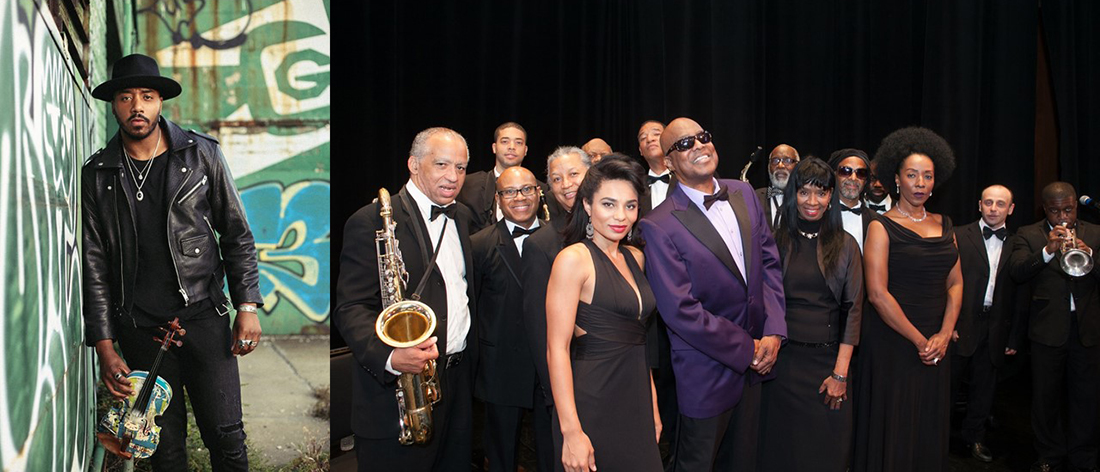 Violinist Damien Escobar is returning to the Center after successful shows in 2017 and 2019. Ray on My Mind, led by pianist Kenny Brawner, is making its Palladium debut this season.
2021-22 tickets available now through series subscription packages
CARMEL, Ind. – The Center for the Performing Arts has added two new dates to its 2021-22 Center Presents Season sponsored by Allied Solutions: a holiday performance by a crossover violin star and a tribute to an American music legend.
Violinist Damien Escobar will return to the Palladium at 7:30 p.m. Dec. 16 with his 25 Days of Christmas tour as part of the Center's Holiday Series. Tickets are available now with the purchase of a three-event Create Your Own series subscription package.
Ray on My Mind: The Ray Charles Story will make its Palladium debut at 8 p.m. March 25 as part of the Hoosier Village Songbook Series. Tickets are available now with a three-event Create Your Own package or a subscription to the Songbook Series, which includes Broadway star Jordan Donica on Jan. 7 and Michael Feinstein with guest Sandi Patty on May 7.
Among other advantages, subscription packages offer up to 20 percent off standard pricing as well as early access to choice seats before single-event tickets go on sale to the general public. Single-event tickets for 2021 performances will go on sale Aug. 6. Single-event tickets for 2022 performances will go on sale in November. A Create Your Own package requires choosing just three events from the more than 40 performances already announced. Subscriptions and more information are available at TheCenterPresents.org and by phone at (317) 843-3800.
Escobar, known for his crossover mix of classical, jazz, pop, R&B and hip hop, began performing as a child in the New York City subways and at age 10 was the youngest person ever admitted to the Julliard School before gaining national fame in the brother duo Nuttin' But Stringz. A solo artist since 2012, he has built a career that includes Billboard chart-topping albums, sold-out global tours, collaborations with music legends, an NAACP Image Award nomination and two Emmy Awards.
Ray on My Mind features master pianist-vocalist Kenny Brawner leading his 11-piece orchestra and three sultry vocalists – like Charles' Raelettes – performing his most popular hits: "What'd I Say," "I Got a Woman," "Mess Around," "Georgia On My Mind," a blazing-hot duet on "Baby It's Cold Outside," and many more. The music is interwoven with monologues depicting how gospel, blues, jazz and country music influenced Charles' style, while also reflecting on American social history, his epic battle with drugs and his triumphant return.
Tickets and information:
TheCenterPresents.org
(317) 843-3800
Tickets@TheCenterPresents.org
About the Center for the Performing Arts
The mission of the nonprofit Center for the Performing Arts is to engage and inspire the Central Indiana community through enriching arts experiences. Its campus in Carmel, Indiana, includes the 1,600-seat Palladium concert hall, the 500-seat Tarkington proscenium theater and the black-box Studio Theater. The Center presents and hosts hundreds of events each year, including the Center Presents performance series, featuring the best in classical, jazz, pop, rock, country, comedy and other genres. Educational and experiential programming for all ages includes children's concerts and camps, book clubs, lectures, and classes in music and dance. The Center is home to the affiliated Great American Songbook Foundation and provides space and support services for six resident arts companies. More information is available at TheCenterPresents.org.