Feinstein, Manchester to perform for live audience
3/26/2021 12AM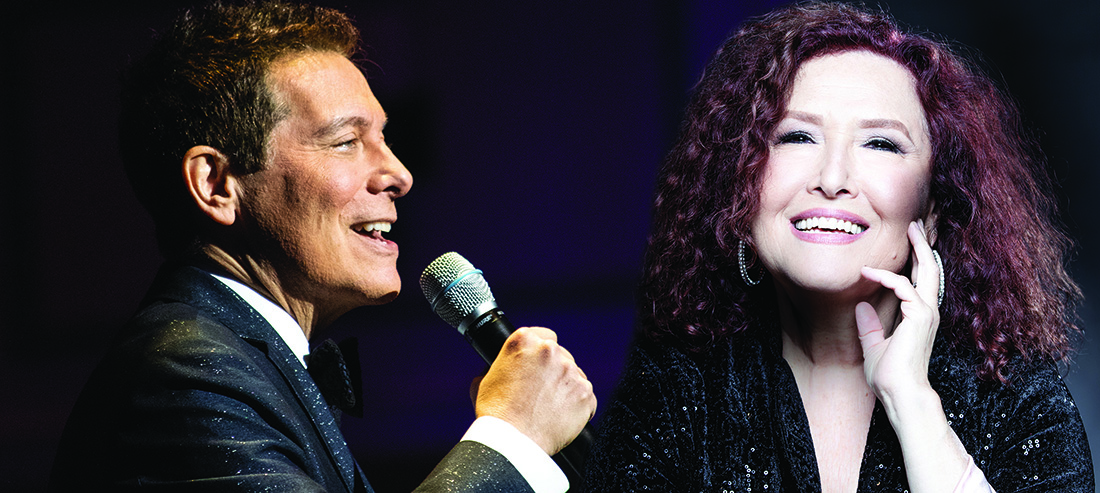 Great American Songbook ambassador Michael Feinstein and pop icon Melissa Manchester are longtime friends and collaborators.
May 15 event will be season's first Center Presents concert
CARMEL, Ind. – World-class talent returns to the Palladium on May 15 when the Center for the Performing Arts presents An Evening with Michael Feinstein and Special Guest Melissa Manchester.
Following local productions by the Center's resident arts companies, the performance will be the first Center Presents concert with an on-site audience since March 2020, when the global pandemic brought the touring entertainment industry to a halt. The show – Feinstein's first for a live audience in over a year – also will be available to viewers worldwide through an HD stereo livestream. He and Manchester, a longtime friend and collaborator, will perform individually and together, backed by a piano trio.
"Nothing matches the magic of an artist in a concert hall with a live audience, and we are more than ready to get back into that business," said Jeffrey C. McDermott, President/CEO of the nonprofit Center for the Performing Arts. "Meanwhile, over the past year, we have built our capacity to produce broadcast-quality livestreams for viewers far and wide, so we're also excited about building audiences beyond our physical campus."
With seating limited to allow appropriate distancing, tickets starting at $35 go on sale at 10 a.m. Friday, April 2, at TheCenterPresents.org and by phone at (317) 843-3800. (The Center Box Office remains closed to walk-up sales until further notice.) Livestream access is available for $25 per household. The event is part of the Center Presents 2020-2021 Season sponsored by Allied Solutions.
Feinstein, whose work as a singer, pianist, preservationist and ambassador of timeless popular music has earned him five Grammy Award nominations, is Artistic Director for the Center and Founder of the affiliated Great American Songbook Foundation. While taking a break from the road, he has been developing a podcast, Music and Madness, featuring unique recordings from his personal collection. His upcoming album, Gershwin Country, was recorded in Nashville with a roster of top country artists.
Manchester is perhaps best known for her Billboard Top 10 singles "Midnight Blue," the Grammy-nominated "Don't Cry Out Loud" and "You Should Hear How She Talks About You," which landed a Grammy Award for Best Female Pop Vocal Performance. Her original songs have been recorded by artists including Barbra Streisand, Roberta Flack, Dusty Springfield, Alison Krauss and Kenny Loggins. Manchester was the first recording artist to have two movie themes nominated for Academy Awards in the same year – "Through the Eyes of Love" from Ice Castles and "I'll Never Say Goodbye" from The Promise – and to perform them both on the Oscar telecast. She is re-recording several of her classics for her upcoming 24th album, RE:VIEW.
CALENDAR: Concert and livestream
An Evening with Michael Feinstein and Special Guest Melissa Manchester
Saturday, May 15, at 8 p.m.
The Palladium at the Center for the Performing Arts, 1 Center Green, Carmel, IN 46032
Admission: On-site seating starts at $35; livestream $25
Information and tickets: TheCenterPresents.org/MichaelandMelissa