Musical inspired by true love stories of WWII
4/5/2022 12AM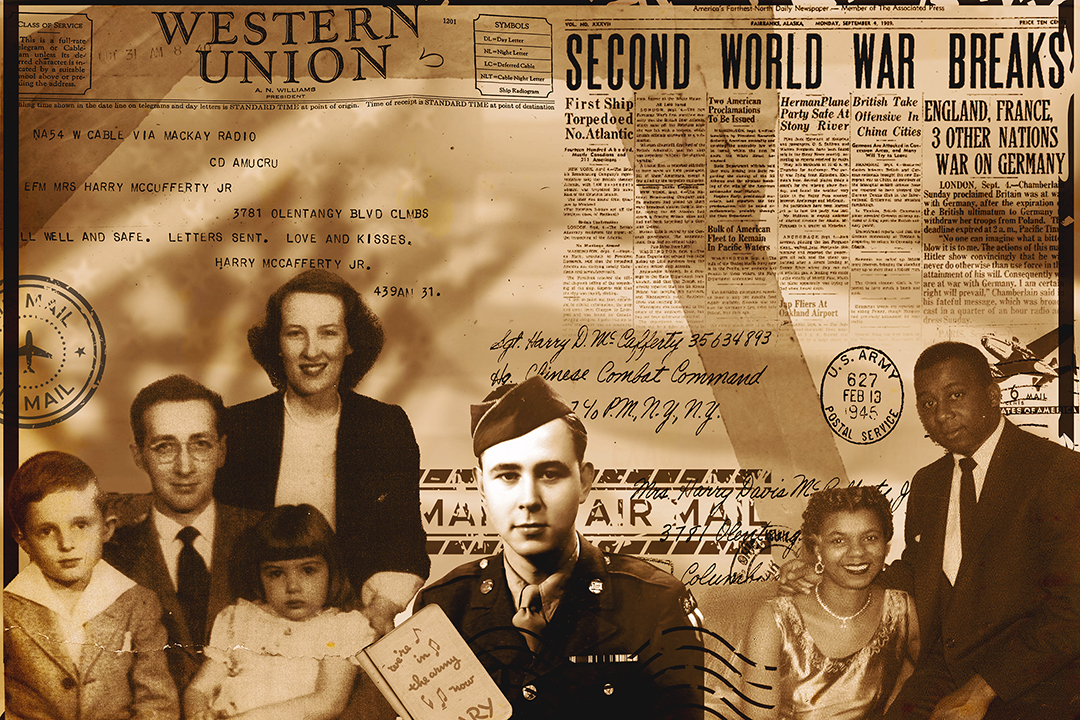 Images collected from families will be projected onstage during the performance of "I'll Be Seeing You: Love Stories of World War II" on June 11 at the Palladium. (illustration by Kalie Clark)
I'll Be Seeing You premieres one night only June 11 at the Palladium
CARMEL, Ind. – Telegrams, handwritten letters and firsthand recollections of wartime romance are the inspiration for an original musical production premiering June 11 at the Center for the Performing Arts.
I'll Be Seeing You: Love Stories of World War II is a poignant revue of period songs and true stories that writer-director Ellen Kingston collected through interviews and social media exchanges with people who lived and loved through the war era, as well as their families. She considers the project a tribute to the people who have come to be known as "The Greatest Generation."
"Our parents and grandparents were committed to their spouses and stayed the course through the Great Depression, two World Wars and so many other challenges," said Kingston, the Center's Director of Creative Events and a longtime presence on Indiana's musical theater scene as an actress, singer, writer, costumer and director. "We'll celebrate their stories and recreate the special songs of the day."
The performance is set for 8 p.m. June 11 at the Palladium. Tickets at $10-$25 go on sale at 10 a.m. Friday, April 8, through the Center's Fifth Third Bank Box Office, online at TheCenterPresents.org and by phone at (317) 843-3800. A free livestream will be available for viewing on the Center's website and social media channels.
I'll Be Seeing You presents the stories of eight specific couples, with a narrator and projected images providing background details and the performers delivering each couple's favorite tunes and others from the period. The songs include Great American Songbook classics such as "They Can't Take That Away from Me," "Ev'ry Time We Say Goodbye" and "Ac-Cent-Tchu-Ate the Positive."
"There are lighthearted moments, but some sad moments too," said Kingston, noting that many members of the families who shared their stories will be attending the performance. "It will be a very moving experience for everyone involved."
The cast of local singers and dancers includes Olivia Broadwater, Tiffany Gilliam, Jerry Hacker, Kathleen Hacker, Nathanael Hein, Joseph Perkins, Melissa Schott and Matthew Vire. Music Director David Duncan will lead a live combo with musicians Becky Chappell, Bill Myers, Rob West and Ginny Womack.
About the Center for the Performing Arts
The mission of the nonprofit Center for the Performing Arts is to engage and inspire the Central Indiana community through enriching arts experiences. Its campus in Carmel, Indiana, includes the 1,600-seat Palladium concert hall, the 500-seat Tarkington proscenium theater and the black-box Studio Theater. The Center presents and hosts hundreds of events each year, including the Center Presents performance series, featuring the best in classical, jazz, pop, rock, country, comedy and other genres. Educational and experiential programming for all ages includes children's concerts and camps, book clubs, lectures, and classes in music and dance. The Center is home to the affiliated Great American Songbook Foundation and provides space and support services for six resident arts companies. More information is available at TheCenterPresents.org.