Kentucky teen claims top honors in Songbook Academy Finals
8/14/2018 12AM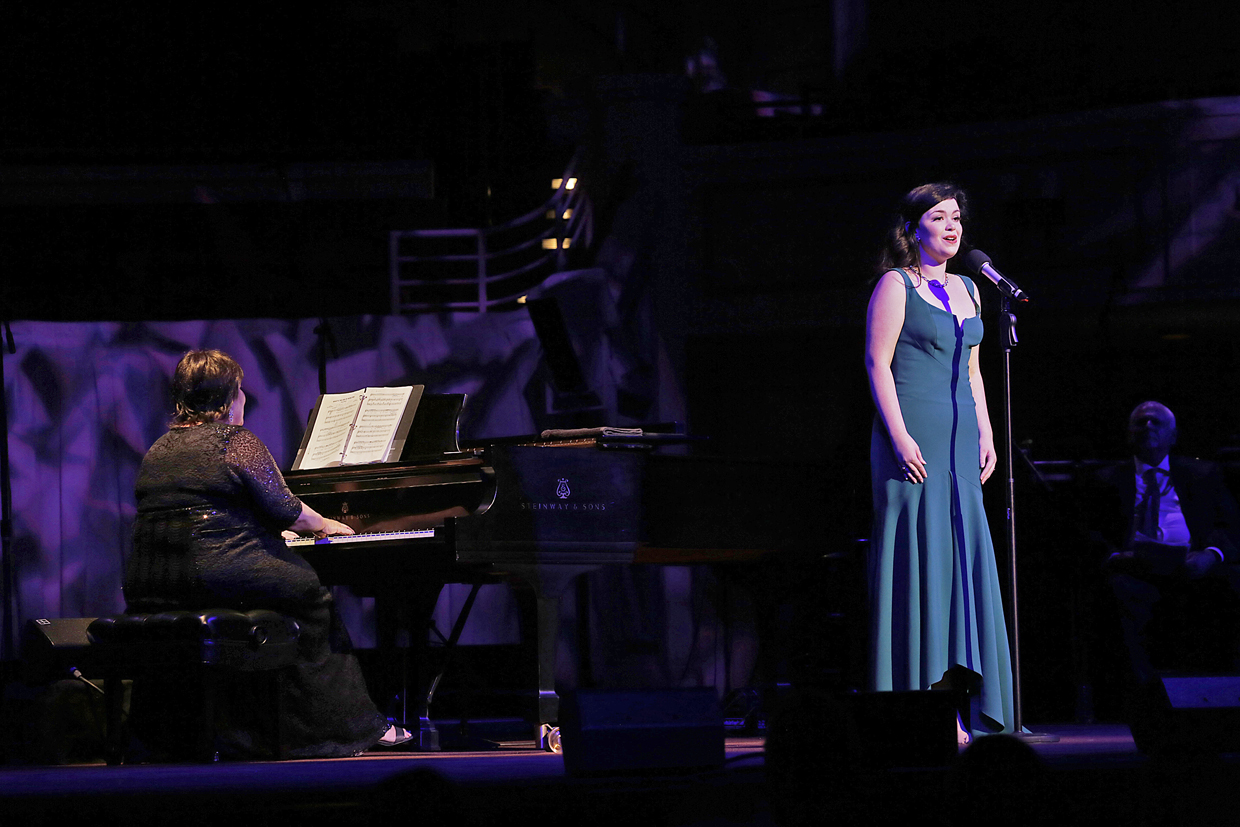 On her way to winning the Songbook Youth Ambassador title, 18-year-old Lily Rasmussen performs with accompanist Beckie Menzie during the Songbook Academy Finals concert Saturday at the Center for the Performing Arts in Carmel, Ind.

Songbook Foundation's annual music intensive wraps ninth year
CARMEL, IN – A rising college freshman from Lexington, Ky., earned the top title of Songbook Youth Ambassador at the Saturday finals concert to cap the weeklong Songbook Academy®, the nation's only youth music intensive focused on the timeless popular standards of jazz, Broadway and Hollywood.
Before a near-capacity crowd at the Palladium at the Center for the Performing Arts, 18-year-old Lily Rasmussen won over the judges with her renditions of "What's the Use of Wondrin'" from Rodgers and Hammerstein's Carousel and "The Man That Got Away," penned by Ira Gershwin and Harold Arlen and famously sung by Judy Garland in A Star Is Born.
Now Rasmussen looks forward to a year of high-profile performances, some alongside five-time Grammy Award nominee Michael Feinstein, founder of the Great American Songbook Foundation and lead mentor at the Songbook Academy, now in its ninth year. Past winners have sung the National Anthem at NFL games and played such venues as Carnegie Hall, Lincoln Center, and Feinstein's cabaret clubs in New York and San Francisco.
"I feel the most happy a person can, that's how I would describe it," said Rasmussen, who will head to New York next week to attend Marymount Manhattan College. MMC was also the choice of 2014 Songbook Youth Ambassador Maddie Baillio, who played the lead role in NBC's 2016 Hairspray Live! broadcast.
Looking back on her Academy experience – a week of workshops and professional mentoring alongside 39 of her peers from coast to coast – Rasmussen said she was most impressed by "how many people love this music just as much as I do, and that they love it an incredible amount, and that's very comforting."
Along with Feinstein, this year's professional mentors included current Broadway performers Alexander Gemignani (Carousel), Fergie L. Philippe (Hamilton) and Becca Petersen (Mean Girls), as well as TV producer Marc Cherry (Desperate Housewives), opera and cabaret star Sylvia McNair, pianist-composer Nat Zegree and actress-singer Mary Lane Haskell.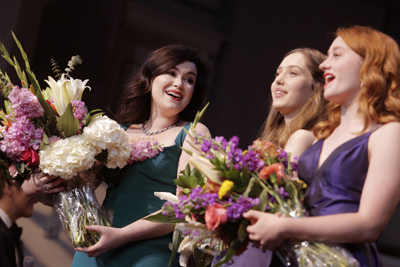 Other top award winners included Anaïs Reno (center at right) of New York City, who claimed the Songbook Inspiration Award, and Zoë Stewart of Milford, Mass., who received the Songbook Celebration Award. Rounding out the Top 10 finalists this year were Olivia Broadwater of Zionsville, Ind.; Reed Gnepper of Cincinnati, Ohio; Emma Hackworth of Pittsburgh, Pa.; Abigail Marotta of Ocoee, Fla.; Eevie Perez of San Diego, Calif.; Johnny Rabe of Naperville, Ill.; and Gabriel Schonman of River Forest, Ill.
Leading up to the Songbook Academy Finals were two other public events: Wednesday's Public Masterclass, in which Feinstein and Cherry provided live onstage coaching to 10 randomly selected vocalists, and Thursday's Songbook Showcase, from which the Top 10 finalists were selected for Saturday's showdown.
The Songbook Academy is sponsored nationally by the Efroymson Family Fund. The Public Masterclass and Songbook Showcase were sponsored by Ruth's Chris Steak House. The Finals concert was presented by the Center for the Performing Arts and sponsored by Salon 01, Aquage haircare products and Current Publishing LLC.
About the Great American Songbook Foundation
The mission of the Great American Songbook Foundation, founded in 2007 by five-time Grammy® Award nominee Michael Feinstein, is to inspire and educate by celebrating the Great American Songbook – the timeless standards of pop, jazz, Broadway and Hollywood. Headquartered at the Center for the Performing Arts in Carmel, Indiana, the Foundation advances this rich legacy by curating physical artifacts of its creators, performers and publishers; operating a multimedia exhibit gallery; overseeing the Songbook Hall of Fame; offering programs for the public and research opportunities for scholars and artists; and providing educational opportunities for student musicians, including the annual Songbook Academy® summer intensive. The Foundation is a Cultural Affiliate of the Los Angeles-based Grammy Museum®. More information is available at TheSongbook.org.
About the Center for the Performing Arts
The mission of the nonprofit Center for the Performing Arts is to welcome, engage, inspire and transform through compelling performing arts experiences in a world-class environment. The Center presents and hosts hundreds of events each year on its campus in Carmel, Indiana, which includes a 1,600-seat concert hall, the Palladium; a 500-seat proscenium theater, the Tarkington; and the black-box Studio Theater. The campus houses the affiliated Great American Songbook Foundation and provides space and support services for six resident companies: Actors Theatre of Indiana, Civic Theatre, Carmel Symphony Orchestra, Central Indiana Dance Ensemble, Gregory Hancock Dance Theatre and Indiana Wind Symphony. The Center also provides educational programming for people of all ages. More information is available at TheCenterPresents.org.