Livestream concert series features local artists
9/29/2020 12AM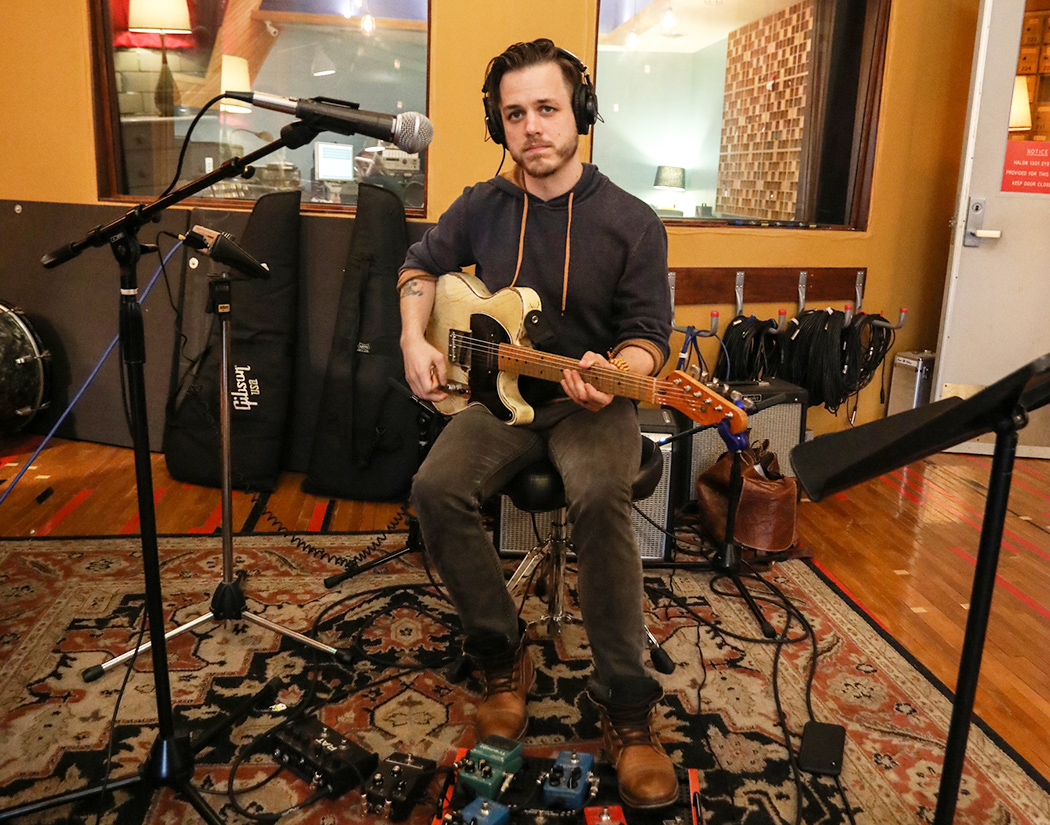 With a new album inspired by author Kurt Vonnegut, Indianapolis-based jazz guitarist and composer Charlie Ballantine will kick off the Center's new livestream concert series Oct. 23.
New Live at the Center launches with six free performances this fall
CARMEL, Ind. – With a pandemic keeping the touring concert industry on pause, the Center for the Performing Arts is turning its spotlight on local and regional talent through a new series of livestreamed performances by Indiana-based artists and bands in genres from jazz and classical to soul and indie rock.
Sponsored by Allied Solutions, Live at the Center premieres Oct. 23 with a set from jazz guitarist Charlie Ballantine, an Indianapolis-based composer and bandleader with a growing national reputation and several albums in his catalog. Rounding out the initial schedule through December are free performances by rock bands Moxxie and Carmichael, classical pianist Joshua Thompson, and singers Jenn Cristy and Bashiri Asad. More shows are planned in 2021. More information is available at TheCenterPresents.org/LATC.
Rising to the challenges posed by COVID-19, the Center's concert production team has evolved into a video crew, equipped to deliver live-switched, multi-camera HD coverage with stereo sound from any of the Center's three venues. The Palladium, the Tarkington and the Studio Theater offer options to suit a wide range of artists, and fans will enjoy a front-row perspective through the Center's website and other platforms.
"The touring artists we would normally present on-site are simply not on the road right now," said Jeffrey C. McDermott, President and CEO of the Center for the Performing Arts and the affiliated Great American Songbook Foundation. "Meanwhile, Indiana has a rich community of songwriters and performers who have lost many of their usual revenue sources. This is an important opportunity for us to step up, create new opportunities for audiences and artists alike, and even extend our geographic reach through this new online programming."
The Live at the Center schedule begins with these free events:
Charlie Ballantine Quartet, jazz
Friday, Oct. 23, at 8 p.m.
Streamed from the Palladium
Moxxie, indie rock
Thursday, Oct. 29, at 7:30 p.m.
Streamed from the Studio Theater
Carmichael, indie rock
Thursday, Nov. 12, at 7:30 p.m.
Streamed from the Tarkington
Joshua Thompson, classical piano
Sunday, Nov. 22, at 7 p.m.
Streamed from the Palladium
Jenn Cristy, pop
Friday, Dec. 4, at 8 p.m.
Streamed from the Palladium
Bashiri Asad, soul
Wednesday, Dec. 16, at 7:30 p.m.
Streamed from the Palladium