New arts camp aimed at youth with disabilities
2/8/2023 12AM
Prism Project launches in June at the Center for the Performing Arts
CARMEL, Ind. – Children and young adults with disabilities can explore their talents and make new friends at a summer camp debuting in June at the Center for the Performing Arts.
Adapted from a concept developed at Ball State University, the Prism Project at the Center is a four-week performing arts camp designed for people ages 6-22 with physical, developmental and cognitive disabilities. With guidance and one-on-one support from trained instructors and non-disabled peer volunteers, the participants learn about self-expression through theater, dance, and vocal and instrumental music. The program will culminate in an original group performance on June 25.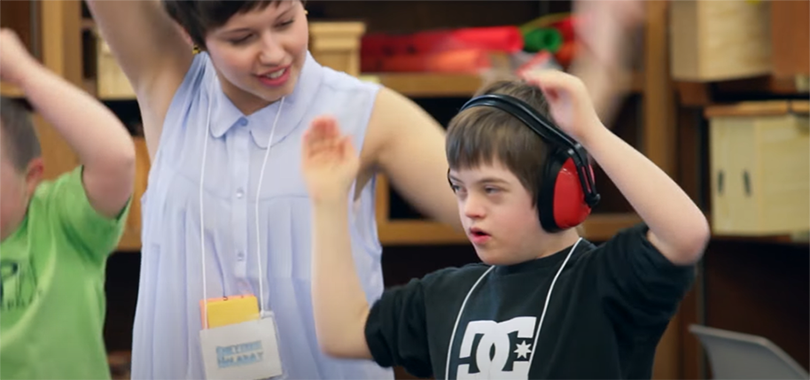 The goal of the Prism Project is to provide an engaging performing arts program and close the gap in recreational activities for individuals with disabilities such as autism, cognitive delays, limited verbal communication abilities and alternative communication requirements, as well as physical disabilities and sensory support needs such as vision and hearing impairments. The activities are designed to help participants develop self-confidence, gain creative arts experience and build relationships. The Prism Project at the Center also provides volunteer opportunities for college students and high school juniors and seniors who are interested in working with people with disabilities.
"We're proud to be offering a new program that aligns so well with our educational mission and also advances the principles of diversity, equity and inclusion in our community," said Jeffrey C. McDermott, President and CEO of the Center for the Performing Arts.
After a parent orientation session on May 31, the camp sessions are scheduled 9:30-11:30 a.m. Mondays, Wednesdays and Fridays from June 2 to 23. The final performance will take place at 2 p.m. Saturday, June 25, at the Center's Studio Theater.
Camp registration is available at TheCenterPresents.org/PrismProjectCamp. For more information on accommodations and volunteer opportunities with the Prism Project at the Center, email Outreach@TheCenterPresents.org.
About the Center for the Performing Arts
The mission of the nonprofit Center for the Performing Arts is to engage and inspire the Indiana community through enriching arts experiences. Its campus in Carmel, Indiana, includes the 1,500-seat Palladium concert hall, the 500-seat Tarkington proscenium theater and the black-box Studio Theater. The Center presents and hosts hundreds of events each year, including the Center Presents performance series, featuring the best in classical, jazz, pop, rock, country, comedy and other genres. Educational and experiential programming for all ages includes children's concerts and camps, book clubs, lectures, and classes in music and dance. The Center is home to the affiliated Great American Songbook Foundation and provides space and support services for six resident arts companies. More information is available at TheCenterPresents.org.