New Works 2023 commission winners announced
1/30/2023 12AM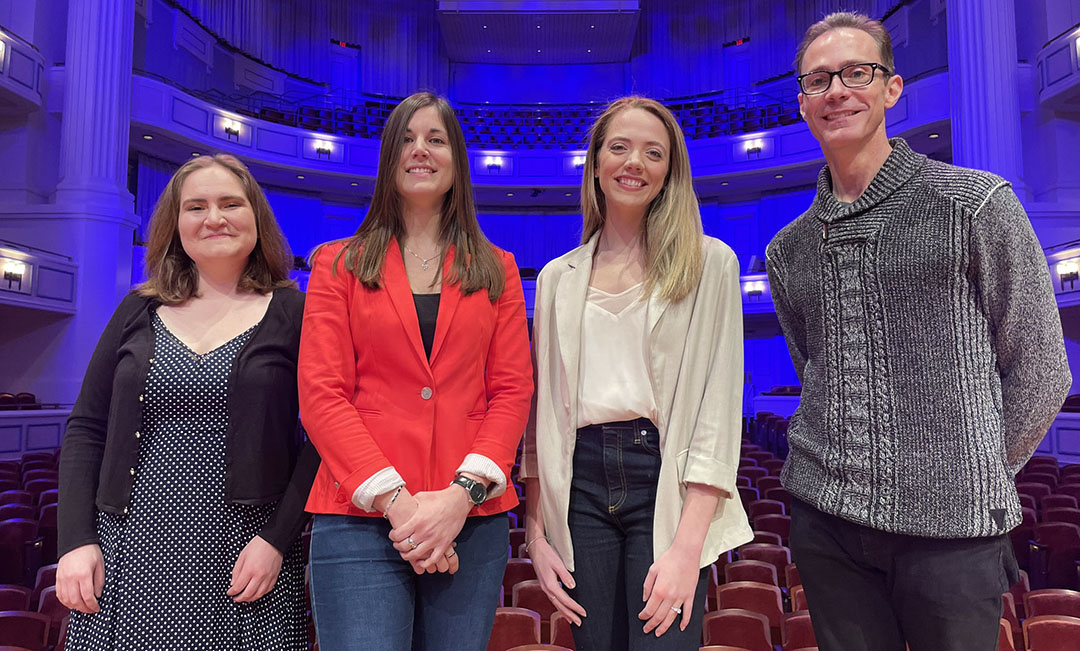 Winners of the 2023 New Works commissions at the Center for the Performing Arts are, from left, composer Jamey Guzman, saxophonist Cecily Terhune, and Emily Franks and Robert Moore of En Pointe Indiana Ballet.
Three top proposals will premiere onstage June 10 at the Palladium
CARMEL, Ind. – Three local artist teams have been selected to receive cash awards and professionally produced performance opportunities through the Center for the Performing Arts' New Works commission project, now in its second season.
The 2023 New Works Premiere Performances will take place Saturday, June 10, at the Palladium and will be livestreamed on the Center's website and social media accounts. Tickets at pay-what-you-can pricing are available now at TheCenterPresents.org and (317) 843-3800.
The New Works project is designed to promote and sustain the area's working artists and artistic communities in an inclusive way by supporting the creation of new works across all performing arts disciplines. The proposed works are limited to 20 minutes each and must reflect the Center's organizational core values of integrity, excellence, innovation, collaboration and inclusion. Each winning proposal receives a $2,500 cash award, technical support in adapting the piece for the stage, onstage rehearsal time prior to the performances and access to the archived event video for promotional use.
The winning proposals selected by the judging panel are:
Suits – Emily Franks and En Pointe Indiana Ballet
Suits is an original dance piece incorporating various styles and techniques, including ballet, contemporary, Graham and jazz, to be performed by 19 pre-professional student dancers from Noblesville-based En Pointe Indiana Ballet. Franks, an En Pointe instructor and former dancer with Dance Kaleidoscope, is choreographing a story based on her own career transition from professional dance to office-based work. The narrative is a mystery about a stolen document, set amid the human dynamics of corporate culture.
Open Heart Surgery – Jamey Guzman
Open Heart Surgery is a contemporary opera modeled after a TV medical drama and featuring three singers and several live musicians from Bloomington-based New Voices Opera. Composer Guzman, who explores themes involving historically underrepresented communities, is collaborating with librettist Caroline Cao to tell the story of a young doctor caught between her dreams of working in film and her immigrant family's expectations of a career in medicine.
Boon Bestowed – Cecily Terhune
Boon Bestowed is a four-movement work for solo classical saxophone and electronic looper pedal, to be composed by Katie Madonna Lee and performed by Carmel-based musician and music educator Cecily Terhune. Each movement will each feature one instrument from the standard saxophone quartet – soprano, alto, tenor and baritone – and each will represent a powerful female archetype: nurturer, leader, activist and teacher. A projected slideshow of images will accompany the music.
The three pieces will be performed at the 8 p.m. June 10 event, and the artists will join in a talkback discussion to close the evening. Tickets are free to reserve at the Center's Fifth Third Bank Box Office at the Palladium, online at TheCenterPresents.org and by phone at (317) 843-3800. The livestream and recorded video of the performance will be available free on the Center's website and social media channels.
New Works is supported by the Allen Whitehill Clowes Charitable Foundation.
About the Center for the Performing Arts
The mission of the nonprofit Center for the Performing Arts is to engage and inspire the Indiana community through enriching arts experiences. Its campus in Carmel, Indiana, includes the 1,500-seat Palladium concert hall, the 500-seat Tarkington proscenium theater and the black-box Studio Theater. The Center presents and hosts hundreds of events each year, including the Center Presents performance series, featuring the best in classical, jazz, pop, rock, country, comedy and other genres. Educational and experiential programming for all ages includes children's concerts and camps, book clubs, lectures, and classes in music and dance. The Center is home to the affiliated Great American Songbook Foundation and provides space and support services for six resident arts companies. More information is available at TheCenterPresents.org.