Preschooler concert series returns Sept. 24
7/27/2022 12AM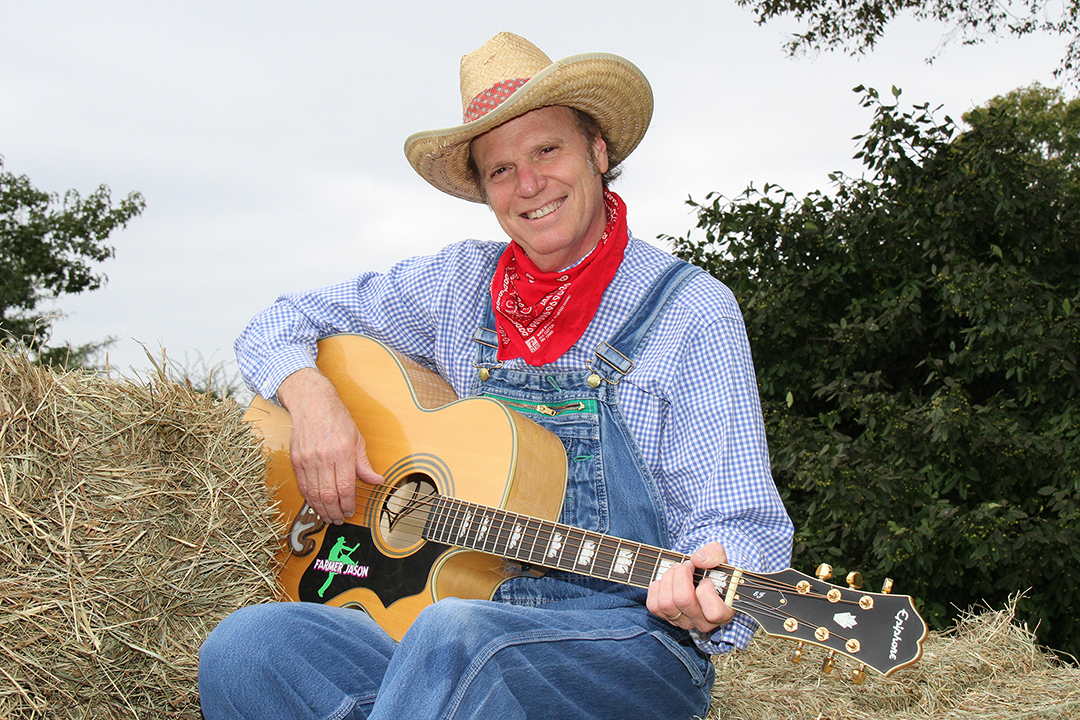 Once a pioneer of "cowpunk" as leader of the 1980s band Jason and the Scorchers, Jason Ringenburg is now an award-winning children's performer. He opens the new season of Faegre Drinker Peanut Butter & Jam.
Monthly events introduce kids to live performance
CARMEL, Ind. – Families can introduce young children to the joy of live performance through the Center for the Performing Arts' Faegre Drinker Peanut Butter & Jam series, which begins a new season Sept. 24.
With fun and informal sessions designed specifically for ages 1-7, Faegre Drinker PB&J typically takes place one Saturday each month from 10:30 to 11:15 a.m., in the Palladium's Robert Adam Room or across Carter Green in the Studio Theater. Tickets are only $10 per child, which includes the option of two free adult admissions upon request, creating an affordable weekend outing for families.
This season's events include:
10:30 a.m. Sept. 24
The Palladium – Robert Adam Room
Emmy and Parents' Choice Award winner Farmer Jason makes his PB&J debut with a highly interactive concert about farm life and nature appreciation. From the Kennedy Center to schools in the Australian Outback, Farmer Jason has entertained families while inspiring them to get outdoors and have fun enjoying nature. Farmer Jason is the brainchild of singer-songwriter Jason Ringenberg, leader of roots-rock band Jason and the Scorchers.
10:30 a.m. Oct. 22
The Palladium – Robert Adam Room
Blending bubblegum pop and indie rock, local band Dorin brings you upbeat tunes and punchy lyrics for an engaging experience the whole family will enjoy! Sing and dance along to original songs like "Pasta Dinner," "Sunny Sunday" and "Robot" from the band's two albums: Do You Dream of Me? and Candy for Breakfast.
10:30 a.m. Nov. 12
The Palladium – Robert Adam Room
Join musical duo Yurtfolk to explore music, stories and folk dance from around the world. We'll sing in different languages and get on our feet to dance! We'll also learn about some very unusual musical instruments.
Melchior Marionettes: Holiday Cabaret on Strings
10:30 a.m. and 12:30 p.m. Dec. 10
The Studio Theater
Back by popular demand! Join us for a fast-paced, entertaining cabaret of handcrafted marionettes. Children and adults will delight in the hilarious antics of the characters and the skill of the puppeteers. Everyone will want to sing along with the holiday classics and favorites.
Silly Safaris: Animals of the North Pole
10:30 a.m. Jan. 7
The Studio Theater
Meet Jingle John, a reindeer herder from the Scandinavian Sami culture, as he introduces us to amazing animals of the Arctic Circle, one of the coldest, harshest environments on the planet. Technically, it is a giant frozen desert, and the animals that live there have specific adaptations for survival. He'll bring mammals, reptiles, a bird and, of course, bugs to demonstrate life at the pole -- including a real live reindeer!
10:30 a.m. and 1 p.m. Feb. 25
The Studio Theater
An encounter 65 million years in the making, Feller Express presents lifelike dinosaur costumes and puppets. Kids can help the rangers feed the adorable baby dinosaurs, enjoy interactive songs and stories, and dance with their adolescent Tyrannosaurus rex and Triceratops. It's a totally RAWR-some time!
Indy Opera: The Monon Town Musicians
10:30 a.m. March 25
The Palladium – Robert Adam Room
Loosely based on a Brothers Grimm fairy tale, four wandering animals set out individually to become solo musicians in a nearby talent show. Upon meeting, the animals discover to their surprise that, although they differ on what they prefer to sing, they are even stronger as a group, differences and all! This performance is presented by the Education & Community Engagement department of the Indianapolis Opera.
Folk Music with Cindy Kallet & Grey Larsen
10:30 a.m. April 29
The Palladium – Robert Adam Room
Cindy Kallet and Grey Larsen love to share southern Indiana fiddle tunes, Irish jigs and reels, Scandinavian-style fiddle duets and original songs with audiences of all ages. There will be plenty of chances to sing and clap along, and children will be welcome to have a closer look and try out a variety of instruments toward the end of the program. (Have you ever played a harmonium or a concertina?!)
10:30 a.m. May 20
The Palladium – Robert Adam Room
Listen, learn, pantomime, and dance with violin lady Cathy Morris and her high-energy musical adventures. She'll play musical styles from around the world using acoustic and electric violins. Learn about cultures, languages, people and O Pato the duck while dancing and singing along – a fun and humorous presentation for all ages! Morris has performed with many nationally known artists, including Chuck Mangione, George Benson, Burt Bacharach and Spyro Gyra.
About the Center for the Performing Arts
The mission of the nonprofit Center for the Performing Arts is to engage and inspire the Central Indiana community through enriching arts experiences. Its campus in Carmel, Indiana, includes the 1,500-seat Palladium concert hall, the 500-seat Tarkington proscenium theater and the black box Studio Theater. The Center presents and hosts hundreds of events each year, including the Center Presents performance series, featuring the best in classical, jazz, pop, rock, country, comedy and other genres. Educational and experiential programming for all ages includes children's concerts and camps, book clubs, lectures, and classes in music and dance. The Center is home to the affiliated Great American Songbook Foundation and provides space and support services for six resident arts companies. More information is available at TheCenterPresents.org.