Preschooler concert series returns Sept. 30
7/25/2023 12AM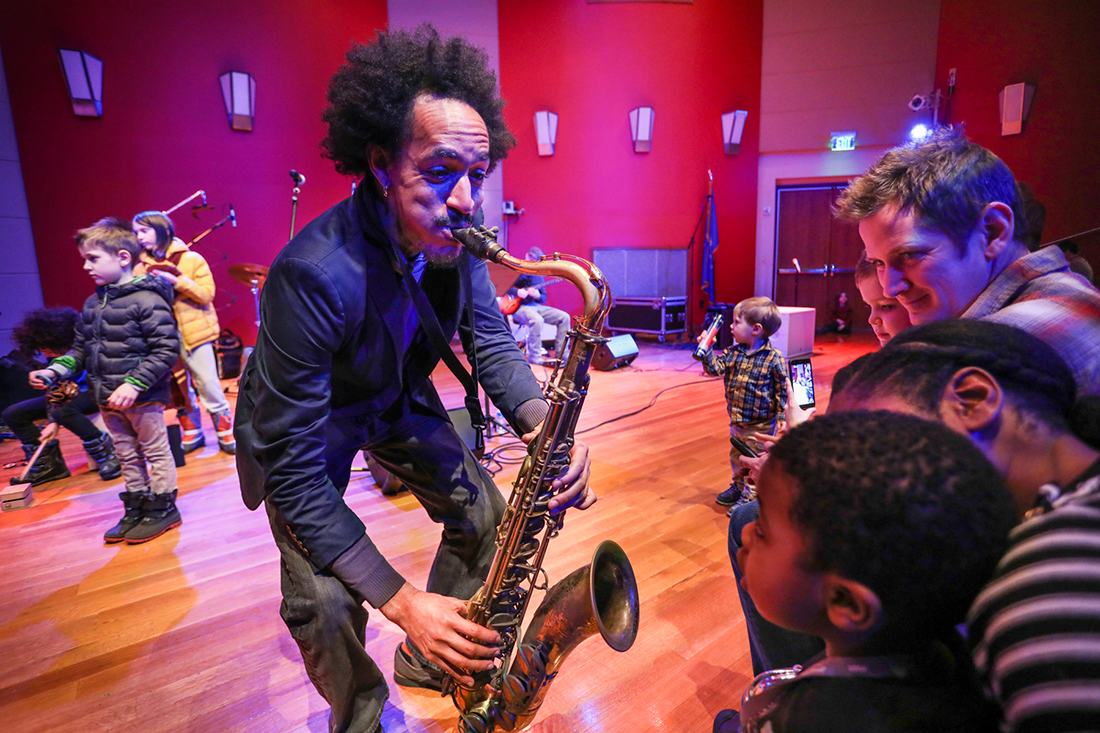 Led by saxophonist Jared Thompson, Indianapolis-based jazz combo Premium Blend will deliver the Center's Peanut Butter & Jam performance for April.
Monthly PB&J sessions make great outings for families
CARMEL, Ind. – Families can introduce young children to the joy of live performance through the Center for the Performing Arts' monthly Peanut Butter & Jam series, which begins a new season Sept. 30.
With fun and informal sessions designed specifically for ages 1-7, PB&J typically takes place one Saturday each month from 10:30 to 11:15 a.m., in the Palladium's Robert Adam Room or across Carter Green in the Studio Theater. Tickets are only $10 per child, which includes the option of two free adult admissions upon request, creating a fun and affordable weekend outing for families.
This season's events include:
Musical Conexion
10:30 a.m. Sept. 30
The Palladium – Robert Adam Room
Celebrate Hispanic Heritage Month with this fun-filled, bilingual cultural experience designed for both Spanish-speaking and non-Spanish-speaking families alike, with songs, movements and finger plays in Spanish and English accompanied by real instruments like guitar and cajón peruano.
The BallRoom Roustabouts
10:30 a.m. Oct. 28
The Palladium – Robert Adam Room
The BallRoom Roustabouts play low-volume, high-energy rock 'n' roll for families with kids, with the intent to promote, encourage and inspire reading, active imagination and merrymaking.
Meghan Cristeen Martin
10:30 a.m. Nov. 11
The Palladium – Robert Adam Room
Join local songwriter, musician and teaching artist Meghan Cristeen Martin as she shares her enthusiasm for the ukulele. She'll share some of her favorite songs and demonstrate a variety of ukuleles, including some the children can try.
Melchior Marionettes: Holiday Cabaret on Strings
10:30 a.m. and 12:30 p.m. Dec. 9
The Studio Theater
Sing along with holiday classics and other favorites during this fast-paced, entertaining cabaret featuring handcrafted marionettes. Children and adults will delight in the hilarious antics of the characters and the skill of the puppeteers.
Phoenix Rising Dance Company: Anyone Can Dance
10:30 a.m. Jan. 6
The Studio Theater
Dance to rock 'n' roll and more in this fun, interactive educational dance performance based on the children's book Giraffes Don't Dance by Giles Andreae, created and choreographed by Phoenix Rising Dance Company Artistic Director Justin David Sears-Watson.
Kid Kazooey: It's Time to Have Band Practice
10:30 a.m. Feb. 10
The Palladium – Robert Adam Room
It's Time to Have Band Practice is a program exploring the fundamentals of music by playing music together. Rhythm, dance and dynamics are shared in a highly interactive program with a seasoned performer.
Silly Safaris: Spring Animal Babies
10:30 a.m. March 2
The Studio Theater
Meet Amazon John and his animals up close as he introduces us to several spring animal babies. Did you know that animals living where there are cold seasons have their babies in the spring, when food is more abundant? We will celebrate motherhood as we learn how mommy animals take care of their springtime babies.


Premium Blend: Cool Jazz with Cool Kids
10:30 a.m. April 13
The Palladium – Robert Adam Room
To celebrate Jazz Appreciation Month, bring your imagination, spontaneity and dancing feet for this very special performance by the respected Indianapolis jazz group Premium Blend, known throughout the Midwest for its original compositions, modern grooves and rich harmonies.
Bongo Boy Music: Fam Jam
10:30 a.m. May 4
The Palladium – Robert Adam Room
Kids, parents and grandparents: Come share your groove with Ms. Lisa of Bongo Boy Music School. In this creative rhythmic and musical adventure, we'll be moving, grooving and playing away on drums and other percussion instruments.
About the Center for the Performing Arts
The mission of the nonprofit Center for the Performing Arts is to engage and inspire the Central Indiana community through enriching arts experiences. Its campus in Carmel, Indiana, includes the 1,500-seat Palladium concert hall, the 500-seat Tarkington proscenium theater and the black box Studio Theater. The Center presents and hosts hundreds of events each year, including the Center Presents performance series, featuring the best in classical, jazz, pop, rock, country, comedy and other genres. Educational and experiential programming for all ages includes children's concerts and camps, book clubs, lectures, and classes in music and dance. The Center is home to the affiliated Great American Songbook Foundation and provides space and support services for six resident arts companies. More information is available at TheCenterPresents.org.