Single-event ticket sales begin July 27
8/13/2018 12AM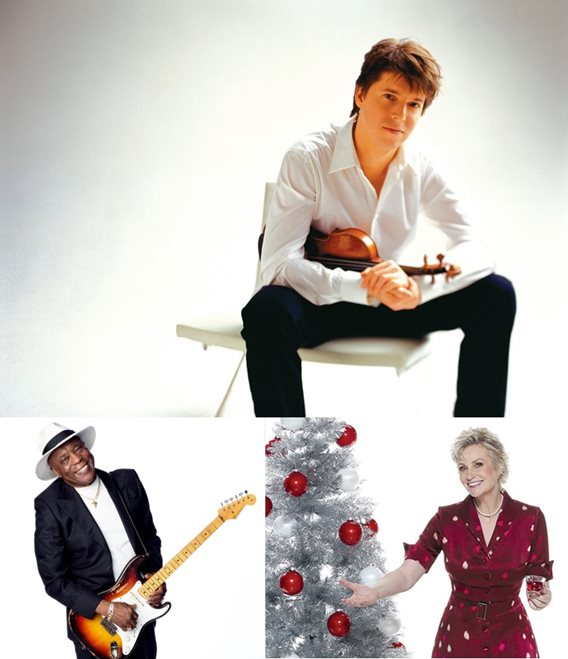 Lineup features pop, rock, country, jazz,
classical, family and holiday events


Available online at TheCenterPresents.org or by phone at (317) 843-3800
CARMEL, IN – With subscription packages still available for the 2018-19 Season at the Center for the Performing Arts, tickets for individual 2018 performances will go on sale at 10 a.m. Friday, July 27.
Sponsored by Allied Solutions, the Center Presents season kicks into gear Sept. 20 with the Queen Extravaganza tribute and continues with the Nitty Gritty Dirt Band, violin virtuoso Joshua Bell, folk-rockers Indigo Girls, jazz guitar master Pat Metheny, singer-songwriter John Hiatt, Beach Boys co-founder Brian Wilson and many more great artists. Available for purchase starting July 27 will be more than 20 events scheduled through December, including holiday-themed performances by Sara Evans, Jane Lynch and Dave Koz.
Tickets are available online at TheCenterPresents.org, by phone at (317) 843-3800 or through the Box Office at the Palladium, 1 Center Green, Carmel.
Free tickets for the Oct. 27 performance by the United States Marine Band will be available in October. Tickets for the 2019 portion of the season – including appearances by David Sanborn, Megan Hilty and Graham Nash – will go on sale in November but are currently available only with subscription purchases. Through the Center's Create Your Own subscription package, patrons may select four or more events and gain access to benefits including ticket discounts, priority seating and presale opportunities as new shows are added throughout the season. For information, visit TheCenterPresents.org/SubscribeNow.
Performances going on sale July 27 include:
Queen Extravaganza
Thursday, Sept. 20, at 7:30 p.m.
The Palladium
Tickets from $25
Nitty Gritty Dirt Band
Friday, Sept. 21, at 8 p.m.
The Palladium
Tickets from $35
Buddy Guy
Saturday, Sept. 22, at 8 p.m.
The Palladium
Tickets from $35
An Evening With Melissa Etheridge:
Yes I Am 25th Anniversary Tour
Tuesday, Sept. 25, at 7:30 p.m.
The Palladium
Tickets from $40
Indigo Girls with special guest Lucy Wainwright Roche
Friday, Sept. 28, at 8 p.m.
The Palladium
Tickets from $25
An Evening With Pat Metheny
Thursday, Oct. 11, at 7:30 p.m.
The Palladium
Tickets from $35
Joshua Bell with pianist Sam Haywood
Friday, Oct. 12, at 8 p.m.
The Palladium
Tickets from $45
Scott Bradlee's Postmodern Jukebox
Thursday, Oct. 18, at 7:30 p.m.
The Palladium
Tickets from $35
Engelbert Humperdinck
Friday, Oct. 26, at 8 p.m.
The Palladium
Tickets from $45
Chamber Music Society of Lincoln Center
Friday, Nov. 2, at 8 p.m.
The Palladium
Tickets from $25
Kellie Pickler
Saturday, Nov. 3, at 8 p.m.
The Palladium
Tickets from $35
John Hiatt
Friday, Nov. 9, at 8 p.m.
The Palladium
Tickets from $25
Lightwire Theater: The Ugly Duckling
Sunday, Nov. 11, at 1 and 4 p.m.
The Tarkington
Tickets from $15
Boney James
Friday, Nov. 16, at 8 p.m.
The Palladium
Tickets from $30
Royal Wood
Friday, Nov. 16, at 8 p.m.
The Tarkington
Tickets from $25
Brian Wilson: Greatest Hits Live
with special guests Al Jardine and Blondie Chaplin
Saturday, Nov. 17, at 8 p.m.
The Palladium
Tickets from $55
Sara Evans: At Christmas
Thursday, Nov 29, at 7:30 p.m.
The Palladium
Tickets from $35
Dennis DeYoung: The Grand Illusion 40th Anniversary Album Tour
Friday, Nov. 30, at 8 p.m.
The Palladium
Tickets from $30
Jane Lynch: A Swingin' Little Christmas
Saturday, Dec. 1, at 8 p.m.
The Palladium
Tickets from $25
Dave Koz & Friends Christmas
Sunday, Dec. 9, at 7 p.m.
The Palladium
Tickets from $40
All Is Calm: The Christmas Truce of 1914
Saturday, Dec. 15, at 8 p.m.
The Palladium
Tickets from $25
New Year's Eve Extravaganza
Presented by Taft
Monday, Dec. 31, at 9 p.m.
The Palladium
Tickets: $95 ($75 for first 200 sold)