Star-studded gala nets over $300,000 to support Center
9/24/2019 12AM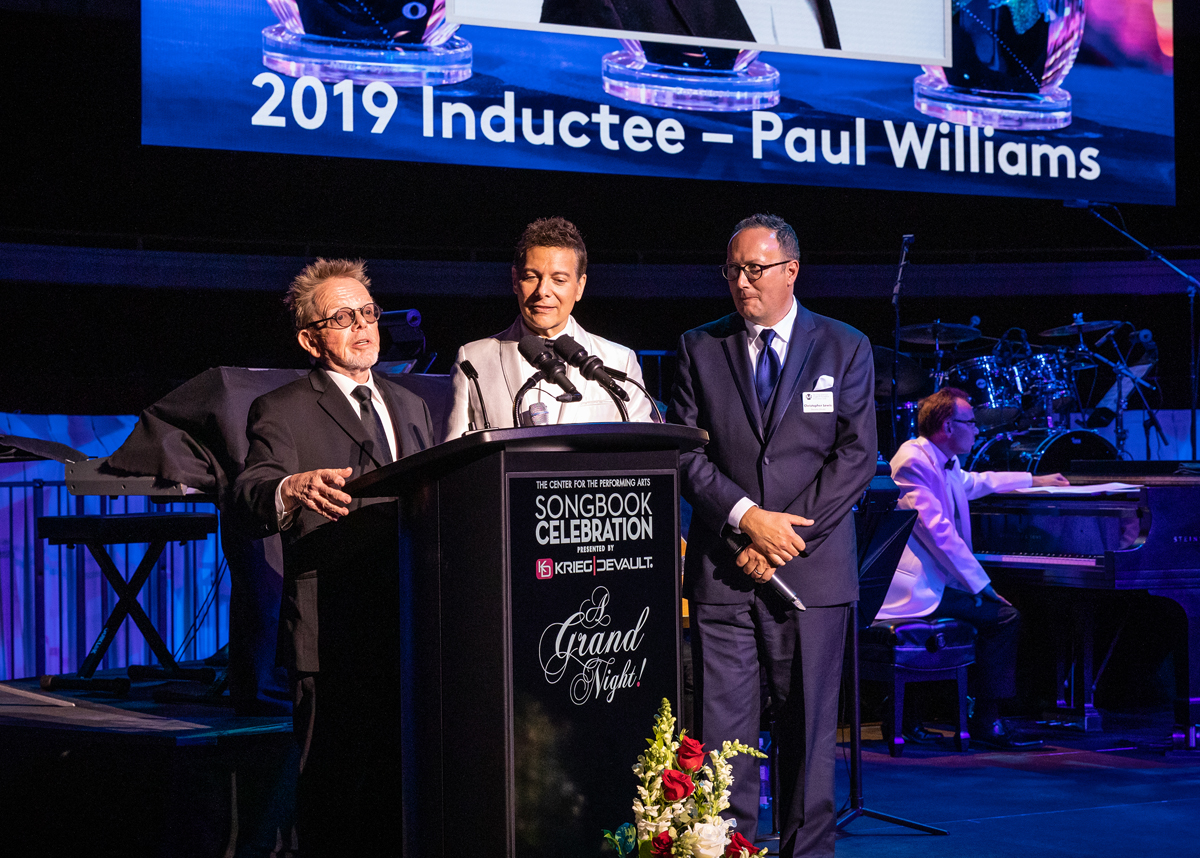 Songwriter Paul Williams (left) is inducted into the Great American Songbook Hall of Fame by Songbook Foundation Founder Michael Feinstein and Executive Director Christopher Lewis. (Photos by Sara C Imagery)
Annual Songbook Celebration features Dionne Warwick, Michael Feinstein,
songwriter Paul Williams and 2019 Songbook Youth Ambassador Sadie Fridley
CARMEL, Ind. – Performances by Dionne Warwick and Michael Feinstein and a heartfelt speech by songwriter Paul Williams were among the highlights Saturday at the Center for the Performing Arts' Songbook Celebration presented by Krieg DeVault.
The eighth annual gala at the Palladium began with the First Merchants Bank Cocktail Reception and continued with an elegant dinner, a live auction, performances and the Great American Songbook Foundation's induction of Williams and legendary composer-bandleader Duke Ellington into the Songbook Hall of Fame. The black-tie evening netted more than $300,000 to support the nonprofit Center's artistic and educational programming.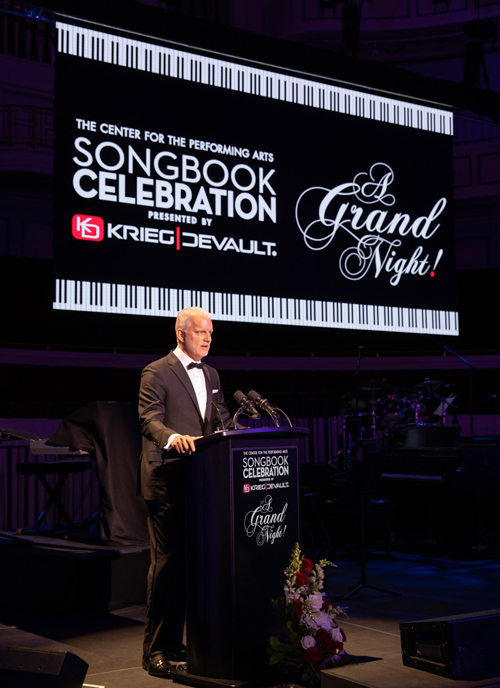 "Once again, the outpouring of generosity from our Central Indiana and national supporters has far surpassed our expectations," Center President/CEO Jeffrey C. McDermott said. "The Center is so fortunate to be part of an extended community that believes in our mission."
Williams, whose credits include "Evergreen," "We've Only Just Begun," "Rainbow Connection" and many other hits, surprised the capacity crowd of over 400 with an unexpected contribution to the night's philanthropy. Offering to write a personalized song for the highest bidder, he awarded the prize to two attendees who bid $35,000 each, generating a quick $70,000 for the Foundation's historical preservation initiatives.
Currently serving as president of the ASCAP performance-rights organization, Williams also delivered a touching tribute to his songwriter brother Mentor Williams, who died in 2016. Paul Williams led the attendees in a brief sing-along of Mentor's R&B classic "Drift Away," which has been recorded by many artists.
"Mentor Williams," he said, looking skyward, "you just got inducted into the Great American Songbook Hall of Fame."
Dancer-choreographer Mercedes Ellington, herself a Broadway notable, accepted the Hall of Fame award on behalf of her late grandfather Edward Kennedy "Duke" Ellington. She recalled accompanying him and his orchestra on a historic 1971 State Department tour of the Soviet Union, stoking international trade by arriving with a stash of Pepsi and returning with a cache of Stolichnaya vodka.
The tribute to Ellington included a performance of his standard "It Don't Mean a Thing (If It Ain't Got That Swing)" by 16-year-old Sadie Fridley of Syracuse, New York, who earned the title of 2019 Songbook Youth Ambassador in July at the Foundation's annual Songbook Academy® summer intensive.
Saturday's program also included tributes to recent Hall of Fame inductees Tony Bennett and Doris Day. The Songbook Foundation presented the award to Bennett when he performed at the Palladium in May. Feinstein visited Day at her California home in April for her 97th birthday celebration, shortly before her death in May.
Another surprise at the event was the introduction of the recently crowned Miss America's Outstanding Teen, Payton May of Vancouver, Washington, who attended as a guest of Songbook Foundation supporters Paul and Sue Lowden. McDermott served as a judge at the Miss America-affiliated national scholarship pageant, which took place in July in Orlando, Florida.
About the Center for the Performing Arts
The mission of the nonprofit Center for the Performing Arts is to engage and inspire the Central Indiana community through enriching arts experiences. The Center presents and hosts hundreds of events each year, including the Center Presents performance series, featuring the best in classical, jazz, pop, rock, country, comedy and other genres. The campus in Carmel, Indiana, includes a 1,600-seat concert hall, the Palladium; a 500-seat proscenium theater, the Tarkington; and the black-box Studio Theater. The Center is home to the affiliated Great American Songbook Foundation and provides space and support services for six resident companies: Actors Theatre of Indiana, Carmel Symphony Orchestra, Central Indiana Dance Ensemble, Civic Theatre, Gregory Hancock Dance Theatre and Indiana Wind Symphony. The Center also provides educational and experiential programming for people of all ages. More information is available at TheCenterPresents.org