Songbook Foundation archivist earns national certification
10/5/2018 12AM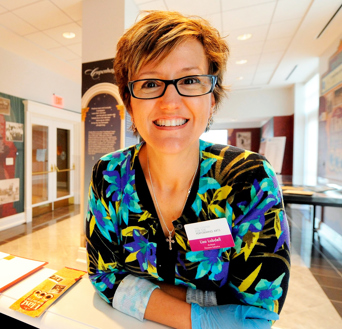 Great American Songbook Foundation Archivist Lisa Lobdell has been named to the national Academy of Certified Archivists, a certification that supports and promotes the highest level of professional archival standards and practices.
Lobdell has served since 2010 as archivist of the Foundation's Songbook Archives & Library, which houses more than 100,000 documents, images and historic artifacts – over 2,000 linear feet of materials representing the 20th century golden age of American popular music. Highlights include rare Andrews Sisters memorabilia, early working versions of Meredith Willson's The Music Man, handwritten original lyrics for Hy Zaret's "Unchained Melody" and Gus Kahn's original lyrics for "I'll See You in My Dreams," and a growing library of books, recordings and audiovisual materials.
An Indianapolis resident, Lobdell established the Foundation's physical archives and continues to manage the acquisition of new collections, curate gallery exhibitions, supervise volunteer docents and oversee increasingly important digital preservation efforts.
To acquire the Certified Archivist designation, an applicant must hold a master's degree in a relevant field and pass a rigorous exam that tests understanding of a wide range of archival principles and practices, including document selection, arrangement and description; reference and access services; document preservation and protection; advocacy and promotion of archival collections; archival program management; and professional, ethical and legal responsibilities.
Lobdell sat for the Archival Certification Examination during the Society of American Archivists Annual Meeting in August in Washington, D.C. She holds Master of Library Science and Master of Arts in Public History degrees from Indiana University-Indianapolis. She is a member of the Society of American Archivists, the Society of Indiana Archivists, the Midwest Archives Conference and the Association of Recorded Sound Collections.
About the Great American Songbook Foundation
The mission of the Great American Songbook Foundation, founded in 2007 by five-time Grammy® Award nominee Michael Feinstein, is to inspire and educate by celebrating the Great American Songbook – the timeless musical standards of pop, jazz, Broadway and Hollywood. Headquartered at the Center for the Performing Arts in Carmel, Indiana, the Foundation advances this rich legacy by curating physical artifacts of its creators, performers and publishers; operating a multimedia exhibit gallery; overseeing the Songbook Hall of Fame; offering programs for the public and research opportunities for scholars and artists; and providing educational opportunities for student musicians, including the annual Songbook Academy® summer intensive. The Foundation is a Cultural Affiliate of the Los Angeles-based Grammy Museum®. More information is available at www.TheSongbook.org.