U.S. Marine Band tickets available starting Oct. 1
9/27/2018 12AM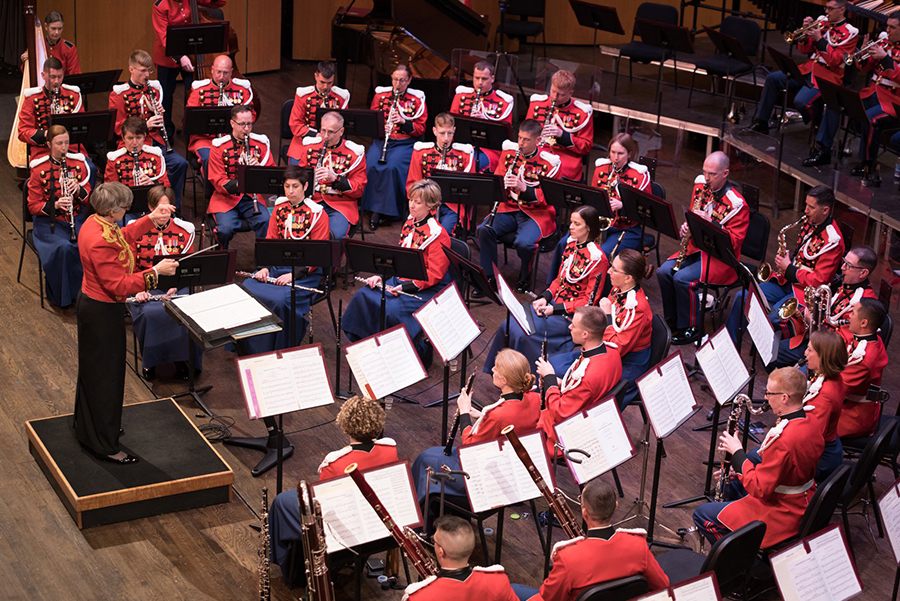 Dubbed 'The President's Own,' nation's longest-running professional
music organization will perform free concert Oct. 27 at the Palladium
The historic ensemble that cemented America's fascination with march music will perform a free concert Oct. 27 at the Center for the Performing Arts.
The U.S. Marine Band – dubbed "The President's Own" when it debuted for Thomas Jefferson in 1801 –is the nation's longest-running professional musical organization. It plays more than 500 public and official performances annually, and its musicians appear at the White House more than 300 times each year, performing for State arrival ceremonies, dinners and receptions and accompanying famous entertainers. The group's national tours began in 1891 under then-Director John Philip Sousa, who led the band for 12 years before launching his famous civilian band.
Scheduled for 8 p.m. Saturday, Oct. 27, at the Palladium, the wide-ranging program will include works by Sousa, Prokofiev, Mozart, Bernstein and other composers. Free tickets will be available starting at 10 a.m. Monday, Oct. 1, at the Palladium Box Office, 1 Center Green, Carmel. The Box Office is open 10 a.m. to 6 p.m. Monday through Friday and noon to 4 p.m. Saturday. Box Office information is available at (317) 843-3800.
To ensure the highest attendance possible at the free concert, tickets will be distributed under the following terms:
• Tickets must be obtained in person at the Box Office and cannot be reserved by phone or online.
• Tickets are limited to four (4) per household.
• All reserved tickets will become null and void if not used by 15 minutes prior to the performance. At that time, open seats will be available to others on a first-come, first-served basis.
Making a special appearance during the concert will be Butler University Director of Bands Col. Michael Colburn, who led the U.S. Marine Band from 2004 to 2014 before moving on to his current post. He will conduct the band for a rendition of composer John Williams' "The Adventures of Han" from the movie Solo: A Star Wars Story. According to the university, Colburn developed a collaborative relationship with Williams during his tenure with the Marine Band.
The event is part of the Center's 2018-2019 Season sponsored by Allied Solutions.