eNews - February 2022
February 3, 2022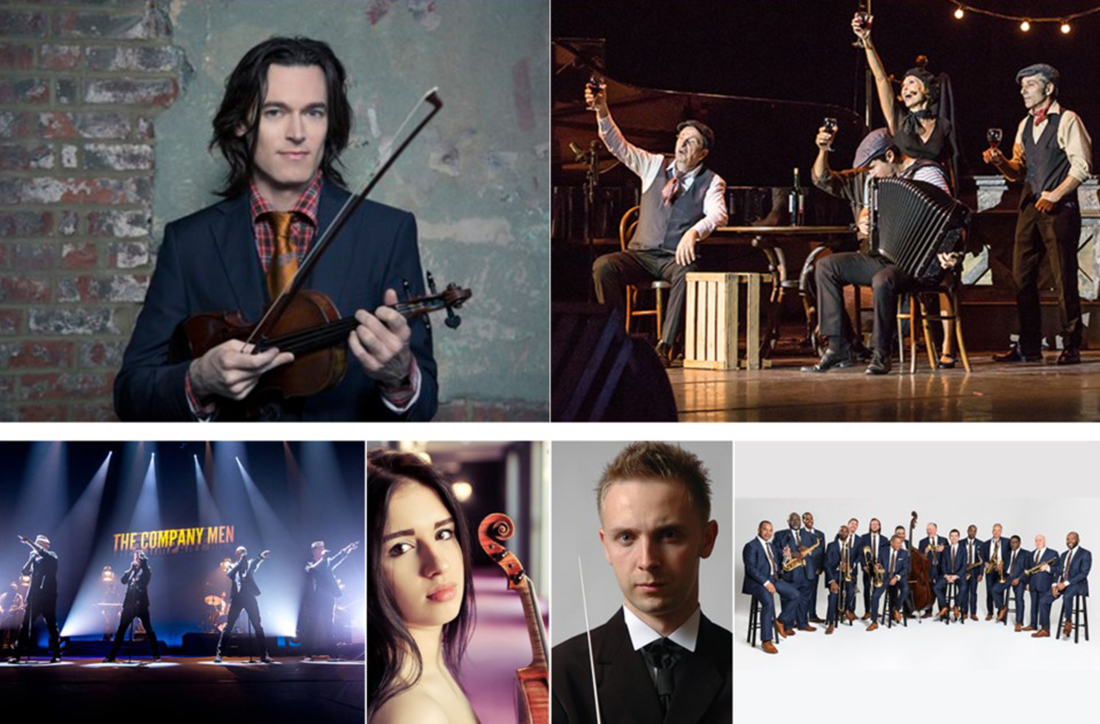 Artists appearing in February at the Center include (clockwise from upper left) the Zach Brock Quartet, Piaf! The Show, the Jazz at Lincoln Center Orchestra with Wynton Marsalis, the Polish Wieniawski Philharmonic Orchestra and The Company Men.
Hot shows for a cold month
     For obvious reasons, February is generally not the busiest month in the Midwest concert business, but the Center's upcoming schedule illustrates the unique value of nonprofit arts and entertainment venues: We book artists based on quality and variety, resulting in shows you are unlikely to see anywhere else in Central Indiana. For example, our Center Presents concerts alone include:
     8 p.m. Saturday: Zach Brock Quartet
     Hailed as "the pre-eminent improvising violinist of his generation," Zach Brock has scored two Grammy Awards for his work with the jazz-rock instrumental supergroup Snarky Puppy. Read an exclusive interview in the Center's Applause magazine.
     7:30 p.m. Feb. 10: Piaf! The Show
     Acclaimed vocalist Nathalie Lhermitte is accompanied by live musicians and historical images as she portrays legendary French chanteuse Edith Piaf in a multimedia experience inspired by the award-winning film La Vie en Rose. IndyStar named this show among its Top 10 performances for the Valentine season, and our local Current newspapers just posted their interview with Lhermitte.
     8 p.m. Feb. 18: The Company Men
     This snazzy vocal group weaves today's Top 40 hits with reimagined classics of the past, blending songs by such artists as Sam Smith, the Four Tops, Michael Jackson, Katy Perry, Adele, the Temptations, Bruno Mars, Billy Joel and more.
     8 p.m. Feb. 25: Polish Wieniawski Philharmonic Orchestra
     On its first U.S. tour, the esteemed Polish orchestra is featuring violin soloist Sara Dragan in a program of Rossini, Wieniawski and Schubert. Ball State Professor Heather Platt leads a preconcert Classics in Context discussion at 7:15 p.m.
     7 p.m. Feb. 27: Jazz at Lincoln Center Orchestra with Wynton Marsalis
World-renowned trumpeter and jazz ambassador Wynton Marsalis leads a 15-member big band dedicated to preserving America's jazz heritage. Also, don't miss his appearance Tuesday in our next JazzTalk online discussion. It's free!
     Come broaden your musical horizons at the Center!
Livestream features local songwriter
     Our Live at the Center livestream concert this month features Elkhart native Zach DuBois, who survived several years on the Nashville scene before returning to Indiana to study medicine. Luckily for us, he still writes and plays great songs that fall "somewhere between John Denver and John Mellencamp," he says. Check out his website or just Google him, for Pete's sake, because he has some great music and videos out there.
     The show starts at 7:30 p.m. Thursday, Feb. 24, and you can watch it free at home or join us in person at the Palladium for just 5 bucks.
News from our friend Michael
     Michael Feinstein, Grammy- and Emmy-nominated Artistic Director for the Center and founder of our affiliated Great American Songbook Foundation, has been in the news more than usual lately.
     First of all, Craft Records just announced the pending March 11 release of Gershwin Country, the long-awaited duets album that pairs Feinstein with stars from the greater Nashville area – including Dolly Parton, Brad Paisley, Lee Ann Womack, Amy Grant, Rosanne Cash, Mandy Barnett, Ronnie Milsap and the Time Jumpers with Vince Gill – on classic tunes by his heroes George and Ira Gershwin. Check out the first track, "Someone to Watch Over Me" with Alison Krauss. Available for preorder now in CD and digital form, the collection was executive-produced by Feinstein's longtime friend Liza Minnelli, who also sings on the record. He discussed the project with Billboard and our local Carmel Monthly magazine, among other news outlets.
      Also, Feinstein joined Minnelli for a Jan. 16 profile on CBS' esteemed Sunday Morning program, talking with Jane Pauley about Liza's EGOT-winning career and their collaborations, including the new album. Watch or read the CBS segment here.
Meet our new development officer
     The Center and the Songbook Foundation are happy to welcome a new face to our fundraising team. Noblesville resident Lindsay Fish brings decades of hospitality and sponsorship experience to her role as Director of Partnership Development. Read more about Lindsay here.
Tweet #share