Embracing the vision
December 15, 2020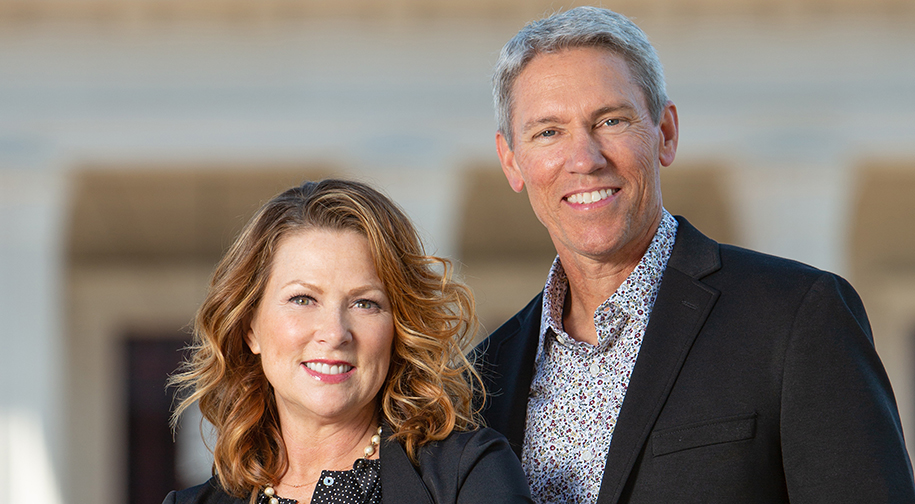 Micki and David Stirsman
For over a decade, as the Center for the Performing Arts grew from a bold concept into a regional driver of cultural and economic activity, Carmel residents David and Micki Stirsman have enjoyed a "front-row seat," as they say.
When the Carmel residents moved their nationally known salon and spa, Salon 01, to City Center Drive in 2007, they knew the city planned to create a multi-venue performing arts campus immediately across the street, as an anchor for the City Center mixed-use development.
"We jumped at the chance to own at this location, because we were fully familiar with and supportive of the plans," says David, an attorney and real estate developer. "Mayor (Jim) Brainard's vision for a centralized downtown and live performances was monumental in literally changing the landscape of life in our wonderful community. We embraced this notion fully when we bought that building and relocated our salon operation, and we have never looked back."
From their vantage point, the Stirsmans literally watched the construction of the Center from the ground up. And they didn't stop there.
Among the first to volunteer their time as the new facilities opened in 2011, David and Micki, a nationally recognized beauty professional, served on the Center's first Gala Committee and many committees since. Salon 01 has been a sponsor of the Great American Songbook Foundation's annual Songbook Academy since its inception, even providing professional styling for the 40 teen finalists. David served seven consecutive years on the Center's Board of Directors and for the past two years has chaired its Development Committee.
"In short, we have been all-in on everything the Center and Songbook Foundation represent," David says.
Now, having prearranged a financial contribution to the Center from their estate, the Stirsmans are members of the Legacy Society, a new designation for Center supporters who make planned gifts to the institution. Their planned gift will support youth education initiatives.
"Since early on, we have been inspired by the youth we have encountered from all walks of life and demographic circumstances – learning about the performing arts, attempting to cultivate their own artistic talents, and developing uniquely individual ways to express themselves through it," David shares. "We want to ensure that the Center offers opportunities to young people throughout our Midwestern sphere of influence and beyond."
The Center is "such a special place with far-reaching impact on so many lives," he adds, and it deserves a solid base of financial support to continue its mission – to engage and inspire the Central Indiana community through enriching arts experiences – well into the future. 
"We earnestly hope that our commitment will serve as inspiration to others to also consider making an impact, a lasting legacy, through a specially planned gift of their own."


If you have already named the Center in your will or estate plans, thank you! Please let us know so we may include you as a member of the Legacy Society.
Want to learn more? Please contact Ana Hammersley, Director of Individual Development, at (317) 819-3536 or AHammersley@TheCenterPresents.org.

Tweet #share