Proposals sought for arts commission project
8/7/2023 12AM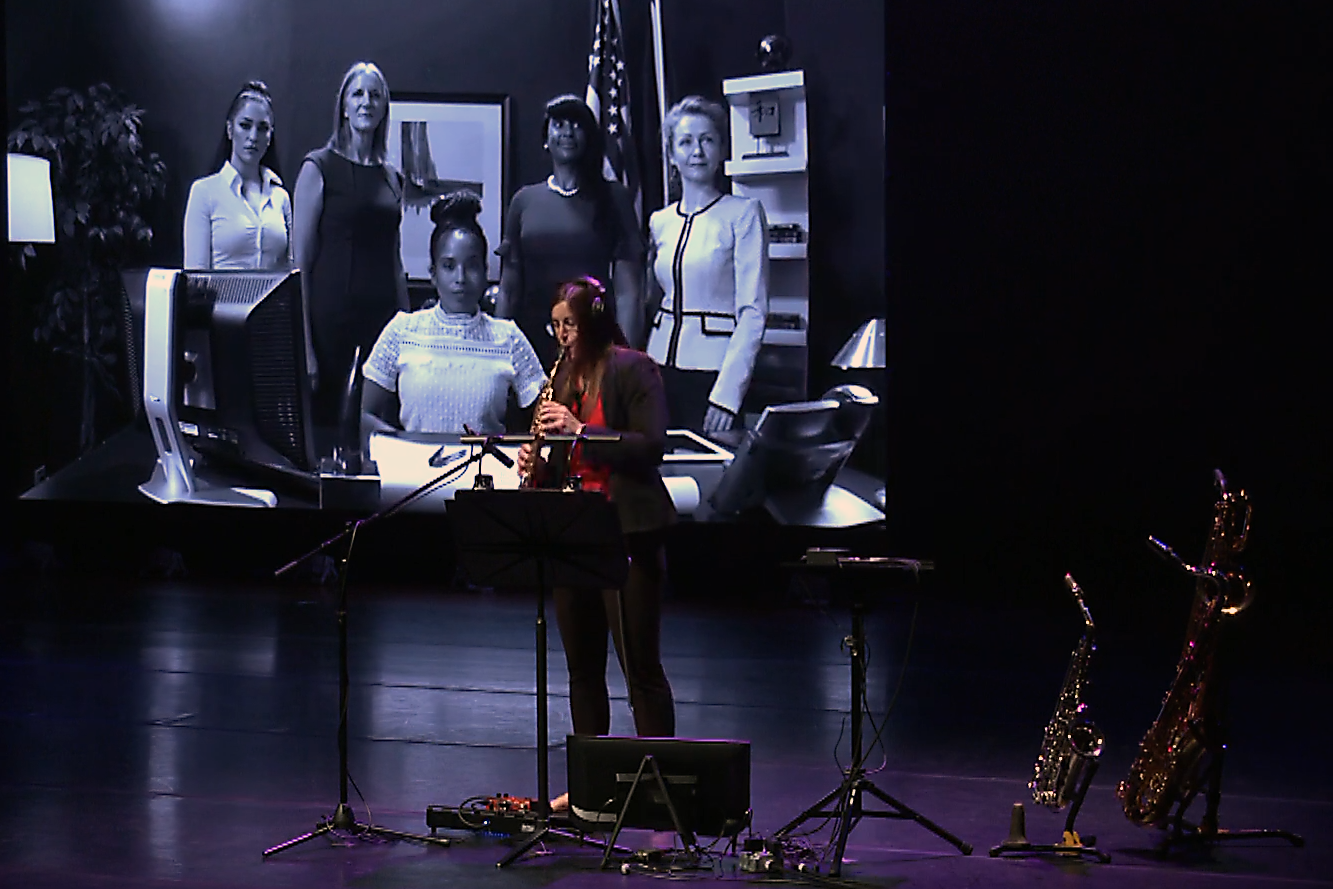 Musician Cecily Terhune performs at the New Works premiere June 10 at the Palladium. Her winning proposal, Boon Bestowed, explores female archetypes through a solo saxophone composition and projected images.
Submission deadline Sept. 15 for third annual New Works program
Three winning entries to receive $2,500 awards
CARMEL, Ind. – Indiana-based artists and organizations are invited to submit proposals for New Works, an annual commission program now in its third year at the Center for the Performing Arts.
New Works is an initiative by the Center for the Performing Arts to promote and sustain local artists and arts communities by supporting the creation of new works across all performing arts disciplines, including but not limited to music, theater and dance. Three winning proposals will receive $2,500 each in funding, along with rehearsal time and technical support, to premiere the works onstage during a public, livestreamed event June 1, 2024, at the Center's Tarkington theater.
The theme of the proposed works must align with one or more of the Center's organizational Core Values: excellence, innovation, integrity, collaboration and inclusion. Artists of color, Indigenous artists, artists in the LGBTQ+ community, artists with disabilities, and women artists are strongly encouraged to apply. There is no application fee.
The submission deadline is Sept. 15. Further details and application instructions are available at TheCenterPresents.org/NewWorks. Questions can be emailed to NewWorks@TheCenterPresents.org. Awards will be announced in January.
Last season, New Works supported the development of three performance works: Boon Bestowed, a contemporary classical piece written by Katie Madonna Lee and performed by saxophonist Cecily Terhune with projected images; Open Heart Surgery, a short opera by Jamey Guzman and Caroline Cao; and Suits, a dance performance created by Emily Franks and En Pointe Indiana Ballet. Video of the June 10 premiere at the Palladium is viewable on the Center's YouTube channel.
About the Center for the Performing Arts
The mission of the nonprofit Center for the Performing Arts is to engage and inspire the Central Indiana community through enriching arts experiences. Its campus in Carmel, Indiana, includes the 1,500-seat Palladium concert hall, the 500-seat Tarkington proscenium theater and the black-box Studio Theater. The Center presents and hosts hundreds of events each year, including the Center Presents performance series, featuring the best in classical, jazz, pop, rock, country, comedy and other genres. Educational and experiential programming for all ages includes children's concerts and camps, book clubs, lectures and music classes. The Center is home to the affiliated Great American Songbook Foundation and provides space and support services for six resident arts companies. More information is available at TheCenterPresents.org.