Usher Spotlight: Diana Russell
6/2/2020 12AM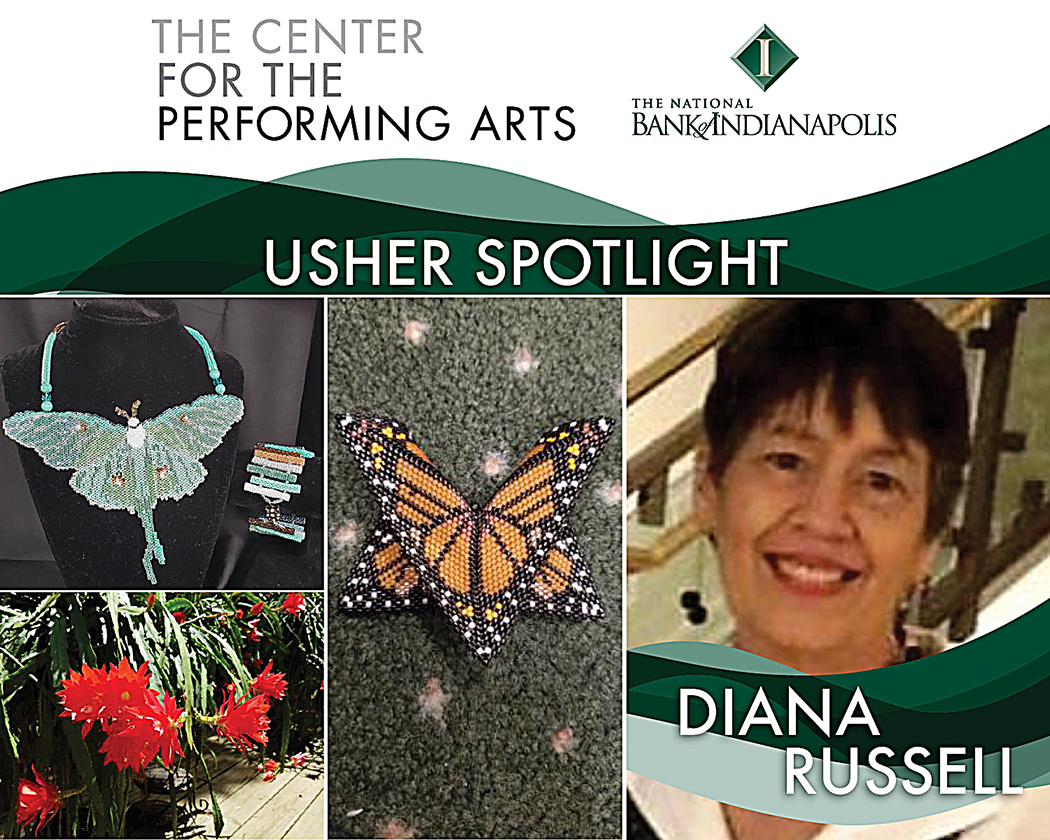 The Center's Usher Corps is sponsored by The National Bank of Indianapolis.
Hi, Diana! Tell us something about you.
For most of my adult life, I have been all about crafting. I enjoy cross-stitch, sewing, scrapbooking, adult coloring, and beading, among others, all providing an outlet for creativity.
My most recent passion has been bead-weaving. It is like paint-by-number, only with beads! Coupled with my love for jewelry, I have enjoyed both three-dimensional jewelry as well as pieces using challenging techniques. My latest piece, "The Luna Moth," combines my love for nature in all forms with my love for beading.
My "other love" is gardening, both indoor and outdoor. My favorite is the Orchid Cactus, which blooms in both summer and winter.
When deciding how you wanted to serve the community through volunteerism, what made you choose the Center?
The close proximity to home, in a city that I thoroughly enjoy and for and with people that hold a similar love for the arts as I do. Being a patron of the arts is a wonderful experience, but being a volunteer takes the next step up in my love for the arts. It brings joy to my heart each time I volunteer.
What do you enjoy most about serving as a volunteer at the Center?
Making an enjoyable experience for each patron, and enjoying the friendship of fellow ushers. 
What is your favorite performance that you've ever seen at the Center? What made the experience so special?
I really enjoy the "high energy" shows like Kodo Drummers and Damien Escobar. But of course, EVERY show is a good show.
Can you share an example of a moment when one of your fellow volunteers inspired you with their service to a patron at the Center?
In all honesty, my fellow volunteers inspire me in many ways. I can think of several who I look to for guidance, and see the enthusiasm for what we do, in them, as I would like to have in myself. The care I have seen exhibited by my fellow ushers includes the kindness and extra effort that they give to patrons with physical limitations. It is very apparent to me, and I think to patrons, that our group of ushers ALWAYS put their needs first.