Speaker to discuss generational issues in the workplace
10/2/2023 12AM
Free presentation open to the public Oct. 31 at the Tarkington
CARMEL, Ind. – A locally based, nationally known keynote speaker will explore generational issues in the workplace with a free presentation Oct. 31 at the Center for the Performing Arts.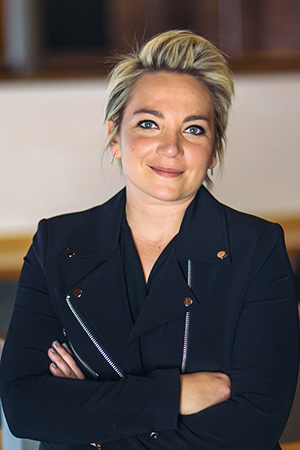 Every Generation Wins: Why Building Multi-Generational Teams Is the Future of Work is the topic for speaker Lindsay Boccardo, a certified professional coach who has been active in the field for more than a decade. In the interactive session, Boccardo will guide a conversation about generational differences among the four decades of employees in today's workforce, and attendees will examine how their life experiences affect their relationships at work.
The event will take place at 11 a.m. Tuesday, Oct. 31, at the Tarkington at the Center for the Performing Arts, 3 Carter Green, Carmel. Free tickets can be reserved at TheCenterPresents.org or (317) 843-3800.
Misunderstandings between generations are not a new problem, says Boccardo, who previously has partnered with organizations such as Roche, Indiana Farm Bureau Insurance, Carpenter Realtors and the Indiana Supreme Court. Older employees often think their younger colleagues are less competent, more entitled or harder to work with in the office. Younger employees often think their older colleagues are out of touch with technology and societal trends.
The message Boccardo conveys through her keynote presentations, podcasts and YouTube channel is based on research showing that well-integrated multi-generational teams are more productive than those that fail to embrace and maximize the synergy of their diverse talents and perspectives.

The session will explore:
Why the divide exists between different generations
What factors play into generational tension in the workplace
What future young employees will look for in your company culture
How you can increase the positive impact of a multi-generational workforce in your business
Boccardo holds a degree in psychology and public communication from Syracuse University and a professional coaching certification through the International Coach Federation.
About the Center for the Performing Arts
The mission of the nonprofit Center for the Performing Arts is to engage and inspire the Indiana community through enriching arts experiences. Its campus in Carmel, Indiana, includes the 1,500-seat Palladium concert hall, the 500-seat Tarkington proscenium theater and the black-box Studio Theater. The Center presents and hosts hundreds of events each year, including the Center Presents performance series, featuring the best in classical, jazz, pop, rock, country, comedy and other genres. Educational and experiential programming for all ages includes children's concerts and camps, book clubs, lectures, and classes in music and dance. The Center is home to the affiliated Great American Songbook Foundation and provides space and support services for six resident arts companies. More information is available at TheCenterPresents.org.