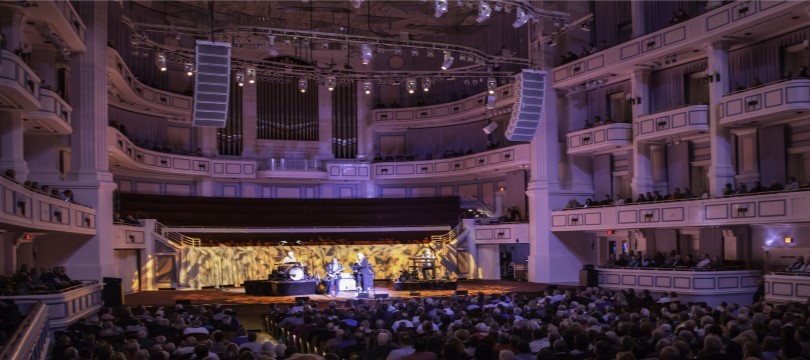 Concert Hall

The Palladium's 1,600-seat Concert Hall – essentially a building within a building – is a traditional "single room" design in which the audience and performers occupy the same space. Seating is available on the Orchestra, Payne & Mencias Box Tier, Mezzanine and Gallery levels.
Every feature in the Concert Hall has been selected for optimal acoustic effect. A canopy of glass panels suspended over the stage can be raised or lowered to accommodate the volume level of each performance. A system of retractable curtains controls sound reflection from the hand-plastered walls. Every entrance to the hall is a double-door sound and light lock with thick concrete walls and acoustic padding. The oculus, a round window at the peak of the dome, admits natural light but contains multiple layers of glass to block external noise.
To further reduce extraneous noise, climate control is provided by an offsite energy center that pumps heated and cooled water underground to the Palladium basement from several hundred feet away. Low-pressure air handlers silently push the treated air into the concert hall through discreet vents under the seats and around the perimeter.